Wildfires Live: Nearly 60 Blazes Rip Through States as Heat Wave Grips U.S.
Thousands of people have been forced to flee their homes as dozens of wildfires grip U.S. Western states. Nearly 60 blazes across 10 parched states have been recorded so far as the country struggles with a long, intense summer.
The Bootleg Fire—currently the largest—has ripped across more than 150,000 acres of Oregon, threatening not only thousands of homes but also part of California's power supply.
As of Monday night, Arizona, Idaho and Montana accounted for more than half of the active fires. The National Weather Service warned of "dangerously hot conditions" into Tuesday as temperatures were expected to reach record-breaking levels.
Warnings of "excessive heat" covering major areas of Nevada, California, Idaho, Washington and Oregon were put in place by the weather service, which says some parts could reach temperatures of over 100—the hottest in at least 75 years.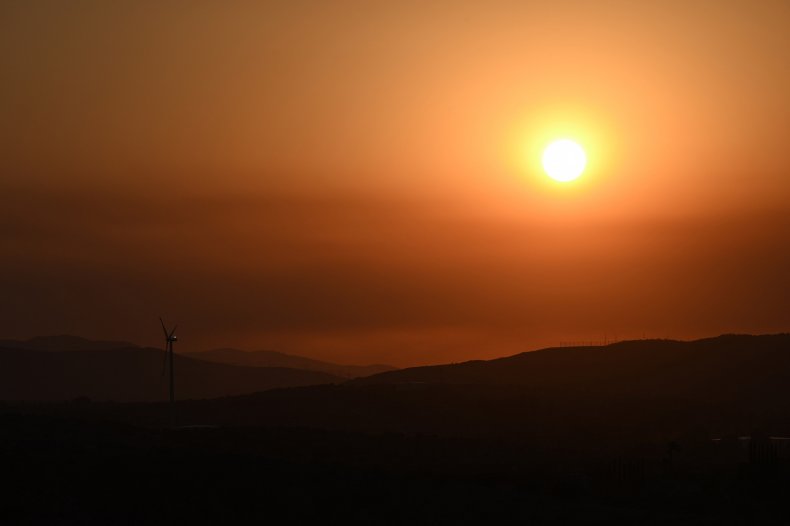 A spokesperson advised people to "stay in an air-conditioned room" and called on residents to "check up on relatives and neighbors" who may be struggling with the heat.
Some sheriff's offices, including in Oregon, have warned that residents who ignore the "go now" evacuation notices could face arrest, according to the Associated Press.
Follow Newsweek's live blog for the latest updates.
River Fire burned 9,500 acres
California Fire Incident Management Team 6 took over work on the River Fire in the area of Madera, Mariposa and Merced counties.
As of 1 p.m., the fire burning near Yosemite National Park had burned more than 9,500 acres and was 15 percent contained.
The fire has moved quickly since it began over the weekend.
"The fire more than doubled in size since Sunday, so there's a lot of activity going on," Fire Chief Nathan Trauernicht of the University of California, Davis, told the Los Angeles Times.
Meanwhile, the Beckwourth Complex fires reached 92,988 acres and are 46 percent contained, the U.S. Forest Service said Tuesday morning.
Jet fuel shortage could impact wildfire fight
Airport officials are concerned that a jet fuel shortage will impact their ability to deploy planes and helicopters to help fight wildfires.
Some tanker bases in Oregon and Utah, where wildfires are currently burning, have been reported. Officials worry multiple bases will go dry at the same time during what is already a busy wildfire season.
"We haven't run into that before," Jessica Gardetto, a National Interagency Fire Center spokeswoman in Boise, Idaho, and a former wildland firefighter, told the Associated Press. "It's a scary thought, with all the shortages going on right now."
Jet fuel demand plummeted over the last year as the coronavirus pandemic halted air travel.
"Our business went to about zero," Mark Haynes, vice president of sales for Ann Arbor, Michigan-based Avfuel Corporation told the Associated Press. "A lot of trucking companies had to lay off [jet fuel] drivers. What happened with the opening up of the U.S., demand for leisure travel has boomed."
His company supplies jet fuel across the U.S., including to about half of the nation's 44 air tanker bases operated by the U.S. Forest Service or U.S. Bureau of Land Management in western states.
Hundred of aircraft are used to drop flame retardants to control raging wildfires each year.
Read more about this story here.
Sheriff's office in Oregon issuing citation for people who do not evacuate
One sheriff in Oregon is cracking down on evacuation orders as the Bootleg Fire moves across the state.
The Klamath County Sheriff's Office began citing and even arresting people to keep them out of the Level 3 evacuation areas.
"We have advised people to evacuate over the last several days," Klamath County Emergency Manager Brandon Fowler said in a news release. "Some have not listened to those warnings and continue to travel within the restricted area. This violates the closure restrictions and interferes with firefighting and lifesaving efforts."
Fowler said the evacuation enforcement is the "protect life."
"We advise that if you are in a Level 3 Evacuation Area PLEASE EVACUATE IMMEDIATELY," he said. "There is a VERY high probability that we may not be able to get to you with additional warnings."
The Bootleg Fire has burned over 200,000 acres in Klamath County as of Tuesday morning.
Air Quality Alerts issued for Colorado, Idaho and Wyoming
In addition to the severe heat advisories across the West, many states have issued air quality advisories due to the smoke from the wildfires.
"The smoke created by the wildfires across the West is being transported downwind far from its origin and creating widespread poor air quality and hazy skies," AccuWeather Senior Meteorologist Mike LeSeney said. "The high concentration of smoke particulates can irritate the eyes, lungs and can worsen some medical conditions."
The National Weather Service in Boulder, Colorado, said smoke plumes from California and Oregon are expected to bring smoky skies over much of Colorado through Wednesday morning.
Air quality advisories are in effect in Colorado as thunderstorms and rain showers are expected to move in. People will respiratory or cardiac issues are at risk for health impacts and should "reduce prolonged or heavy exertion," the National Weather Service said.
The NWS also notes that even though the smoke is expected to decrease in many areas Tuesday afternoon, "the public health recommendations should continue to be followed throughout the advisory area due to the lingering health impacts of long-term exposure to smoke."
The Wyoming Department of Environmental Quality, Air Quality Division and the
Wyoming Department of Health issued an air quality advisory for the western and south-central parts of the state until Tuesday afternoon. They warn that visibilities will be reduced and people with respiratory problems should minimize their outdoor activity.
The Idaho Department of Environmental Quality has issued an Air Quality Advisory for residents of Lemhi County due to the incoming smoke from wildfires.
Air quality is currently in the "Unhealthy for Sensitive Groups" category and is predicted to range from the Moderate to Unhealthy category.
Videos capture "fire tornados" swirling out west
As flames continue to scorch the west, residents and firefighters are also facing "firenados."
The National Weather Service in Medford, Oregon, captured a fire whirl from the Tennant Fire two weeks ago.
A fire tornado is a rare occurrence that happens when swirling winds travel through wildfires. The winds heat up and carry the flames so the wildfire takes the shape of a vortex, the BBC reported.
This swirl of smoke and fire only occurs under extremely dry conditions, like the conditions in the west right now due to high heat and drought.
Tim McCarley told KPTV_TV described the fire burning in the Fremont-Winema National Forest, near the Klamath County town of Sprague River near his home "like a firenado."
He said the flames were leaping dozens of feet into the air and jumping around, catching trees "and then just explosions, boom, boom, boom, boom."
One video shared on Instagram shows firefighters scrambling to escape a firenado at the Beckwourth Complex.
How much has climate change impacted the wildfires?
Record-breaking temperatures across the U.S. have left states vulnerable to major fires sparked by the heat, with dry forests being labelled "matchsticks."
Several states, especially Oregon, have experienced some of the harshest drought conditions in the past month due to a heat wave.
The number of buildings destroyed and lives taken by wildfires in the country continues to grow each year, with over 10 million acres of land burned in 2020 alone—one of the most devastating since numbers were first recorded in 1983.
Almost 3.6 million acres of land was scorched in 2001—a major loss—but the number ballooned to 8.7 million in 2011. Estimates suggest this year's wildfires are already outpacing 2020, with the potential for a new record to be set.
What has caused the largest wildfires?
Two large fires in California, Dotta and Sugar, were both triggered by lightning storms in late June and early July but soon combined to create the Beckwourth Complex Fire—the largest the state has seen this year.
In Oregon, which is currently experiencing drought conditions, record temperatures sparked its current Bootleg Fire, which has burned through over 150,000 acres of land so far.
Fire services expect the blazes in both states to be fully under control by the end of July.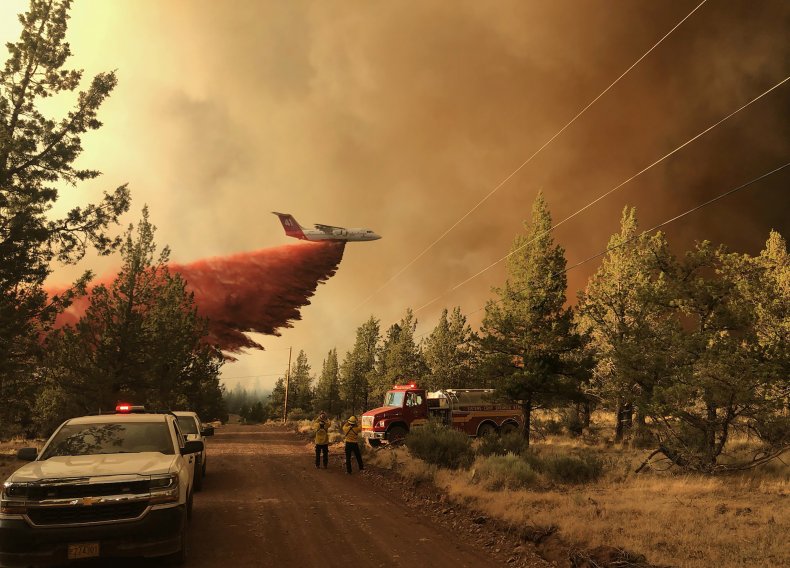 Almost 900,000 acres of land burned so far
Hundreds of thousands of acres of land has been scorched by wildfires so far this year, the National Interagency Fire Center has confirmed.
A total of 59 wildfires - nine of them new - continue to rage across Western states.
Last year over 10 million acres succumbed to wildfires as the U.S. battles with a warming climate, which causes harsher and longer droughts.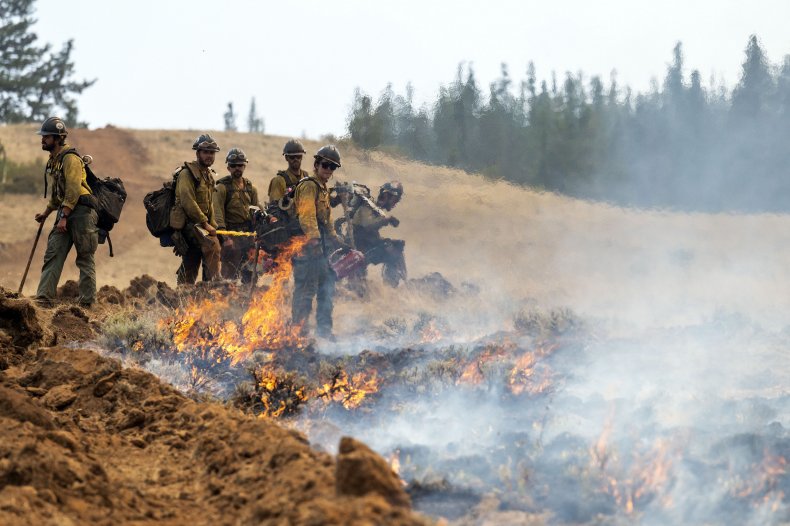 Where are temperature records being broken?
The National Weather Service set out where record-level temperatures have been recorded in U.S. states dating back 75 years.
Welcome to the Newsweek Live Blog
Good morning and welcome to Newsweek's live blog as record U.S. temperatures continue into Tuesday.
Wildfires continue to rip across several states, including Oregon, where the largest Bootleg Fire is spreading rapidly.
Thousands have been forced to flee their homes while emergency services tackle the worst wildfires seen in decades.