Wildlife Department's Joke Bear-Spray Warning Goes Viral: 'Must Have Burnt'
As bear season looms, a tweet from the Oklahoma Department of Wildlife Conservation has captured viral attention as they warn of the differences between bear spray and bug spray.
The department's official Twitter account shared a tweet Monday that read: "Listen, bear spray DOES NOT work like bug spray. We would like to not have to say that again."
With more than 218,000 likes and thousands of retweets, the tweet has left the internet in stitches—even making its way over to Reddit where it was shared on the popular subreddit r/facepalm and has received more than 75,000 upvotes.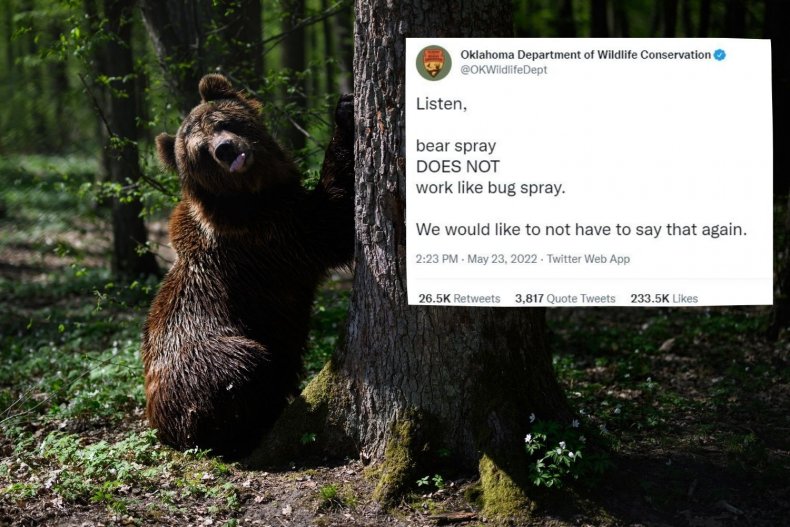 A spokesperson for the Oklahoma Department of Wildlife Conservation told Newsweek: "The tweet is part of our ongoing 'bear aware' messaging and not related to a specific incident. The tweet was meant to use humor as a way to remind people there are bears in Oklahoma. Many people are not aware encountering a bear in Oklahoma's eastern half of the state is a real possibility.
"As far as we know, in Oklahoma, there have not been any occurrences of people using bear spray incorrectly."
In 2020, Oklahoma State University reported that there are two populations of black bears recolonized in eastern Oklahoma in the Ozark and Ouachita mountain regions. With this growing population, the chances of humans experiencing bear sightings are higher.
In a study investigating how Oklahomans tolerate black bears, the university found that residents are generally willing to tolerate black bears, and particularly those with education and experience with the creatures are more tolerant than those with less understanding of bears.
The tweet that was designed to raise awareness has delighted internet users. One Twitter user said: "Whoever runs this acct for OK Dept of Wildlife deserves a raise and a comedy award," while another wrote: "Sweet Jesus. If you have to be told this you shouldn't be allowed to vote, drive or be in public without an adult."
To avoid any doubt, the Oklahoma Department of Wildlife Conservation explained: "Bear spray is a bear deterrent and is similar to pepper spray. The spray irritates their eyes and respiratory system and can deter an aggressive bear. Bug spray is an insect repellent and is sprayed on a person to keep insects from landing on their skin."
"That must have burned," joked one user on Reddit. While another commenter said: "I used to work at a resort in Montana. The amount of times we have had to stop people from spraying themselves and their children with bear spray was too high."
Others admitted this was an easy mistake. One Twitter user wrote: "Went hiking with my now-husband years ago and when I asked him when I should 'put on the bear spray' he almost fainted."
Earlier this month, a heart-pounding video wowed the internet after a dog was chased back into its home by a black bear in Florida.
Update 05/24/22, 11:04 a.m. ET: This article was updated with a new image.