Criminal Minds only received an order for 15 episodes for Season 14, but that's not set in stone, nor is its future, Deadline reported Sunday.
"Sometimes trimming episodes" means being able "to get more originals on the air," CBS Entertainment president Kelly Kahl said to the publication. "They possibly can get a couple of more episodes. It depends where they are in production" when it comes time for that decision. Even if the season stays at 15, "we consider that a full season," Kahl told TVLine Sunday.
"I left the 22 up on my calendar in case they do give us more" episodes, executive producer Harry Bring wrote on Twitter in July. "I will already have it in tow if they do and be ready to pounce. I don't think so but ready if they do."
With the late renewal and fewer episodes, some are wondering if this could be the series' last season. Kahl isn't calling it that yet. "We will have an honest discussion with them at the right time," she told Deadline.
CBS didn't renew Criminal Minds for its 14th season until May. The network had renewed 11 shows in April. Six others had already been renewed at that point. That's not a sign fans should prepare to say goodbye. The series hasn't been part of the mass renewal news from CBS for a couple seasons.
CBS renewed 16 shows in March 2017, while Criminal Minds was picked up for its 13th season the following month, due to discussions between CBS and the studio that co-produces it, ABC Studios, according to Deadline. When the network renewed 11 shows in March 2016, Criminal Minds was missing from the list. It was renewed in May that year, the day after the Season 11 finale aired.
The most recent renewal guarantees the series hits a milestone, 300 episodes, with the Season 14 premiere. The episode needs to resolve the finale cliffhanger, which saw two team members in the clutches of a serial killer cult. One of the cult members is an FBI agent, who threatened to kill Technical Analyst Penelope Garcia (Kirsten Vangsness) if Dr. Spencer Reid (Matthew Gray Gubler) doesn't free her leader, Benjamin David Merva (Michael Hogan), from the agency's custody.
"Shooting the 300th episode of #CriminalMinds now and can't wait for you to see," showrunner Erica Messer tweeted July 18.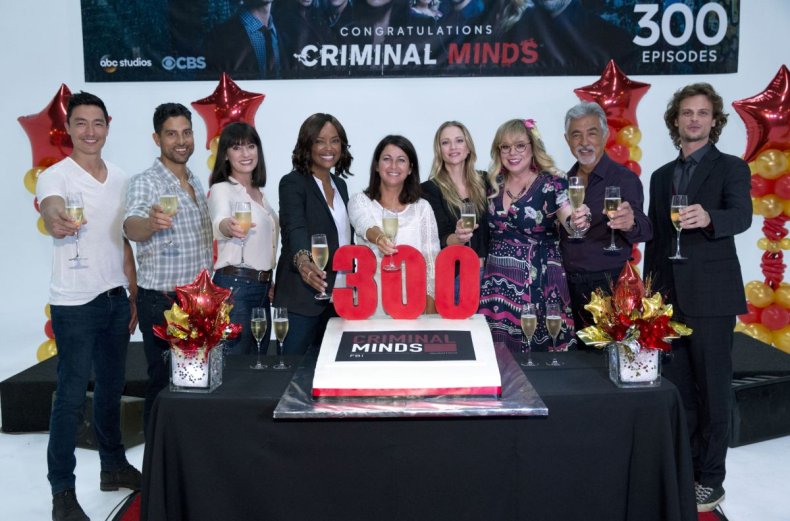 Criminal Minds Season 14 Premieres Wednesday, October 3 at 10 p.m. ET on CBS.