Will Dems Rebuke the Squad for Parroting Hamas Talking Points? | Opinion
President Joe Biden deserves credit for declaring that the United States supports Israel's right to defend 9 million-plus citizens from thousands of Iranian-supplied Hamas missiles. But Americans also need to hear a clear condemnation of certain members of Congress who are sending the opposite message.
Perhaps because non-stop breaking news coming out of the Middle East has appeared alongside major domestic challenges—from post-COVID developments to the hacking of America's energy infrastructure—many Americans missed the shocking political sleight of hand led by the so-called Squad.
Representatives Alexandria Ocasio-Cortez (D-N.Y.), Ilhan Omar (D-Minn.), Rashida Tlaib (D-Mich.) and their friends Reps. Cori Bush (D-Mo.) and Jamaal Bowman (D-N.Y.) are striving to move the Democratic Party and the Biden administration's Middle East policy in an alarming direction.
First, these members of Congress are conflating America's struggle against racism with Israel's self-defense against more than 3,000 Iranian missiles flung by Hamas and Islamic Jihad from Gaza at Israeli civilians.
After declaring his solidarity with various Hamas talking points on the Al-Aqsa mosque, east Jerusalem and the Gaza conflict, congressman Bowman punctuated it all by tweeting, "enough of black and brown bodies being brutalized and murdered."
Then there was Rep. Bush, who compared Ferguson, Missouri, to Gaza during a floor speech in Congress. She was in effect quoting Ayatollah Ali Khamenei.
Then, as millions of Israelis ran for cover, AOC tweeted this message to the Jewish state: "apartheid states aren't democracies."
Remember the days when BDS campaigns were limited to the West Bank and Jerusalem? Not anymore. All of Israel is "occupied territory" to Hamas and its apologists. It's all about getting rid of Israel.
Never mind that Israelis are brown, Black and white. Truth be damned to these members of Congress as long as the talking points are able to influence clueless young people and raise big bucks among those who hate Israel and Jews. All of this builds more political power for the Squad and money to promote its policy agenda.
Think we are exaggerating?
Well, the official news outlet of the Muslim Brotherhood praised these members of Congress in an article headlined, "Democratic representatives demand the protection of Palestinians from Zionist attacks."
These representatives' words—to the Muslim Brotherhood—amounted to tacit support of a U.S.-designated foreign terrorist organization, Hamas, which has fired more than 3000 rockets targeting civilians in Israel.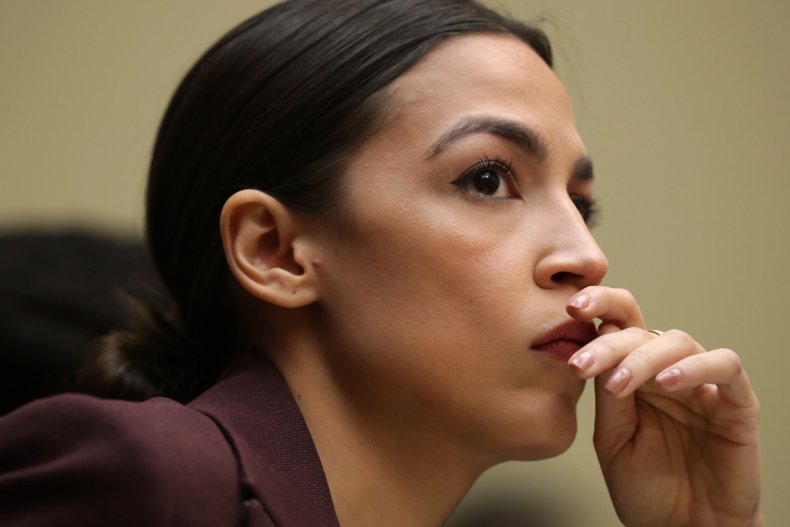 And about that "Israel is apartheid" canard—it isn't new either. It was actually born 20 years ago at a UN conference in South Africa on, of all things, opposing racism. Now, it's endorsed by even the Human Rights Watch. But consider the words of Olga Meshoe Washington, a South African activist and lawyer:
I'm a South African.... I know what apartheid is. I lived through it. I experienced it. My parents, my grandparents experienced it. We know about the oppression of Black people. We also know what colonization is...my nation was colonized twice...calling Israel an apartheid state is a lie.
But AOC, the Squad and the Muslim Brotherhood don't care, of course.
To paraphrase Winston Churchill, a tweet can travel halfway around the world before the truth gets its pants on—or until the fact checkers can get their counter-tweets out. AOC's "apartheid" trope received 315,000 likes by the time of our writing. It was retweeted more than 61,000 times. Those numbers embolden AOC's thinly veiled political ambitions to replace the Senate majority leader, New York senior senator Chuck Schumer.
AOC's "apartheid" tweet followed a reference to Israel's destruction of the Al Jala tower in Gaza, which Israel said contained Hamas assets. The Squad launched into a disinformation campaign that would have made Tehran proud, alleging Israel was targeting journalists—who had left the building after Israel warned them an hour in advance.
Once upon a time, members of Congress would check the facts before speaking. Did the Associated Press know its building was potentially used by U.S.-designated terrorists? Congress would have good reason to believe so, as a former Associated Press reporter wrote in 2014, "the AP staff in Gaza City would witness a rocket launch right beside their office...and the AP wouldn't report it."
They should also be asking questions about the UN Relief and Works Agency for Palestine Refugees (UNWRA), which has admitted in the past that rockets had been fired from its schools. UNWRA has just received a windfall of renewed U.S. funding, reversing President Donald Trump's pause. Nothing has changed, as UNWRA buildings are still used to cloak deadly missiles aimed at Israel's heartland and its teachers still use a curriculum which promotes war against the Jews, a fact confirmed by the European Parliament.
It all has real effects from Los Angeles to London where, this weekend, anti-Semitic activists called for the death of Jews as the head of Hamas, Ismail Haniyya, enjoyed luxury accommodations in Doha.
Has a single one of these social justice advocates even mentioned Iran's role in supplying Hamas' weaponry in the last week? Is there one example? Acknowledging Tehran's role is important for those who care about human rights because, as the chief executive officer of the Foundation for the Defense of Democracies tweeted, "the cowardly regime in Iran will fight Israel to the last Palestinian."
The nominal leaders of the Democratic Party know the truth about Hamas. They know, as Bret Stephens put it in The New York Times last week, "if you want a Palestinian state to exist and succeed, you must also want Hamas to be humiliated and defeated. Hamas's sole aim for over 30 years has been to turn a difficult, but potentially negotiable, conflict into a nonnegotiable, zero-sum holy war."
But knowing the truth and holding accountable the "young stars" of the Democratic Party are two different things. If Democratic leaders maintain their silence, there will be profound implications.
The clock is ticking as key members of the caucus have pivoted from pushing for a peaceful two-state solution to denouncing our ally Israel while parroting terrorist propaganda.
Ayatollah Khamenei's "diplomats" are waiting to see how this all plays out. If the U.S. cuts a deal to end Iranian nuclear sanctions, missiles will soon fly against Israel from other Iranian missile batteries in Lebanon, Iraq, Syria and maybe even from as far as Yemen.
It's simple; bipartisan voices from Congress should demand that U.S. diplomats pick up their attaché cases in Vienna and come home unless and until Iran stops funding and guiding proxy wars.
Then, it will be to the American voter next year to decide which voices will represent us at home and abroad.
Rabbi Abraham Cooper is the associate dean of the Simon Wiesenthal Center. Rev Johnnie Moore is the President of The Congress of Christian Leaders.
The views expressed in this article are the writers' own.