When George Washington wrote to the Hebrew Congregation of Newport, Rhode Island, in 1790, he declared that America should give "bigotry no sanction."
In 2021, that remains a tall order. Not only does history's oldest virus—anti-Semitism—today receive 24/7 assistance from social media, but it metastasizes as quickly as deadly new strains of COVID-19, spawning Jew-hatred and hate crimes here and abroad.
Ever since the infamous Charlottesville march, arson, desecration and deadly attacks on synagogues across the U.S. by white supremacists and neo-Nazis have increased. Lurid anti-Semitic and anti-Asian conspiracy theories about COVID-19 have spread online. It is appropriate that much of our attention has been focused on the extreme Right, here and abroad.
But we ignore, at our own risk, the high-profile anti-Semitism emanating from the self-anointed gatekeepers of the progressive Left, increasingly on display during these bloody days in the Holy Land.
With Hamas already hurling nearly 1000 rockets and missiles at Israeli civilian centers—200 of which landed inside Gaza, killing and maiming Hamas's own constituents—and Israel marshaling its military prowess to stop the onslaught, both sides struggle to promote their narratives across social media platforms and in the halls of power.
Left-leaning Americans have been happy to oblige. Here at home there is plenty of virtue signaling by Hollywood actors. Mark Ruffalo took time out from playing a make-believe hero fighting make-believe enemies to demand that the Jewish state face sanctions for defending its 9-plus million citizens from very real terrorists with very real weapons that cause very real people, including women and children, to bleed and die.
Meanwhile, Representative Ilhan Omar (D-Minn.) accuses Israel of terrorism because it responded to Hamas attacks. Of course, her tweets about the issue help her raise big bucks from others who hate Israel. Omar's rhetoric, echoing other "squad" members pounding Israel, must be deeply satisfying to Iran's Holocaust-denying, genocide-seeking Ayatollah Ali Khamenei and his lackey, Hezbollah's Hassan Nasrallah. Both, on Al Quds Day just a few days ago, called for a jihad to destroy the Jewish state. And Khamenei puts his rockets where his mouth is. Terrorist leaders in Gaza recently thanked Iran for upgrading the range and deadly potential of the rockets now unleashed by the hundreds against Tel Aviv.
But even if we dare to hope that this round of violent confrontation soon ends, the seeds of still more anti-Semitism here in the U.S. have been planted, including by some very influential progressives.
Take Black Lives Matter activist Shaun King, for instance, whose nearly four million Instagram followers have been served a steady stream of disinformation over the last week.
With typical hyperbole, King wrote, "you are looking at the one of the grossest displays of violent bigotry in the modern history of the world." King was writing of the annual Jerusalem Day march, where young Israelis walk to the Western Wall to celebrate the 3000-year-old history of the Jewish people in Jerusalem. It is a patriotic and spiritual celebration.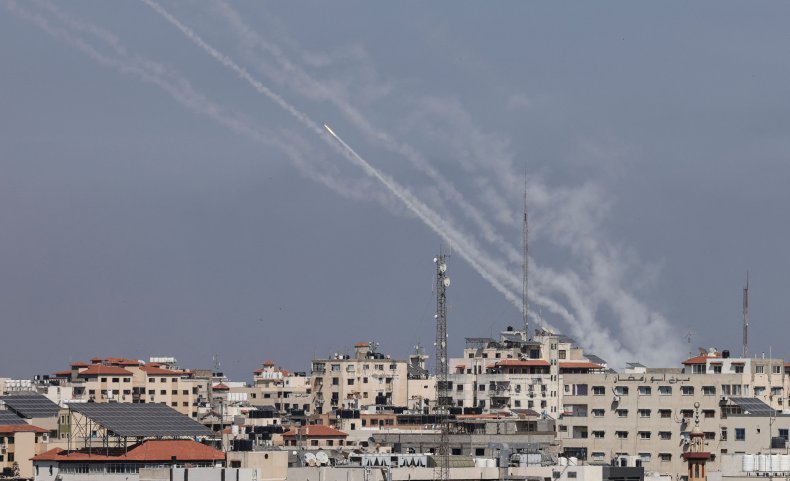 Though, in this case, the marchers' traditional dancing and singing took place against the backdrop of a tree burning in the courtyard of the Al Aqsa mosque. King alleged—fictitiously—that the young Jews were cheering for the mosque to burn down and cursing the Muslims who were worshipping there.
In actuality, the fire was either an accident (Jerusalem police determined it was the product of firecrackers Palestinians were throwing), or (more likely) intentionally set in order to fuel Islamist propaganda efforts alleging that Israelis were attacking the mosque to incite further violence against Jews and Israel.
In other words, the truth was the exact opposite of King's narrative. He was lying.
King lies in influential company. His compatriot propagandists include America's most famous anti-Semite, Linda Sarsour—who gives Hamas a moral blank check to attack Israelis—along with her good friends Omar and Rep. Rashida Tlaib (D-Mich.).
Tlaib justified Hamas's violence at a gathering convened by a pro-Sen. Bernie Sanders (I-Vt.) organization. Spewing her trademark BDS propaganda, she said, "what we are really telling Palestinians fighting apartheid is the same thing that is being told to my Black neighbor fighting police brutality: there is no form of acceptable resistance to state violence, it seems, except the denial of humanity and dignity—give up."
It is not just more anti-Semitism we fear.
The director of national intelligence's assessment of foreign threats to the 2020 presidential election specifically noted efforts by foreign adversaries to take advantage of social tensions in the United States. The DNI highlighted Iran in particular. The Islamic Republic has long invested in weaponizing race to divide America, including via 82 pages removed by Facebook in 2018 and multiple tweets and public statements by Khamenei himself using the hashtag #BlackLivesMatter.
Khamenei said in one tweet last year, "if you're dark-skinned walking in the US, you can't be sure you'll be alive in the next few minutes." He wrote a similar tweet in 2014. The Iranian leader tweeted #BlackLivesMatter and equated Ferguson, Missouri, with Gaza.
Khamenei also tweeted in May of this year, "we will support and assist any nation or any group anywhere who opposes and fights the Zionist regime."
Well, he has.
Now, we're seeing the poisonous fruits of his labor this week even as the Biden administration continues to negotiate a new nuclear deal and removal of sanctions with Iran's representatives in Vienna.
Can anyone imagine a nuclearized Iran bestowing such gifts to Hezbollah or Hamas?
G-d help us.
Rabbi Abraham Cooper is the associate dean of the Simon Wiesenthal Center. Rev Johnnie Moore is the President of The Congress of Christian Leaders.
The views expressed in this article are the writers' own.