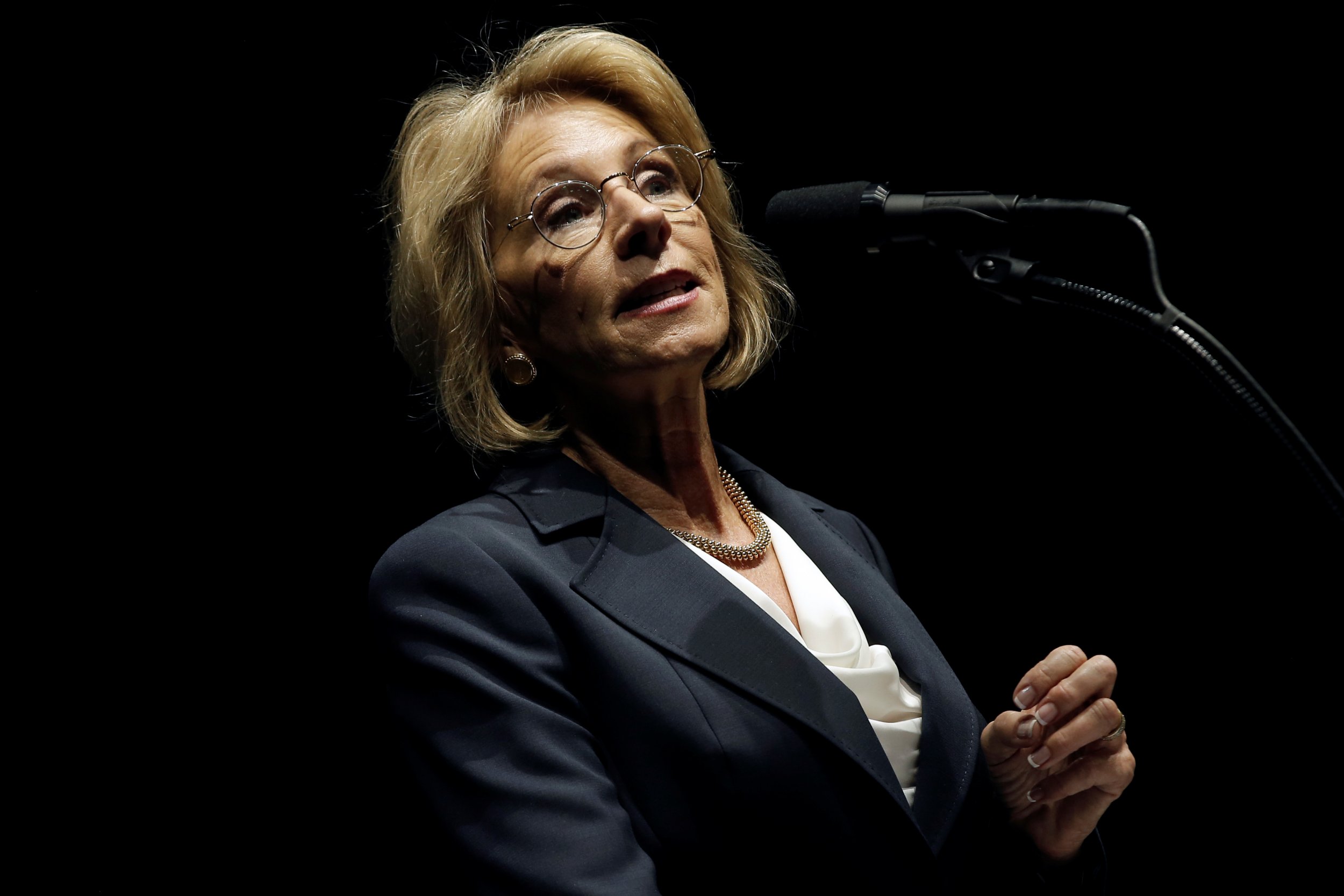 There's little question that billionaire Betsy DeVos, President-elect Donald Trump's proposed secretary of education, is "public school enemy No. 1."
One of the biggest donors in the Republican Party, DeVos has spent decades promoting private interests over the public good, paving the way for everything from the Flint water crisis to a singular drop in reading scores in Michigan schools.
DeVos hasn't been shy about her aims, either. She once called public schools simply a "dead end."
If DeVos wins confirmation, she will undoubtedly push for a complete privatizing of the nation's schools. This could mean the end of public education—and potential harm to millions of children.
Congress can work to stop such damage, though. On January 11, DeVos will go before a Senate committee, and congressional leaders should carefully consider her privateering ways and ask pointed questions about her efforts to promote private interests over public ones.
The Flint water crisis offers a case study in DeVos's approach: For the last several years, Flint residents have been sickened by contaminated water, a horrifying scandal that has harmed the region's children.
Through targeted donations, DeVos helped kick start the crisis. For years, DeVos funded the Mackinac Center for Public Policy, a free market think tank. The Mackinac Center advocated for an emergency manager for Flint, promising that the manager would reduce government—and tighten the city's budget.
In short, the manager would take Flint on the path toward privatization, and the city soon began using the Flint River as its water supply source, a decision that ultimately caused the water crisis. For its part, the Mackinac Center never showed much regret, once saying that the city should be "grateful" for the manager.
DeVos didn't cause the Flint crisis, to be sure. But polluted water systems are a clear outcome of her all-government-is-bad ideology, and she has heavily funded many other extremist efforts.
DeVos, for instance, has donated to far-right conservative groups like the American Legislative Exchange Council, which lobbies for privatizing America's prisons. Her money has also supported far-right PACs such as Americans for Prosperity, which argues against all efforts to reduce climate change. And DeVos once argued "government truly sucks."
When it comes to destroying civic institutions, DeVos has had her biggest victories in education. DeVos founded the Great Lakes Education Project (GLEP), which has pushed for private-school voucher programs in Michigan. GLEP has also worked to erode any oversight of the massive for-profit charter school industry in the state.
These policies have hurt students. As education researcher Doug Harris recently wrote in The New York Times, "After more than a decade of Ms. DeVos's getting her way on a host of statewide education policies, Michigan has the dubious distinction of being one of five states with declining reading scores."
American schools have their problems. Many lack funding, and pay for teachers is far too low. Other schools don't have access to good curriculum or even good buildings. More innovation and competition can play a role in improving schools, too, and many charter schools have posted strong outcomes.
But whether it's water supplies or public schools, unrestrained privatization is not the answer. After all, a Flint-like overhaul of the nation's schools will lead to a Flint-like disaster in our schools, in which private interests are put ahead of the needs of vulnerable students.
In other words, the ideology that opened the door for the Flint water crisis shouldn't also poison the wells of our nation's public education.
Ulrich Boser is a senior fellow at the Center for American Progress.