Will Early Heat Wave Take Down California's Energy Grid and Gavin Newsom?
California's power grid operators are "guardedly optimistic" about their ability to protect the state's grid from overloading during the first heat wave of the summer, a hopeful sign for Governor Gavin Newsom as the California Democrat defends his administration against a targeted recall attempt.
California's energy crisis in the early 2000s played a significant role in the recall of former California Governor Gray Davis, who lost to Arnold Schwarzenegger in October 2003.
Though the state's power grid is expected to be under stress this summer, Democratic strategist Garry South, who managed Davis' successful gubernatorial campaigns in 1998 and 2002, told Newsweek he thinks there is little chance that summer power outages would hurt Newsom's chances of winning a recall.
South told Newsweek earlier this year that the international nature of Newsom's battle with the coronavirus pandemic was a key difference between his struggles and the California-centric problems Davis had to face.
"Voters, even a lot of Democrats, viewed [Davis] as not handling the electricity crisis that we faced in 2000, and particularly in 2001, properly," South told Newsweek. "But that was a crisis that affected one state."
The fact that the pandemic is nationwide is key, he said.
"That's the major difference between the crisis that brought Davis down and the crisis that Newsom has been handling with the pandemic over the last year," South said. "This is a national problem, and it's affecting every state and every governor, no matter what their political party."
Organizers behind the Recall Gavin Newsom campaign have credited the coronavirus pandemic and the economic shutdowns it inspired with fueling their efforts to rally recall supporters. On Tuesday, Newsom launched California's official reopening with a press event celebrating the state's vaccination rollout, with more doses administered than any other state and 72% of California's adult population having received at least one dose.
But as pandemic concerns began to lift, the summer heat started cracking down on California residents, who last year experienced the state's first heat-inspired power shutoffs since the early 2000s.
The National Weather Service issued an excessive heat warning for June 15 through June 17, noting that "dozens (possibly hundreds) of daily record high maximum and minimum temperatures are likely to be set over the next few days" in California and other Western states.
In anticipation of the stress the heat wave will place on the state's power grid, the nonprofit organization in charge of overseeing the state's electricity use, California Independent System Operator (CAISO), issued a heat bulletin on June 11, encouraging electricity conservation during peak power grid activity hours.
"We don't anticipate any rotating power outages at this time," said Anne Gonzales, a senior public information officer at CASIO.
While rotating power outages are planned and designed to give grid operators opportunities to alleviate grid pressure, blackouts are unplanned and could take days or weeks to fix—a differentiation that Gonzales told Newsweek is important.
"If there were true blackouts, it would be a very large hardship on a much larger area," Gonzales said. "It could spread into other states, because we are interconnected."
California is part of the Western Interconnection, which means it has the ability to share power resources with a handful of other states and parts of Canada and Mexico. Though the interconnectivity of states' power grids can help those in need of extra resources during intense weather events, Gonzales said the persistent high temperatures and durations of heat waves in recent years have made sharing resources trickier.
"When they are widespread across the Western region, it affects our ability to be able to import energy supplies from other neighboring grids, and vice-versa," Gonzales said. "When we're all hit with the heat at once, we're not able to help each other out."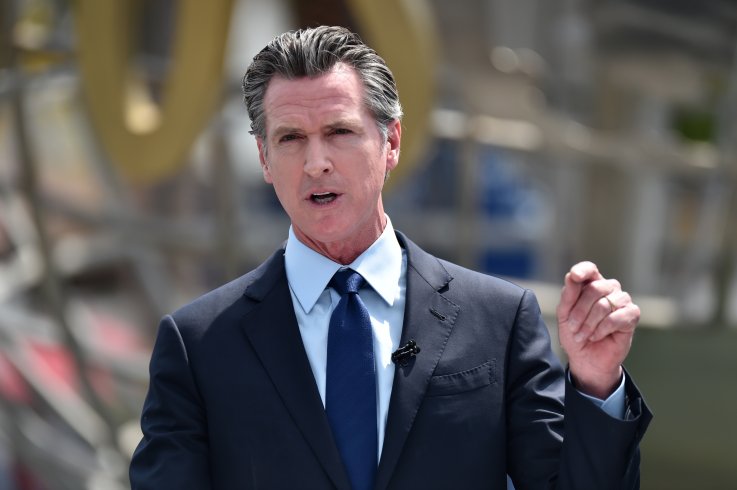 Anne Gonzales, a senior public information officer at the California Independent System Operator, said she is "guardedly optimistic" about the state power grid's ability to handle heat waves this summer. But the grid is "still going to be at risk to stress during the extreme heat waves, especially those that extend across the west," she added. In the photo above, California Governor Gavin Newsom attends a press conference for the state's official reopening at Universal Studios Hollywood on June 15, 2021 in Universal City, California.
Alberto E. Rodriguez/Getty Images
The National Oceanic and Atmospheric Administration's recent annual June climate reports recorded higher than normal temperatures through much of the American West. Heat waves set records in June of 2016 and resulted in dairy milk production declines and cattle deaths in 2017.
The following year saw the Pacific Coast getting a break from June heat waves, but they returned for the next two years, with average reported temperatures in the Western U.S. between 2 and 4 degrees above normal in June of 2020.
"In the past, it's true that there was increasing heat. But I would have to say that last year was a turning point for that, because it was so historic in nature," Gonzales said. "It wasn't just the high heat—it was the fact that it extended across the entire Western region, so it limited our import capabilities."
Some California residents experienced two days of planned power outages last August. According to CAISO data, it was the first time the state ordered such outages since 2001, though electricity companies often initiate power shutoffs of their own at times of extreme wildfire risk.
In addition to the swath of power outages Davis faced in 2000 and 2001, Davis also dealt with power companies declaring bankruptcy and hiking electricity costs for consumers—and Davis' hesitancy to criticize the power companies for their actions was jarring to voters, South told Newsweek.
In contrast, Newsom has publicly criticized PG&E, the major power company servicing northern and central California, for its handling of power outages during intense heat spells.
"Newsom has been calling out PG&E as a bad actor in numerous ways over the time he's been governor," South said.
If PG&E or another of the state's electricity companies declare precautionary power outages this summer, South said it is unlikely Newsom will be to blame.
"He has cleverly and smartly positioned himself vis-a-vis PG&E in a way that people are not going to think that he's complicit in excusing PG&E bad behavior, because he's called it out publicly time and time again," he said. "So if this comes down to PG&E having to shut power off or having blackouts, he's positioned himself much better with respect to PG&E than Davis did in 2001."
With high temperatures expected to continue this summer, Gonzales said CASIO made some changes since last year's rotating power outages to protect the grid. They include requiring energy operators to make substitute resource plans and pricing adjustments to "send strong signals" when the state is in need of energy.
CASIO also anticipates relying on Flex Alerts, which encourage residents to conserve energy during times when energy use is at its highest.
"They get that if everybody collectively does a few small things," she said, "that we can all work to stretch those energy supplies over the tough times and prevent more drastic emergency measures from having to be taken."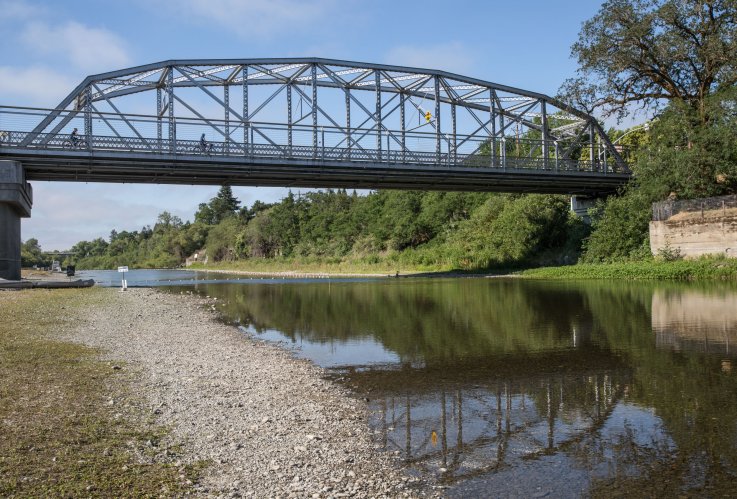 The lack of flowing water on the Russian River at Memorial Bridge is viewed on June 3, 2021, near Healdsburg, California.
George Rose/Getty Images
In a summer assessment published last month by the North American Electric Reliability Corporation, the organization acknowledged CASIO's recent adjustments, but said having enough resources is still a "significant concern" for much of the Western Interconnection.
"Peak demand projections have also increased in many parts of the Western United States, and overall resource capacity is lower compared to 2020," the report said. "Increased demand and lower resource capacity across the Western Interconnection can mean limited availability of surplus capacity for transfer into load centers for parts of California."
Gonzales acknowledged enduring heat waves will still be a challenge for California.
"We do have better electricity supply conditions for the upcoming summer; we're in better shape in that area," Gonzales said. "But the power grid is still going to be at risk to stress during the extreme heat waves, especially those that extend across the west."
Even so, Gonzales said she did not anticipate rotating power outages would be needed to handle this week's heat wave, and she is hopeful they will not be needed for the rest of the summer, either.
"We feel guardedly optimistic for the year," she said. "But again, with the high heat, that's the time when we will be leaning on our consumers and our flexible load, and trying to reduce demand at those very important times."
Regardless of whether power outages are needed during this heat wave or others to come this summer, South said he does not think they will impact Newsom's chances of winning the recall election.
And South believes those chances are high.
"There's just no factor here that I can see that suggests to me that Newsom is in trouble," hesaid.