Could a Tougher Border Force Solve Europe's Refugee Crisis?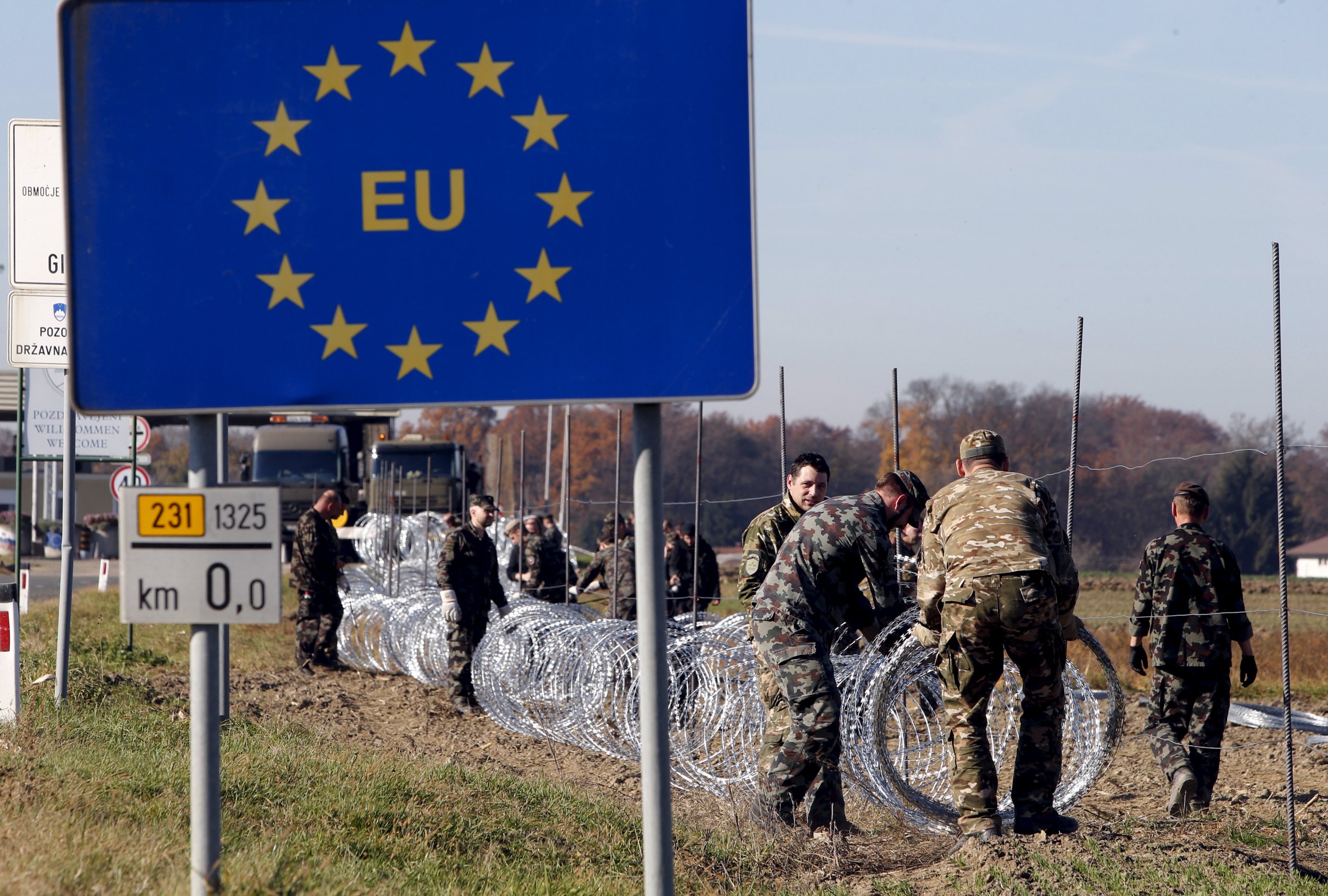 For 11 years, Europe's borders have been protected by Frontex, the European Commission's border agent, responsible for patrolling Europe's external frontier. Recent events, namely the influx of refugees—mainly from Syria, but also Iraq and Afghanistan—have put undue strain on frontline states like Italy and Greece. The deadly Paris attacks of November 13 also have leaders worried that militants could be hiding among the vulnerable masses. All of which has contributed to the European Union (EU) being forced to rethink how it monitors its borders.
On Tuesday, the European Commission proposed a doubling the number of staff working for Frontex and create a separate reserve force—the European Border and Coast Guard agency—boosting security within the 26-nation Schengen zone, which sees citizens of member states traveling freely without passport checks.
According to EU officials, the commission hopes to employ 1,000 permanent staff at the new agency. It also seeks to create a reserve pool of 1,500 border guards as a "quick-reaction" force that, within three days, could be drawn from countries in the zone and deployed to areas suddenly inundated with refugees and asylum seekers.
If approved by leaders at an EU summit in Brussels on Thursday, the new measures will give Frontex a stronger mandate on registering and fingerprinting arriving refugees, forcing those found ineligible to come into Europe to return to their country of origin.
One of the proposal's more controversial details is a change to Frontex's autonomy, not only in legal terms but also in capabilities: the agency will be able to intervene without the consent of the country in trouble. "We must regain control over our external borders to stem migratory flows and to preserve Schengen," European Council President Donald Tusk said on Tuesday, in a letter addressed to EU leaders.
The proposals already face opposition; although the new measures are being presented as a " safety net," Poland has rejected the idea outright, as an infringement of national sovereignty, AFP reports. Polish Foreign Minister Witold Waszczykowski said on Monday that the plan to upgrade Frontex to "a structure that is independent of member states is astounding. There would be an undemocratic structure, reporting to nobody," he said, speaking at the European Parliament in Strasbourg.
Some experts are doubtful that strengthening border controls will cut down on numbers trying to get into Europe. According to Marc Pierini, visiting scholar at the think tank Carnegie Europe, the EU should look to improving screening processes "to sort out in a decent manner who is eligible for refugee status and who is not," before implementing a tougher border force.
"Whatever the mechanism, it is far from certain that [the proposed system] will stem the flow of refugees; people running for their life will always find a way," Pierni says in an email to Newsweek. "Remember East Berlin during the Cold War."
Pierni believes that the mere setting-up of the new border system will be "immensely complicated" as other nations are sure to follow Poland's lead and accuse the commission of overstepping its boundaries.
Angeliki Dimitriadi, a visiting fellow at the European Council on Foreign Relations, agrees that it will take some time before the commission's plan achieves its intended goal.
"[The proposals] will definitely make the agency stronger and its mandate far more enlarged than ever before," in an email to Newsweek . "But, the level of effectiveness depends on the level of commitment by EU Member States." Dimitriadi points to the fact that EU leaders are meeting for a fifth time this year—with commitments made but little progress made towards actual realization.
For countries such as France, reinforcing its external borders is a priority after reports emerged that two perpetrators of the Paris attacks had allegedly posed as refugees to enter the EU through Greece. If EU leaders pass new border plans, Europe's frontiers will be controlled by an autonomous force—and the outcome of Thursday's EU summit in Brussels must establish, who, if anyone, will monitor them.