Will Fired Unvaccinated Employees Get Their Jobs Back After SCOTUS Blocks Biden Mandate?
Employees who were terminated from their job because of their refusal to get vaccinated for COVID-19 aren't guaranteed to get their jobs back just because the Supreme Court struck down President Joe Biden's vaccine or testing mandate.
The mandate, which required millions of employees to be vaccinated or undergo weekly testing, sparked questions about the legality of terminating employees over their vaccination status. However, in the majority of the United States, businesses can terminate employees for not complying with company policies and that doesn't necessarily change because of the Supreme Court's decision.
Dorit Reiss, a University of California Hastings College of Law professor, told Newsweek that unless employees can claim religious discrimination or disability-based discrimination, employers are free to terminate employees for not being vaccinated. Employment in the United States is "at-will" so employers can implement whatever policies they want within the confines of the law and the default is that if employees don't like the policy, they can find a new job.
Given that private employers can require employees to be vaccinated, Reiss said wrongful termination lawsuits are "unlikely to succeed."
Biden announced the vaccine mandate in September but left the details up to the Occupational Safety and Health Administration (OSHA). Under the guidelines OSHA issued, employers were given a choice between requiring all employees to be vaccinated against COVID-19 or undergo weekly testing and wear masks in communal spaces.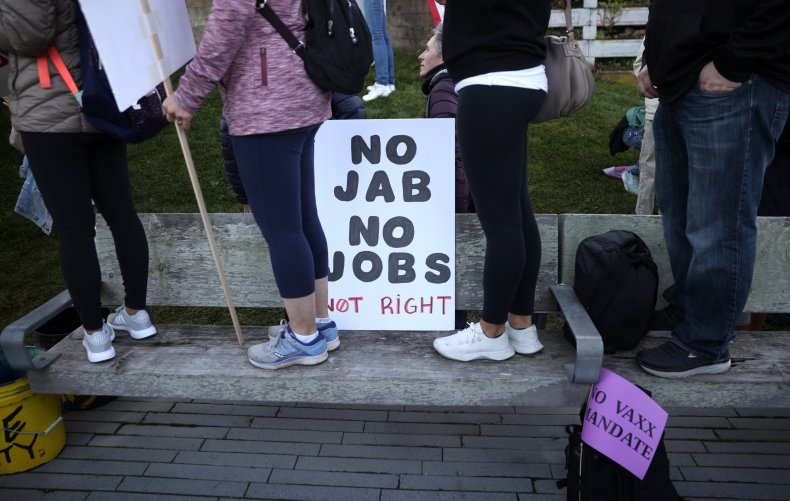 Even before the mandate went into effect, companies began announcing that being vaccinated against COVID-19 would be a requirement for continuing employment. Under the Americans With Disabilities Act, companies are required to offer exemptions to employees with a valid medical reason for why they can't get vaccinated.
Employers could also be required to offer religious exemptions under the Civil Rights Act of 1964, but Susan Carle, the vice dean and professor of law at the American University Washington College of Law, said the "burden of proof" is on the employee to prove they're entitled to accommodation.
The Supreme Court ruling focused on barring OSHA from forcing businesses to implement vaccine or testing policies. But, the "more significant" piece of the ruling is that nothing in it suggests companies can't require employees to be vaccinated, according to Steven Wilker, a partner at the law firm Tonkon Torp.
So, companies that implemented vaccine policies could be successful in defending themselves against a wrongful termination lawsuit, according to Wilker.
However, an employee could have a case if they could prove the company terminated them solely to comply with the mandate, Laurence Tribe, a Carl M. Loeb University professor at Harvard Law School told Newsweek. However, it would be on the employee to prove the company implemented the policy because of the looming mandate and would not have done so if the rule wasn't about to go into effect.
Further complicating an employee's ability to file a lawsuit alleging wrongful termination because of a vaccine mandate are state and local laws. In New York, businesses must either move to a vaccine-only model or require masks for everyone who enters the building, regardless of vaccination status.
In an email to employees in mid-December, JP Morgan Chase announced the company was moving to a vaccine-only model in 10 New York City offices. While the company was working with unvaccinated employees on alternative solutions, Jamie Dimon, the CEO of JP Morgan Chase, told CNBC during an interview that people who aren't vaccinated won't be able to work in the office and "we're not going to pay you not to work in the office."
Although the Supreme Court ruling frees up many businesses from an obligation to implement a vaccine or testing policy, there are exceptions. The Supreme Court upheld the requirement for health care workers to be vaccinated against COVID-19. So, health care workers who were terminated for not being vaccinated could struggle to prove a wrongful termination lawsuit.