Will House Prices Drop in 2023? Real Estate Experts Give Their Predictions
The booming housing market has started to finally slow down under the weight of increasingly high mortgage rates and an affordability crisis, with 2023 expected to be a "tough" and "slow" year, analysts warn.
The housing market exploded during the pandemic, with a combination of low mortgage rates and low inventory leading to bidding wars between potential homebuyers which gradually caused prices to skyrocket.
This year, home prices reached a record peak in June and then started to drop as surging mortgage rates drove many aspiring homebuyers out of the market.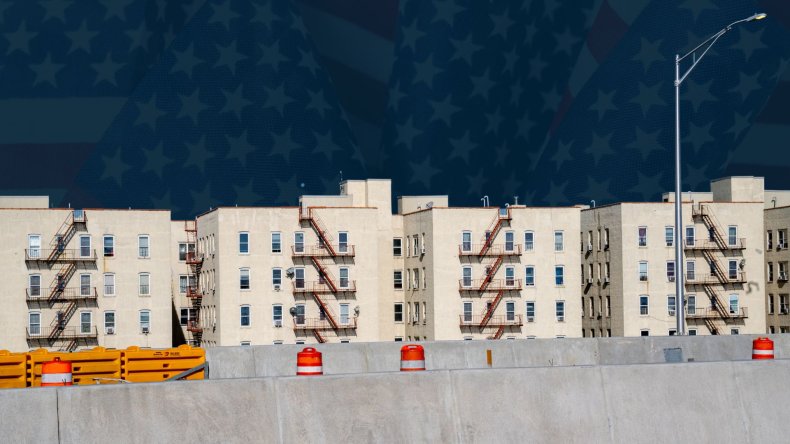 "We actually started seeing the slowdown in activity in late spring, when the interest rates started going up, but it accelerated during the third quarter, particularly in September, when we saw mortgage rates really climb up to the 7 percent range," Robert Rulla, a senior director in Fitch Ratings' corporate finance group, told Newsweek.
"And our expectation is that that's probably going to continue through at least the next 12 to 18 months or so."
Will Home Prices Drop Next Year?
Fitch Ratings expects home prices to drop in the mid-single digits next year, though the forecasted decline is higher in the new home market.
"If you look at it from a peak level—which was probably around the third quarter or so— our expectation is that new home prices next year will probably be down 8 percent to 10 percent," Rulla said.
This number appears in the forecasting of other major groups too.
Moody's Analytics expects house prices to drop by 10 percent next year, as a direct consequence of the combination of skyrocketing house prices and high mortgage rates which has pushed many aspiring first-time homebuyers out of the market.
But house prices could drop even lower if the country enters a recession, according to Moody's.
"If we suffer a recession and say it's kind of a typical recession in length and severity to the average since World War II, I think prices will be down about 20 percent from your peak to through over the next couple of years. So it's going to take a couple of years to get to find a bottom in house prices," Mark Zandi, chief economist of Moody's Analytics, told Newsweek.
"People just can't afford these mortgage rates at these prices, something has to give. And I think it's got to be both: mortgage rates do have to come back down from where they are, they can't stay here forever; but the other is lower house prices, and we need more income growth. And that goes to the other factor, and that is a weaker job market.
"Under any scenario, the job market is going to be a lot weaker in the coming year. The Federal Reserve is working really hard to slow job growth and to quell inflation and wage and price pressures. And so, it's just a question of how weak the job market's going to be."
Another factor impacting house prices in 2023 will be tighter underwriting, Zandi said.
"Lenders are going to be more cautious in extending credit in this environment of falling prices and higher unemployment, so we'll get less credit. All those things will conspire to weigh on house prices going forward."
According to Zandi, 2023 is going to be a "tough year" from coast to coast. "I don't see any major market avoiding some form of correction in 2023," he said.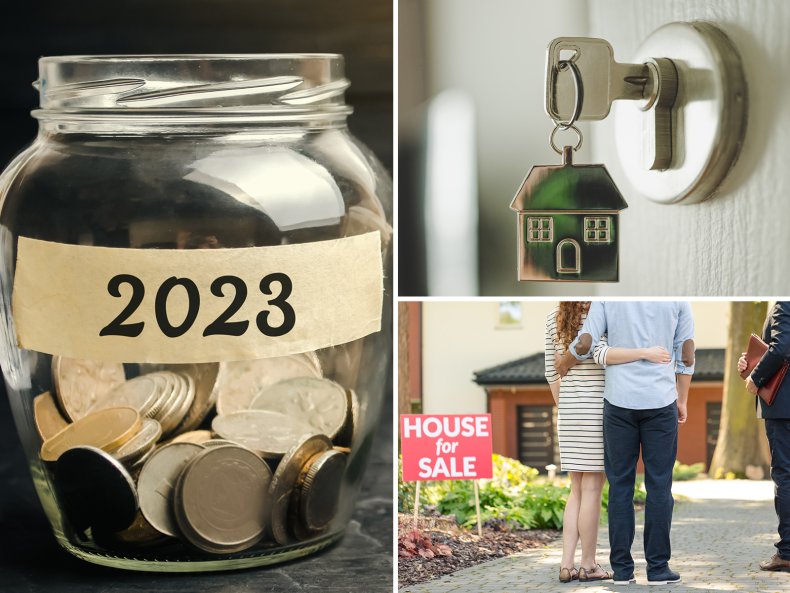 Will There Be a Recession?
A mild recession in the U.S. has been predicted in Fitch Ratings' most recent global economic outlook despite job growth remaining "exceptionally strong" and growing consumer spending, as the Federal Reserve is rising interest rates at a rapid pace, and this will likely weigh on job growth and consumer spending.
"The global economic outlook is predicting a mild recession in the U.S. starting in the second quarter of next year, and we do expect an economic slowdown," Kevin Kendra, managing director of Fitch Ratings, told Newsweek.
"So, with unemployment going back over 5 percent by the end of 2024—I think it's only going to be slightly below 5 percent through 2023—we do expect to see some softening in the labor market."
Fitch Ratings expects the U.S. to enter "genuine recession territory" in the second and third quarters of next year.
Kendra expects 2023 to be "a slow, slow year as far as mortgage originations [the process by which a lender works with a borrower to complete a mortgage transaction]" go, with little refinancing activity for new homebuyers.
Will Mortgage Rates Remain High?
Kendra believes mortgage rates are likely to remain high next year, but S&P Dow Jones Indices' managing director Craig Lazzara is more cautious in his forecast for 2023.
"It's quite an uncertain time now [for the housing market]," Lazzara told Newsweek. "You have this remote work trend that's shifting the geographies, and at an overall level, we don't know when the peak in interest rates is going to come.
"And I would guess that the end of the deceleration or the bottoming of prices will not occur probably until approximately the same time that interest rates peak. So, if you had a crystal ball and could tell me that interest rates are going to peak and in December of this year, then I would say, 2024 or 2023 is going to be a pretty good year for housing because rates are going to be level or down.
"And if you told me rates are going to peak in December 2023, I would say 2023 is not going to be all that good a year."
Lawrence Yun, chief economist who oversees the Research Group at the National Association of Realtors (NAR), has a more positive outlook on next year and mortgage rates.
"I think the buyers will return somewhat, because what I've noticed in the past couple of weeks is that mortgage rates are coming down," Yun told Newsweek.
"So perhaps all these inflation fears have been overblown in the general consumer price inflation, and the Federal Reserve may not be as aggressive in trying to raise interest rate next year.
"So, the market is incorporating all this information and the end result is that mortgage rates are actually a little bit lower now compared to just two weeks ago. And the housing market is always greatly impacted by changes in mortgage rates."
The key question then would be, is there going to an adequate supply of homes as buyers return to the market?
"Given the current very high home prices, my prediction for next year is for home prices to essentially remain neutral, meaning that the country will see some minor change in home prices, but differences on nationwide levels will be driven by local job market conditions. So, in areas with strong job growth, maybe there will be some small price gain, while the areas where there is a sluggish job market may experience some slight price declines."