Will a Joe Biden Victory Be Enough to Stave Off Conflict Between the U.S. and Iran?
President Donald Trump has vowed to secure a new nuclear deal with Iran within "four weeks" of being re-elected in November—his latest ambitious promise to his voters regarding Iran, in what is set to be the most viciously fought presidential contest in living memory.
Trump did not elaborate on how he planned to secure a deal, and his first term gives little hope of productive engagement with Tehran. Since withdrawing from President Barack Obama's Joint Comprehensive Plan of Action in 2018, Trump has introduced a wide range of sanctions on Iran, approved military strikes against its proxies—and even a leading commander—and sought to isolate the country on the world stage.
This "maximum pressure" campaign against Iran has certainly inflicted pain and exacerbated economic difficulties in the country, particularly as it struggles to contain its coronavirus outbreak. But the campaign has not produced a new deal, or even talks that might lead to one.
The Trump administration has chosen a unilateral stick approach over Obama's multilateral carrot, but Tehran remains defiant.
Moreover, Trump's time in office has been punctuated by spikes in tensions with Iran, including cyber attacks, bombings of commercial shipping in the Persian Gulf, the shooting down of a U.S. drone, the assassination of Major General Qassem Soleimani and ballistic missile attacks on American troops in Iraq.
More than once, war appeared to be just over the horizon, though the majority of military experts agree that a U.S. conflict with Iran would be an expensive, bloody and likely unsuccessful affair.
All the while, ever since the U.S. withdrew from the agreement in 2018, Iran has also been moving further from its own JCPOA commitments—despite threats and condemnation from the U.S. Iran began by violating the JCPOA piecemeal, but after the U.S. assassinated Soleimani in January announced it would no longer abide by any of the restrictions.
Despite these proclamations and despite numerous violations of the deal, the International Atomic Energy Agency has said Tehran is yet to increase the number of centrifuges enriching uranium or in enrichment levels—signals that the country would be pushing for a warhead. If it did, however, Tehran could have a bomb within a year.
Iranian President Hassan Rouhani has said Tehran will return to full compliance with the JCPOA only when other signatories do the same. But Iran hawks within the Trump administration and in Israel—whose power-sharing government, headed by Prime Minister Benjamin Netanyahu and Defense Minister Benny Gantz, has the White House's ear—are unlikely to put much stock in such a commitment.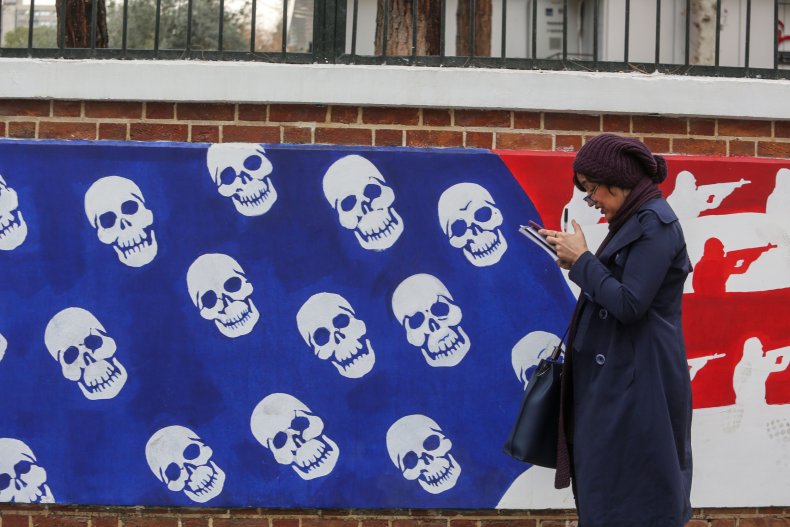 The Trump administration has failed to bring America's allies along with it. The so-called E3—the U.K., Germany and France—who signed the JCPOA along with China and Russia have refused to back the American push for an extended arms embargo on Iran or the reimplementation of UN sanctions on the country. Tehran celebrated this as the failure of American unilateralism and the isolation of Washington, rather than of Iran, on the world stage.
A Trump victory or defeat could both prompt action on Iran. Daniel Byman, a senior fellow in the Brooking's Institute Center for Middle East Policy and a professor at Georgetown University, told Newsweek: "A deal remains reachable, though its parameters are unclear."
"On the nuclear issue in particular, Iran has avoided steps that are irrevocable," Byman explained. "However, it would require a significant change in U.S. policy, which is only likely if Tehran changed much of its regional approach." This includes its support for armed proxies in other nations, something Byman said is unlikely.
If Trump wins, he will begin a second term less concerned about public approval. Iran has its own elections in June, and experts predict that the regime will make sure a hard line candidate is victorious. A second Trump term plus a hardliner in Tehran likely means no deal.
Among the candidates are several from the Islamic Revolutionary Guard Corps. If the IRGC takes the presidency, diplomacy is likely to play second fiddle to military posturing. Machismo and threats will be routine from both sides, raising the risks of miscommunication and escalation.
A second Trump term, then, seems unlikely to address the existing issues in Washington-Tehran relations, with more tension, brinkmanship and military posturing likely. The risk of war will remain.
Two months to land a blow
But even if Trump loses, he will have two months to inflict a major blow on Iran. Unrestrained and looking ahead to four years of revived diplomacy under Biden, Iran hawks in the administration may see a window to strike.
This could include attacks on the Popular Mobilization Forces in Iraq—an Iranian backed militia that was instrumental in the fight against Islamic State militants and has cultivated huge influence in the country. The PMF has been a thorn in America's side for some time, and former commander Abu Mahdi al-Muhandis was one of those killed by the American drone strike on Soleimani.
A Trump loss could mean "some pretty significant action," said Kirsten Fontenrose—a former senior director for Gulf affairs at the National Security Council and now the Director of the Scowcroft Middle East Security Initiative at the Atlantic Council.
"I don't mean starting a war, but I think we'll see more provocation, and we'll see attacks on the PMF in Iraq, for instance," she told Newsweek. Iraq is likely to remain the primary battleground for the U.S.-Iran conflict. "I think we'll see the gloves come off there," Fontenrose predicted.
"I think that's why we're having this discussion about shutting down the embassy," Fontenrose added, referring to reports that the U.S. embassy in Baghdad—regularly the target of attacks by Iranian backed militants—may soon be shuttered.
Such a move could be "to get people out of harm's way before we can lay a smackdown on the PMU," Fontenrose said, using another acronym for the PMF.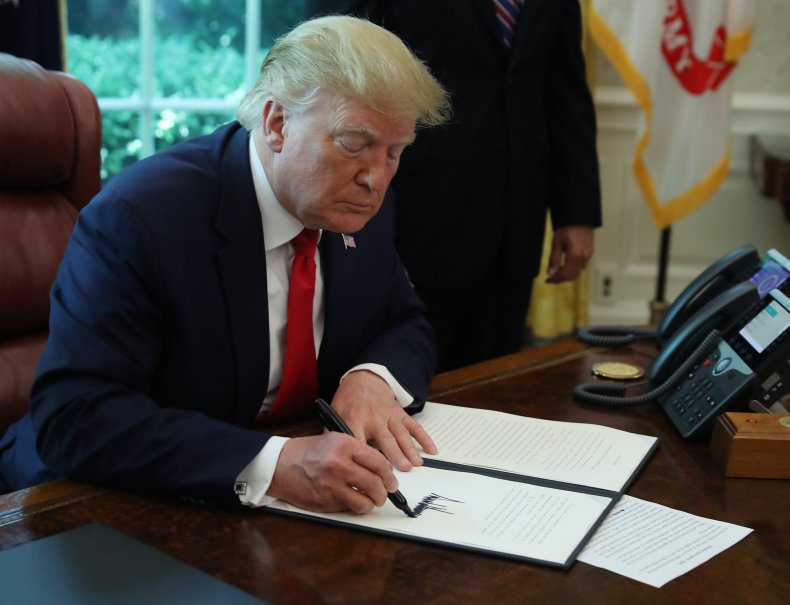 Israel is a central consideration in U.S. policy on Iran. Either a second Trump administration or a future Biden government would be pro-Israel, though Trump more unapologetically so. Both would side with Israel in its campaign to prevent Iranian nuclear weapons, and both might green light unilateral Israeli action against Tehran's nuclear infrastructure.
"We could potentially see some collaboration with Israel, and perhaps the [United Arab Emirates], on either cyber or on hitting some IRGC naval bases on the coast," Fontenrose said. "Or just greenlighting of unilateral Israeli action for things like taking out additional nuclear facilities."
The Israelis might not even pre-warn the White House, particularly in the case of a Biden administration seeking re-engagement with Tehran. The Abraham Accords mean Israel has new anti-Iran partners in the region, giving the Netanyahu-Gantz government more backing and potential collaborators for any action.
This might all even be to Biden's benefit. Chances for a new deal look slim regardless of who sits in the Oval Office next year, so military options—whether conventional or covert—might be seen as the best way to slow Iran's nuclear progress. An incoming Biden campaign can wash their hands of a lame duck Trump or unilateral Israeli attack, but still reap the rewards.
But Byman said significant action would run counter to Trump's strategy to date. "Trump so far has been cautious on using military force," he said. "Yes, there was the Soleimani killing and that was risky—an important exception."
"He has never shown an eagerness to start wars in the Middle East, whatever his other flaws," Byman said of the president. "U.S. allies, however, may believe that a Biden administration would be less supportive. But it is hard for them to act in any decisive way without the United States."
A difficult path for Biden
Biden is promising a return to dialogue. The former vice president has vowed to rebuild America's diplomatic corps, which Trump critics say has been hollowed out and politicized over the past four years.
Multilateralism and traditional alliances are at the heart of Biden's foreign policy plan, which would be a welcome shift for the Security Council members that UN ambassador Kelly Craft has accused of "standing in the company of terrorists" over their inaction on Iran.
But Biden's team knows it cannot readopt the JCPOA wholesale on day one. Iran is in violation of the deal and has built up substantial nuclear materials. Four years of Trumpian maximum pressure has squeezed Tehran, but its ballistic missile research has continued and it has maintained its network of regional proxies and covert operations.
Biden is demanding that Tehran return to full JCPOA compliance, but has also vowed "hard-nosed diplomacy and support from our allies to strengthen and extend [the JCPOA], while more effectively pushing back against Iran's other destabilizing activities."
The Biden campaign did not respond to Newsweek's requests for clarification on what such "hard-nosed diplomacy" might look like.
Biden and his team will have to try and pick up the pieces of a messy Trump term, and from June may well have to deal with a new hardliner in Tehran. Even before that, Supreme Leader Ayatollah Ali Khamenei is not likely to allow moderate incumbent President Hassan Rouhani make any real progress on a new deal with Washington.
"I don't think Trump gets an agreement," Fontenrose said. "I don't think Biden gets an agreement that's any better than a watered down version of the former JCPOA."
"I really don't think either administration gets anywhere on proxies and ballistic missiles by negotiating," Fontenrose added. This leaves military action, sanctions, and other routes like "strategic litigation," which will seek to punish Iranian officials directly rather than the country and its people as a whole.
Anything Biden is able to bring back to Congress has no guarantee of success. There was plenty of opposition to the JCPOA and it will be difficult to sell lawmakers on a weaker version.
Success will also depend on the makeup of the next Congress—Biden may well have to battle with a Republican Senate still led by Sen. Mitch McConnell, who revelled in thwarting as much of Obama's work as possible.
To an extent, the chance of a new deal is out of U.S. hands. "The question is can we get to something more predictable—a status quo ante situation even without a formal deal," Byman said. "Iran, for economic reasons at least, wants an easing of pressure."
If Biden wins, the Iranian regime would likely "eke out a living on the little bit of sanctions relief he's going to grant them as a goodwill gesture," Fontenrose suggested, but still ensure a hardliner wins power in the summer. Then the regime and the new president might come to the table, but with the intention of exploiting the situation for maximum gain.
From Biden's side, there will be a desire to get a new deal that at least appears better than the JCPOA on the surface, even if only for political purposes. Biden's foreign policy team "is experienced, and I don't think they have any illusions around Iran," Byman said.
Fontenrose was less hopeful. "It is in America's spirit to trust and have goodwill," she said. "And it's lovely to see that spirit, but we're just gonna get owned for it."