Will Melania Trump 'Feud' With Prince Harry Like Obamas?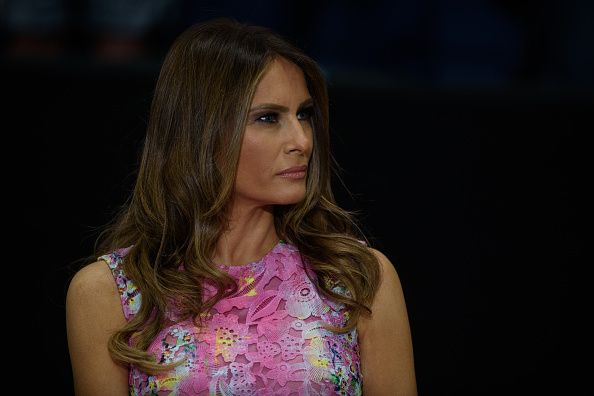 Melania Trump will make her first solo trip outside the country as first lady of the United States in September, to attend the Invictus Games in Toronto.
The third iteration of the games, which run September 23 to 30, will see more than 550 wounded servicemen and women from 17 allied nations competing in a dozen adaptive sports, such as archery, sitting volleyball, swimming, wheelchair basketball, wheelchair tennis and golf.
"In just two short years, the Invictus Games have allowed thousands of injured and wounded servicemen and women from many different countries to participate in adaptive sports competitions—something that should be lauded and supported worldwide," Melania Trump said in a statement released Thursday. "I am honored by the opportunity to represent our country at this year's games."
The new FLOTUS has the sincere sentiment down two months ahead of the trip, but when the event gets closer, will she be able to pull off the faux trash talk her predecessor had for the games' founder, Prince Harry?
Related: Why the Obamas and Prince Harry are 'feuding' on Twitter
Michelle Obama helped Harry kick off the last event, in Orlando in May 2016. A couple weeks before that, she and former President Barack Obama had some fighting words for the royals across the pond.
"Hey, Prince Harry," Michelle said in a video she posted on her official feed, tagging the Kensington Palace account. "Remember when you told us to bring it at the Invictus Games?" Barack pointed at the camera and added, "Careful what you wish for."
Harry responded with a few tweets and a video of his own. "Wow @FLOTUS and @POTUS, some @weareinvictus fighting talk there! You can dish it out, but can you take it?" he wrote. "How on Earth am I going to top that?" he added. "Unfortunately for you @FLOTUS and @POTUS I wasn't alone when you sent me that video." He was with his grandmother, Queen Elizabeth II, who said in reply, "Oh, really. Please."
The first Invictus Games took place in London in September 2014. Harry decided to launch the competition after he attended a similar event, the Warrior Games, in Colorado the previous year. He has already announced that the fourth Invictus Games will take place in Sydney in October 2018.
As the countdown to the Toronto games continues, it's possible the new FLOTUS and POTUS will engage in some jovial trash talk with Prince Harry. But it seems much more likely that Canada's Prime Minister Justin Trudeau will instead step in to fill those jesting shoes.