While the U.S. is expected to hit Moscow with new sanctions over an assassination attempt on an ex-Soviet double agent, Russian President Vladimir Putin has yet to announce a response, and the Kremlin said it would be "incorrect" to do so right now.
The U.S. State Department announced last week that it would restrict exporting sensitive electronic imports to Russia by the end of the month as punishment for the near-deadly poisoning of former military intelligence officer Sergei Skripal and his daughter in the United Kingdom earlier in the year.
Investigators determined that the former double agent and his daughter, Yulia, suffered exposure to a Soviet-designed nerve agent near their home in Salisbury, England, pointing the finger at Russia.
Russia has vehemently denied ordering the poisoning and objected to U.S. sanctions over the attack. On Monday, the Kremlin defended Putin's decision to refrain from announcing reciprocal action.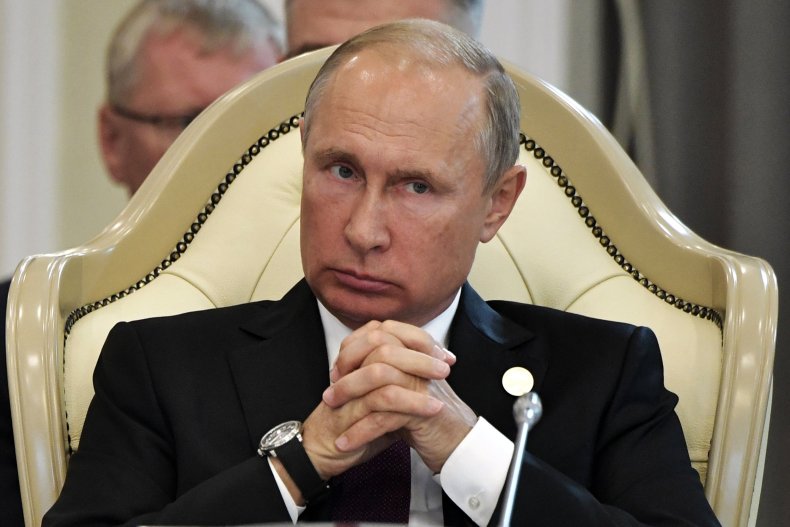 "As far as any instructions are concerned, then, of course, he has not yet given any, because there was an announcement of some new sanctions, there was information that the package is being prepared or is already prepared, but they are not yet in place," Putin's spokesman, Dmitry Peskov, said on Monday.
The Kremlin press secretary brushed off questions about what sort of response Russia had been considering in response to impending U.S. sanctions, suggesting Moscow would not make its response public until after the sanctions came into force, state news agency Itar-Tass reported.
"Not having precise information about what new restrictions Washington has thought up, it would be incorrect to speak of any such responses," Peskov said. Without giving any detail, he assured journalists in Russia that in such situations "the main, underlying principle is the principle of mutuality, the principle of reciprocity."
The Skripal case caused a fresh rift in the U.K. and Russia's already tense relationship, resulting in British Prime Minister Theresa May and the royal family refusing to travel to Russia this summer to follow England's trip to the semifinals in the World Cup.
The Kremlin has suggested a handful of other countries could be responsible for poisoning Skripal with the military-grade nerve agent, but more than 20 countries, including the U.S., accepted the British explanation, joining London in expelling more than 100 Russian diplomats.
Read more: Soviet poison expert backs U.K. claims on Sergei Skripal attack
Peskov's comments echoed what Russian Prime Minister Dmitry Medvedev said last week when he told reporters he would not comment on "future sanctions." However, Medvedev did appear to draw a red line on a strategy that goes beyond this month's package, which the U.S. Senate has still to vote on.
A bipartisan group of senators has prepared an extensive new bill that would target general financial transactions by Putin and those suspected of doing business with him, affecting Russia's general trade and borrowing. Medvedev compared this to "economic war" and said Moscow would respond "with economic methods, political methods and, should it be necessary, with other methods too."