Russia Tells U.S. It Will Retaliate Against Sanctions Economically, Politically or Using 'Other' Methods
New sanctions on Russia resemble an act of "economic war" and Moscow will respond, the country's prime minister announced, as U.S. officials mull options to tighten pressure on the Kremlin in the fall.
The U.S. State Department announced earlier this week it will increase sanctions on Russia after concluding that Moscow was complicit in the near-deadly poisoning of ex-Soviet agent Sergei Skripal and his daughter Yulia near their home in the English town of Salisbury this spring. The Kremlin denies it was involved. The new sanctions only target sensitive electronic exports from Russia, however, a bipartisan group of U.S. senators has drafted a bill to go further and target financial transactions, state debt and investments linked to Russian President Vladimir Putin and his retinue.
Asked about any official response from the Russian government, Prime Minister Dmitry Medvedev revealed few details, but issued a stiff warning: "I would not like to comment on conversations about future sanctions, but I can say one thing. If any type of ban on the activity of banks follows or of the use of any currency, then we can directly call this a declaration of economic war," Medvedev said at a meeting with officials on Russia's Kamchatka Peninsula, the Interfax news agency reported.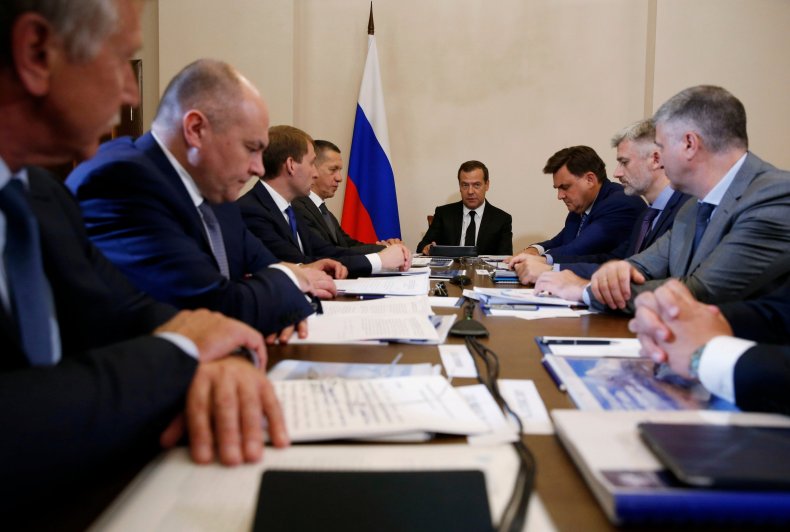 "It would be necessary to react to this war with economic methods, political methods and, should it be necessary, with other methods too," Medvedev said, cryptically. "Our American friends need to understand this."
Sanctions that are already underway "limit our economic might to a significant extent," Medvedev said, but remained defiant that Moscow would not succumb to the pressure.
Currently Kremlin-friendly businesses and oligarchs face U.S. sanctions linked to the annexation of Crimea, downing of MH17 and conflict in eastern Ukraine. Russian diplomats also face restrictions and expulsions following the U.S. election meddling scandal. The new bipartisan bill aims to punish Russia precisely in connection with election meddling.
"Our country existed under the pressure of sanctions for the last hundred years," Medvedev said, conflating the Soviet Union's poor relations with the West with Russia's. "What is this done for? In order to to remove Russia from the group of powerful competitors on the international arena."
Read More: Russia and Japan clash over military deployment on disputed island
The drafted bill to expose and sanction lucrative dealings by Putin and those around him has not come to a vote on Capitol Hill, however its announcement has already hurt the ruble. The Defending American Security from Kremlin Aggression Act of 2018 will await Congress when it is back in full next month; individual points from it may be put into other legislation.
The ruble slid once again after the State Department announced sanctions on electronic imports from Russia, reaching 66.7099 rubles to the dollar—its lowest since late 2016, Reuters reported.