What Is Putin Worth? New Bipartisan Bill Wants to Reveal President's Assets
Republican and Democrat senators are pushing for a bill to add U.S. pressure on Russia and make public the net worth of Russian President Vladimir Putin.
The draft, compiled by six senior lawmakers, seeks a stiffer response to Russia's hacking of the U.S. election, forming multiple bodies to investigate Russian interference abroad and pushing the government to determine if Moscow is a "state sponsor of terrorism."
The Defending American Security from Kremlin Aggression Act of 2018 also takes specific aim at Putin's own, much-contested worth, and the financial dealings of his close associates.
The senators called for "new sanctions on political figures, oligarchs, and family members and other persons that facilitate illicit and corrupt activities, directly or indirectly, on behalf of Vladimir Putin," as well as a full report on Putin's own holdings.
Besides placing him personally under the microscope, the senators want to halt issuing new sovereign debt, and curb investments in his government's energy projects.
The bill also calls for greater scrutiny of another popular kind of transaction for oligarchs: luxury real estate.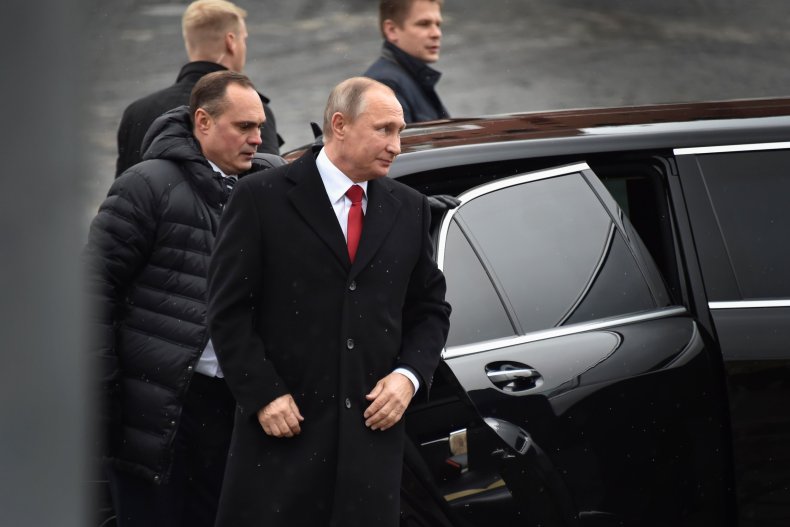 "The sanctions and other measures contained in this bill are the most hard-hitting ever imposed—and a direct result of Putin's continued desire to undermine American democracy," Senator Lindsey Graham said in a statement on his website. "These sanctions and other measures are designed to respond in the strongest possible fashion."
"Unless Russia fundamentally changes its behavior, we must not repeat the mistakes of past administrations of trying to normalize relations with a nation that continues to pose a serious threat to the United States and our allies," said Senator Bob Menendez, who signed the bill alongside Republicans Cory Gardner and John McCain, as well as Democrats Ben Cardin and Jeanne Shaheen.
Putin's personal worth and the business dealings of his circle are the subject of multiple reports, including one that Senate already heard, which estimated that the Russian leader had $200 billion in cash and assets at his disposal. Ex-financier and Putin critic Bill Browder testified before Senate last year, explaining how he landed at the multibillion-dollar estimate when the Kremlin listed Putin's official salary as a mere $300,000 a year.
The man, who Putin recently asked President Donald Trump to allow him to question, said the Russian leader was now the "richest man in the world," owing to his jailing of Russia's richest man in 2003 for 10 years on charges widely considered to have been politically motivated.
Read more: Putin boasts about having a motorbike that is nowhere to be found on his records
"One by one by one after Mikhail Khodorkovsky was convicted, these other oligarchs went to Vladimir Putin and said, 'What do we have to do to not sit in that cage?' He said, very straightforward, '50 percent.' Not 50 percent for the Russian government or 50 percent for the presidential administration of Russia—50 percent for Vladimir Putin," Browder told Senator Sheldon Whitehouse last year.
The Kremlin denied this and other reports of unlisted assets in Putin's possession. "All these rumours, all these accusations about billions and billions of dollars of his fortune, this is not true. Don't believe in them. He's got nothing," Dmitry Peskov, Putin's spokesman, told CNN last year. "He's got what he writes in his personal financial declaration every year."