Will Smith Called Party He Threw for Jada His 'Low Point'
Will Smith reached his "low point" after the surprise he planned for Jada Pinkett Smith's 40th birthday party fell flat.
The actor has been open about the incident, which the couple discussed in a resurfaced Red Table Talk clip, and he also highlighted the evening in question in his recent memoir Will. After Smith had shown a documentary about Pinkett Smith's life at her birthday party, a surprise three years in the making, she told him it was "the most disgusting display of ego I have ever seen in my life."
The couple's marriage has been under the spotlight for years, and it faced even more scrutiny after Smith slapped Chris Rock onstage at the Oscars for making a joke about Pinkett Smith's hair. Later that night he won the Academy Award for Best Actor but publicly apologized to Rock the next day.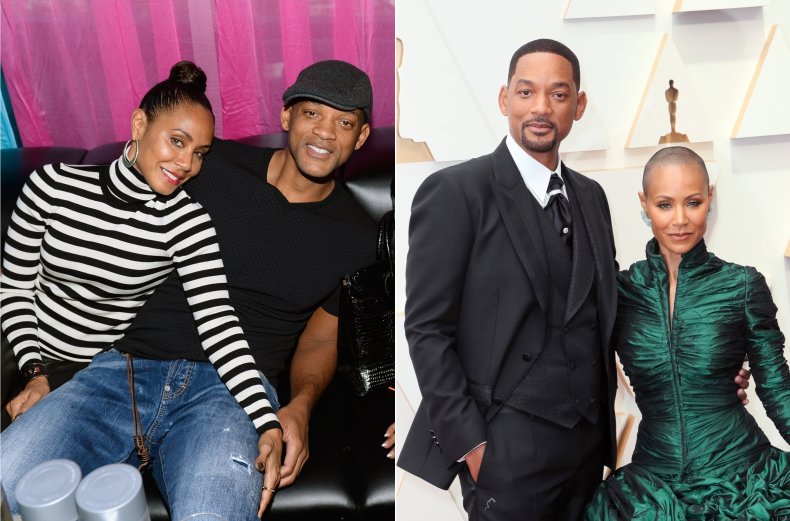 The "Low Point" in the Smith Marriage
During an episode of Red Table Talk, first broadcast on October 29, 2018, Smith opened up to the family about his "low point" which happened to coincide with Pinkett Smith's 40th birthday.
He spent three years planning a documentary for her to show at her birthday, detailing her family history, featuring hidden tapes of her grandmother, and he also tracked down a descendant of the white family who once owned Pinkett Smith's ancestors. He also got Mary J. Blige to perform at the event, and Smith described himself looking at Pinkett Smith like "the little boy that wants mommy to say everything was wonderful," but he didn't realize she was having a "really difficult emotional time."
Eventually they got back to their room with Willow there too. Smith discussed the moment in Red Table Talk but went into further detail in his memoir Will. Smith recalled she told him: "That was the most disgusting display of ego I have ever seen in my life."
Pinkett Smith and Smith began fighting so loudly that 10-year-old Willow emerged crying with her hands over her ears begging them to stop. A letter Willow supposedly wrote as a child recently reemerged, addressed to Tupac Shakur, to come back to make her "mommy happy."
After the incident, he explained on Red Table Talk how he was "crushed" and that to this day he knows he was crushed, "because it was true."
Within the memoir, Will, Smith wrote: "Our marriage wasn't working. We could no longer pretend. We were both miserable and clearly something had to change."
Smith detailed what changed in his marriage after this point during an interview with GQ in November 2021. After discussing his marriage to Pinkett Smith in his book, Smith said: "Jada never believed in conventional marriage.... Jada had family members that had an unconventional relationship. So she grew up in a way that was very different than how I grew up.
"Marriage for us can't be a prison. And I don't suggest our road for anybody. I don't suggest this road for anybody. But the experiences that the freedoms that we've given one another and the unconditional support, to me, is the highest definition of love."
In June 2020, rapper August Alsina claimed that Smith had given him permission to have a romantic relationship with Pinkett Smith. Smith and Pinkett Smith then openly discussed the truth behind the incident in an episode of Red Table Talk on July 10.
Alsina references their "entanglement" in a new song "Shake the World." He has also signed a new book deal where he will discuss the incident, according to multiple reports.