Will Smith's Apology to Chris Rock Lacks One Vital Thing, Experts Say
Will Smith's public apology to Chris Rock after slapping him onstage at the Oscars may be a case of too little, too late, according to crisis managers.
Smith stunned viewers on Sunday, when he bounded onto the stage at Hollywood's Dolby Theatre and struck Rock across the face, after the comedian made a joke about his wife Jada Pinkett Smith's hair loss, which is due to alopecia.
After returning to his seat, Smith bellowed to Rock that he should "keep my wife's name out your f***ing mouth." While Smith later apologized onstage as he accepted his Best Actor Oscar for his role in King Richard, he didn't directly address Rock until Monday.
Taking to Instagram one day after the incident, Smith said that he was "out of line and I was wrong. I am embarrassed and my actions were not indicative of the man I want to be. There is no place for violence in a world of love and kindness."
Emotional Reaction
"Violence in all of its forms is poisonous and destructive," Smith wrote. "My behavior at last night's Academy Awards was unacceptable and inexcusable. Jokes at my expense are a part of the job, but a joke about Jada's medical condition was too much for me to bear and I reacted emotionally.
"I would like to publicly apologize to you, Chris. I was out of line and I was wrong. I am embarrassed and my actions were not indicative of the man I want to be. There is no place for violence in a world of love and kindness.
"I would also like to apologize to the Academy, the producers of the show, all the attendees and everyone watching around the world. I would like to apologize to the Williams Family and my King Richard Family. I deeply regret that my behavior has stained what has been an otherwise gorgeous journey for all of us. I am a work in progress."
However, Eric Schiffer, chairman of California-based Reputation Management Consultants, told Newsweek that he believes Smith's show of contrition appeared to be "contrived and desperate to save a career he crashed into the Hollywood sign."
If the actor's reputation is to be salvaged going forward in any way, he will need to issue "an authentic apology to Rock because his acceptance speech was chaotic, and not enough nor did his recent [Instagram] apology hit the mark."
He went on: "Will needed to apologize first to Rock and had time to get it right before his acceptance speech but failed along with his written apology."
Following the Oscars, the Academy of Motion Picture Arts and Sciences said it "does not condone violence of any form." The Academy has since said that it has started a review of the incident.
"The Academy condemns the actions of Mr. Smith at last night's show," the statement said. "We have officially started a formal review around the incident and will explore further action and consequences in accordance with our bylaws, standards of conduct and California law."
Schiffer told Newsweek that while the effect of Smith's latest apology is debatable, it may serve to "take down the public heat a degree or two while he awaits the Academy's verdict."
He further stated: "Part of Will Smith's spontaneous combustion image rehabilitation is determined by whether the Academy decapitates his Oscar win and takes their multi-pound of golden flesh back from him.
"Chances are the Academy won't see Smith's... anger and assault as an Oscar extinction-level act."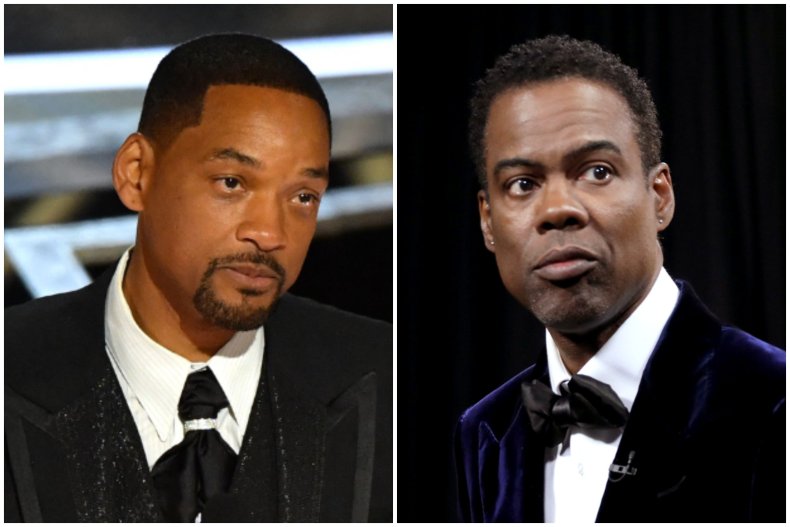 Toward the end of his Oscar acceptance speech on Sunday, Smith appeared to touch on slapping Rock, when he spoke about protecting his castmates before saying that "love will make you do crazy things."
Evan Nierman, CEO of crisis PR agency Red Banyan, told Newsweek that many would see Smith's words as an attempt to justify his previous actions, made all the worse as his apology to Rock wasn't immediate.
"Not only did Will Smith fail to apologize to the very person he attacked, but he also seemed to rationalize and excuse his violent outburst by saying that love makes you do crazy things," said Nierman, author of Crisis Averted.
A route to public forgiveness won't stop at a simple apology, but rather with how Smith uses his platform going forward.
Nierman explained: "Smith is going to have to demonstrate real remorse and speak out unequivocally against violence, and anything short of that suggests he doesn't truly regret his actions.
"In his recently released autobiography, Smith spoke stirringly about the damaging impact of his father's domestic violence, but then shockingly exhibited similar behavior and loss of control in front of a global audience."
Under the Spotlight
Ultimately, whatever the action taken by Smith, there is little he can do to stop images and footage of his reaction to Rock being discussed and replayed, Nierman added.
"Expect the discussion around Will Smith's actions to burn brightly in the coming days, because he is one of the world's most famous and talented artists," he said.
"The constant airing of the slap and his screaming obscenities from his seat will eventually subside, and in their place will come a deluge of commentary reflecting on the impact of his actions, what the proper punishment should be, and the responsibility that celebrities do or don't have to serve as role models."
While winning an Oscar is an achievement that those within the industry proudly attach to their names, Smith's triumph will likely be forever attached to the incident that greatly overshadowed this year's star-studded ceremony.
Nierman said: "Will Smith is an amazing actor beloved by the public and it's a terrible shame that what should have been a night celebrating a crowning achievement as a performer will forever be indelibly linked to an ugly assault by him.
"This incident will be attached to Will Smith for a long time to come, and will also go down in infamy as one of the most shocking and unfortunate moments in the history of the Academy Awards."
For his part, Schiffer told Newsweek that the consequences could see Smith's Oscar win "edited for good" from any highlight reels looking back on past victors.
"Will Smith's Oscar victory and tremendous talent will sadly forever be cauterized into the public's pre-frontal cortex, shamefully staining his win for decades and ensuring he's edited for good from any serious and historic Oscar winner highlight reel," he said.