Will Smith Jokes 'You Can't Invite' Him and Jada Pinkett Smith 'Nowhere'
Will Smith joked that he and his wife, Jada Pinkett Smith, can't be invited anywhere as the world reacts to his altercation with Chris Rock at the Academy Awards on Sunday night.
Viewers of the 2022 Oscars are still reeling from the moment when Smith walked up on stage and slapped the comedian for making a joke about Pinkett Smith.
The viral moment is overshadowing the entire ceremony, as celebrities and fans alike grapple with what they witnessed.
Taking to Instagram after the slap, Smith joked: "You can't invite people from Philly or Baltimore nowhere!!"
Smith is famously from Philadelphia while Pinkett-Smith is a Baltimore native.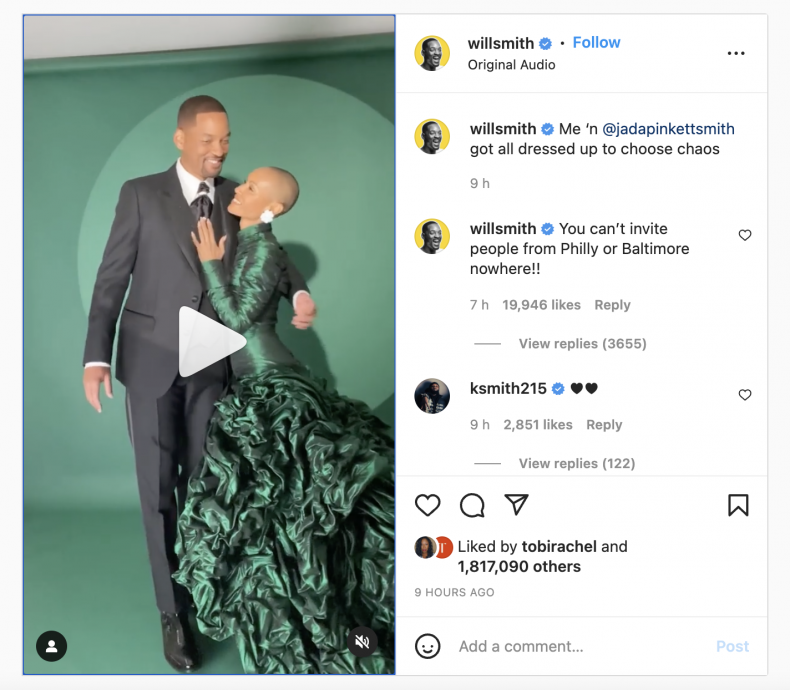 The actor added the comment to an earlier post, seemingly around the same time as the on-stage incident.
It isn't clear whether Smith posted the joke in reaction to the incident, or if he posted it just before it took place, but it has certainly sparked a massive discussion on the actor's Instagram page.
Newsweek has contacted Smith's publicist for comment.
A viral clip of the moment has now amassed more than 57 million views and is dominating much of the conversation on social media today.
Rock was on stage to present an award when he cracked a joke at the expense of Pinkett Smith
"Jada, I love you. G.I. Jane 2, can't wait to see it," he said, referring to Pinkett Smith's shaved head, a result of her experience with the condition alopecia, which causes hair loss.
Smith was initially seen laughing along with the joke, but things soon took an unexpected turn when the actor walked onto the stage and clocked Rock firmly on the side of his face.
"Wow. Will Smith just smacked the s*** out of me," Rock said in reaction.
On returning to his seat, Smith shouted back to Rock: "Keep my wife's name out your f****** mouth!"
Smith went on to be named best actor and scooped the Oscar for his role in King Richard.
In his acceptance speech, he tearfully apologized for slapping Rock.
"I know to do what we do, you've got to be able to take abuse, you've got to be able to have people talk crazy about you. In this business, you've got to be able to have people disrespecting you, and you've got to smile, and you've got to pretend like that's OK," Smith said in part.
"Denzel [Washington] said to me a few minutes ago, he said, 'At your highest moment, be careful. That's when the devil comes for you.' It's like, I want to be a vessel for love."
"I want to apologize to the Academy, I want to apologize to all my fellow nominees," he added, before joking that he hopes "the Academy invites me back."