Will Smith Cracks Oscar Joke in Video Released Year on From Chris Rock Slap
Will Smith has cracked a joke about his infamous 2022 Oscar win in a video shared to TikTok.
Smith set the internet ablaze back in March 2022, after taking to the stage during the 94th Academy Awards to slap presenter Chris Rock after the comedian made a joke about his wife Jada Pinkett Smith.
Though Smith went on to win the best actor award for his portrayal of Richard Williams in the biographical sports drama King Richard, his triumph was overshadowed by the assault on Rock and the subsequent angry verbal exchange.
In the days that followed, Smith apologized to Rock for his actions and was banned from the Oscars for 10 years by the Academy of Motion Picture Arts & Sciences. Though Rock has addressed the incident while performing on stage, he has yet to fully respond to Smith's apology.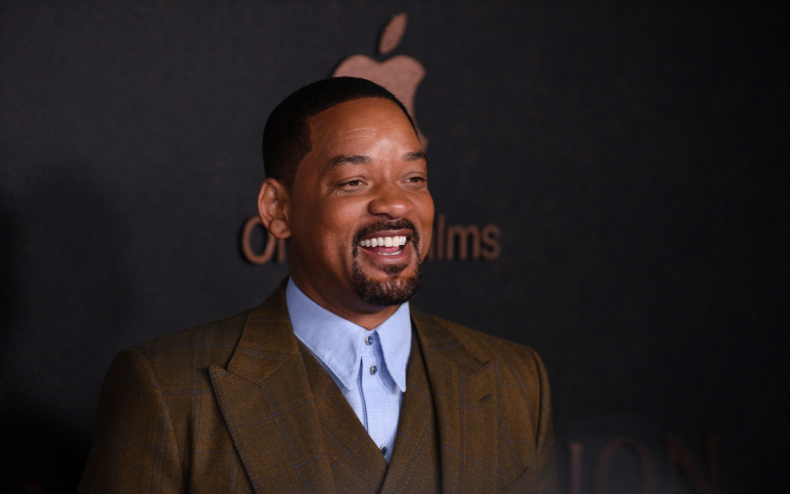 In the meantime, Smith's online profile has taken a hit, with one report suggesting he was losing on average 8,000 followers a day at the height of the furor.
Now, almost a year after the incident, and amid continued shows of contrition, Smith has shared a video to TikTok referencing his Oscar win. The clip has been stitched together from another video by Sam Rossi, posting as missmoneyworking. Watch it here.
The video begins with Smith watching Rossi share "an absolutely unhinged exercise."
"It sounds insane but it will literally change your life," Rossi says on the clip. "Did you know that you can pick any object, look at it and ask it what it thinks of you?"
According to the TikToker, in picking up a random object, "you will get an answer in your mind from your intuition." As Rossi goes on to explain how "you can ask your car what it thinks of you" Smith can be seen looking off to the side.
The video then cuts to show Smith frowning as he picks up his Oscar and shows it to the camera. He appears at a loss for words for a brief few seconds before the video ends.
Rossi, a lifestyle guru, author and social media personality, told Newsweek her "heart skipped a beat" when she realized Smith had created a remix of her TikTok video.
"It may sound like a joke or just a goofy idea, but I use the exercise that I described in my video fairly often," she said. "It's fun and entertaining sometimes, but it also helps you become aware of thought patterns that are keeping you stuck so you can let them go."
She has her theories on what Smith might have been trying to get across with the clip.
Rossi said: "I think Will chose to react to my video because he wanted to make a joke about how his Oscar might think he's crazy for the drama that happened at the Oscars in 2022, and I love that because I believe we're all just here to create different experiences for ourselves and nothing really matters (I'm certain that Will knows this). Or maybe he just wanted to flex his award. I would totally do the same thing!"
She added: "He didn't say anything in the video, he simply showed his Oscar, and that allowed everyone who watched the video to come up with their own ideas about what his Oscar thinks of him. That's a clever way to create attention and engagement."
The clip has been watched close to 1 million times, with many viewers applauding Smith for once again flexing the comedic chops that made him a household name with The Fresh Prince of Bel-Air. Fluffbunfluff said: "The people in these comments surprised that WILL SMITH is funny."
Many saw it as Smith poking fun at himself and what unfolded at the Dolby Theatre in Los Angeles nearly a year ago. PhawkU commented: "Least he's got a sense of humor" with Anthony Bartonik agreeing: "If you can't laugh at yourself right lol love it." Buzzsaw1256, meanwhile, wrote: "Humility is the best trait to have."
Others imagined what the Oscar might have said, had it been able to talk. Michelle Mundy reckoned the statuette would probably ask him: ""What have we learned?"
KaylieRenee126 thought the Academy Award may have offered a more serious response, imagining the Oscar telling Smith: "I expected more from you."
Elsewhere, Mitchell James Bowen praised Smith for creating the video and once again acknowledging his mistake, describing the clip as "a hard watch but worth it."
Newsweek has contacted Smith and Rock's representatives as well as Rossi for comment.
Updated 21/2/2022 12:13 P.M. With comment from Rossi.