Chris Rock Mocks Will Smith Over Oscars in Netflix Special: Full Transcript
On Saturday, March 4, Chris Rock took part in Netflix's first ever live event by performing his stand-up special "Selective Outrage", in which he took aim at Will Smith for slapping him at the Academy Awards in 2022.
Rock was the host of last year's edition of the Oscars, and during the ceremony he made a joke at the expense of Smith's wife Jada Pinkett Smith. Rock had joked about her shaved head. Pinkett Smith suffers from hair loss due to alopecia, and the actor slapped Rock for the jibe.
Smith then shouted at Rock twice that he should "keep my wife's name out your f****** mouth" when he returned to his seat from the stage.
In the fallout, Smith later resigned from the Academy, which in April announced that the star would be banned from all of its events, both in person and virtually, for 10 years. Rock did not press charges against Smith over the incident.
Chris Rock Mocks Will Smith Over Oscars in Netflix Special: Full Transcript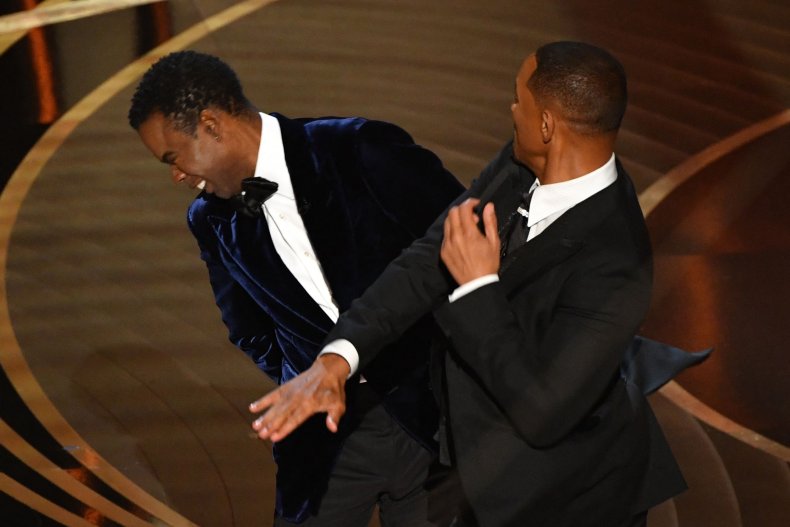 Rock appeared keen to clear the air during his "Selective Outrage" special, which was filmed at the Hippodrome Theater in Baltimore, but he waited until the end of the show to address Smith's actions and share his thoughts.
The comedian joked how he "still hurts" after the slap, and said that the incident was less about him and more about Pinkett Smith's past infidelity. In 2020, the Red Table Talk host admitted she had an affair with August Alsina.
Rock repeatedly said people called Smith "a b****" over Pinkett Smith's infidelity, and in an expletive-laden rant said "she hurt him way more than he hurt me."
The comedian referenced Smith's films Concussion, released in 2015, and Emancipation, released in 2022, and how Pinkett Smith "started" a feud with him over his hosting of the Oscars in 2016 when Smith wasn't nominated for his performance in the former.
In the closing moments of his show, Rock then joked that he chose not to engage with Smith after the slap because he "was raised" by his parents not to "fight in front of white people."
Here is the Full Transcript of Chris Rock's Joke About Will Smith:
"Y'all know what happened to me, getting smacked by shug Smith. Everybody knows, everybody f******* knows. Yes it happened, I got smacked. Like a year ago f******* last week I got smacked at the f****** Oscars by this m***********. And people are like, 'Did it hurt?' It still hurts. I've got [Will Smith's song] 'Summertime' ringing in my ears. F******* drums please.
"But I'm not a victim, baby, you will never see me on Oprah or Gayle [King] crying. You will never see it, never going to happen. 'I couldn't believe it and I love Men in Black,' no, it's never going to happen. F*** that s****. I took that hit like [boxer Manny] Pacquiao. I took it like m************ Pacquiao OK? S*** man. Did it hurt? Yeah m***********, it hurt.
"And people are like 'well you guys are fighting all the time.' We're not fighting. First of all I know you can't tell on camera but Will Smith is significantly bigger than me. We are not the same size, OK? We are not. Will Smith does movies with his shirt off, you have never seen me do a movie with my shirt off. If I'm in a movie getting open heart surgery I got on a sweater. Will Smith played Muhammad Ali in a movie, you think I auditioned for that part? He played Muhammad Ali, I played Pookie in New Jack City. I played a piece of corn in Pootie Tang. S***, even in animation this m********** is bigger. I'm a zebra [in Madagascar] he's a shark [Smith voiced a fish in Shark Tale]. What the f*** man?
"But Will Smith practises selective outrage, because everybody knows what the f*** happened, everybody really knows I had nothing to do with that s***. I didn't have any entanglements, I didn't. I did not have any entanglements. And for people that don't know, and everybody knows, Will Smith's wife was f****** her son's friend, OK? Now, I normally would not talk about this s*** but for some reason these n****** put that s*** on the internet. I have no idea why two talented people would do something that f****** low down. What the f***?
"We've all been cheated on, everybody in here been cheated on, none of us have ever been interviewed by the person that cheated on us on television. None of us. 'Hey I was sucking somebody else's d***, how did that make you feel?' Why the f*** would you do that s***? She hurt him way more than he hurt me, OK.
"Everybody in the world calls him a b****, I tried to call the m*********** and give him my condolences, he didn't pick up for me. Everybody called that man a b****, f****** Charlamagne [tha God] called him a b**** and The Breakfast Club called him a b****, and The View, and The Talk, and every rapper, and the Drink Champs called him a f****** b****. Everybody called him a b****, they called his wife a predator, everybody called him a b****. Everybody, everybody. And who's he hitting? Me. A n***** he knows he can beat, that is some b**** a** s***. That's what the f*** happened. Get the f*** out of here, man.
"I did nothing to this m***********. Years ago his wife said I should quit the Oscars, I shouldn't host because her man did not get nominated for Emancipation. The biggest piece of s*** ever. OK, the n**** gives me a f****** concussion. No, [my] bad, I f***** up the joke... She said I should quit because he did not get nominated for Concussion, what the f***? What the f***? So I do some jokes about it and that how it is.
"She started it, I finished it, that's what the f*** happened. Nobody started on this b****, she started it. Nobody is picking on her. She said me, a grown a** man, should quit his job because her husband didn't get nominated for f****** Concussion and then this n**** gives me a f****** concussion ok? What the f***, man.
"I love Will Smith, my whole life I loved this n****. I watched him open up for Run-DMC at Nassau Coliseum, these n****** made brand new funk, I love this n****, he makes great movies. I've rooted for Will Smith my whole life, I've rooted for this m*********** and now I just watched Emancipation just to see him get whooped. Got me rooting for Fassel [played by Ben Foster], 'hit him again Fassel, you missed a spot.'
"A lot of people say, Chris, why did you do nothing back? How come you didn't do nothing back? Because I got parents, that's why. Because I was raised. I got parents, and you know what my parents taught me? Don't fight in front of white people."
Correction 03/06/2023 11:45 a.m. ET: This article was updated to correct the date that Chris Rock's special aired live on Netflix.