What Jada Pinkett's Lover August Alsina Reveals About Fling in New Song
Jada Pinkett Smith's former lover August Alsina has appeared to address his fling with the actress in a brand new song about their infamous "entanglement" amid the fallout of the Will Smith Oscars slap.
The 29-year-old musician was famously romantically involved with Pinkett Smith in recent years, which prompted her and her husband to address their open marriage publicly.
Now Alsina has released a brand new song titled "Shake The World" which details the public backlash he says he received when their relationship was made public in 2020.
The lyrics seem to suggest that Alsina felt he was "canceled" when he was revealed to have had a fling with Pinkett Smith.
"I heard I was canceled," he sings on the track. "Well, let's speak on that/Red dot on my back, I became a target/And I'm flawed but flawless, that's what makes me August."
Later in the song, he sings: "Industry tried to exile a boy/Momma say we all gotta bear our cross/Had to wear it like I'm cut from Jesus' cloth."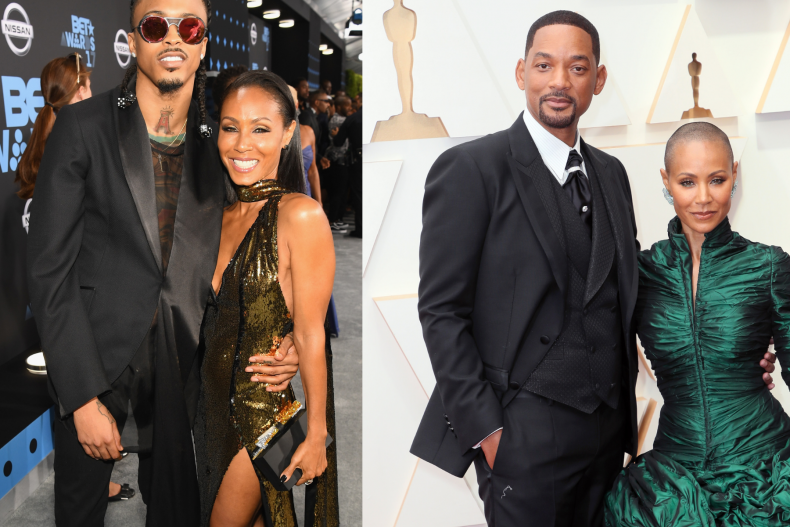 The Smith family has been making constant headlines over the past week since Smith walked on stage at the Academy Awards on Sunday, March 27 and slapped Chris Rock for making a joke about his wife.
Alsina entered the discourse last week when he posted a message about "choosing peace" on Instagram.
After the singer's relationship with Pinkett Smith emerged in 2020, the actress opened up about the situation, alongside her husband, on an episode of her show, Red Table Talk.
"We decided that we were going to separate for a period of time and you go figure out how to make yourself happy and I'll figure out how to make myself happy," Smith said in the now-infamous episode of the show, as Pinkett Smith added: "From there, as time went on, I got into a different kind of entanglement with August...Yes, it was a relationship absolutely."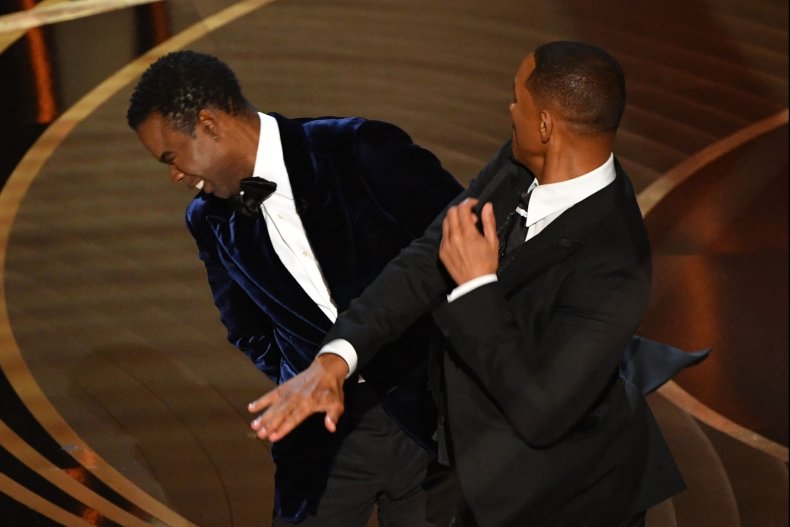 The R&B singer previously released a track titled "Entanglements" in 2020.
"The definition of entanglement/It's when you're tangled in the sheets/Girl I know that we don't call it a relationship/But you're still f*****' with me," Alsina sings in "Entanglements."
Later on in the song, he alludes to Pinkett Smith again in the lyrics: "Shawty leanin' on my shoulder, got her questionin' my willpower/Jaded by her beauty, but her reputation real solid."
He also goes on to reference Pinkett Smith's relationship with the late Tupac Shakur in the line: "Livin' like there's no tomorrow, met your boy with open arms/Tell you all my darkest stories, promise that you won't depart/Keys to over forty cars, left me with a broken heart/Still I gotta get around, favorite artist was 2Pac."
Smith has since apologized to Rock for the altercation at the Oscars, writing on social media: "Jokes at my expense are a part of the job, but a joke about Jada's medical condition was too much for me to bear and I reacted emotionally."
Pinkett Smith has been keeping a low profile, however, and has only posted on Instagram once last Tuesday, where she shared a message about healing that read: "This is a season for healing, and I am here for it."