Jada Pinkett Smith & Will Smith Talk About Their Separation and August Alsina
The answers we've been waiting for are finally here. In a surprise episode of Red Table Talk on July 10, Jada Pinkett Smith finally addressed those rumors about an affair with August Alsina. In a video interview that was published on June 30, Alsina alleged that he and Pinkett Smith had an affair and even claimed that her husband of 23 years, Will Smith, was alright with it.
Pinkett Smith previously tweeted that "there's some healing that needs to happen...so I'm bringing myself to the Red Table," on July 2, and many were excited to hear the confessional.
During the highly anticipated 13-minute episode of Red Table Talk, Pinkett Smith and her husband addressed the alleged affair at the table. They decided to come together and speak up because it got to the point where they had to say something to stop the cycle.
"It's healing that needs to happen," Pinkett Smith said. "It's these kinds of things that create the world that we're in." She emphasized the importance of being transparent.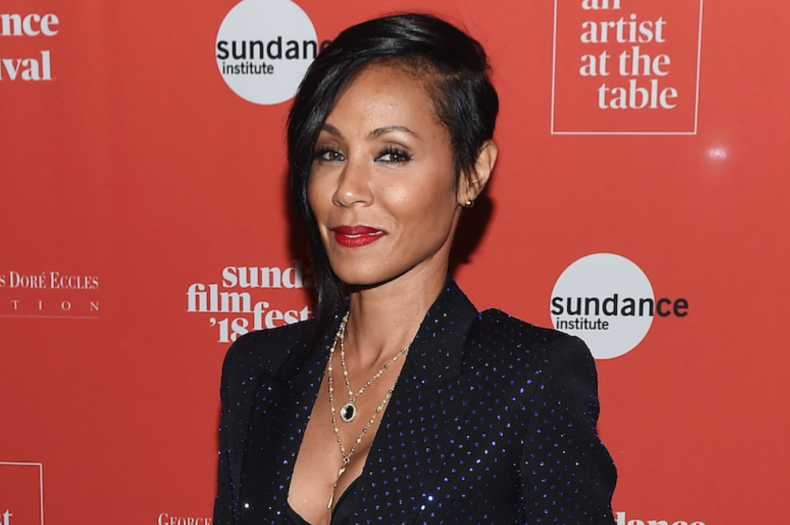 "This is a very personal journey that became very public," Pinkett Smith added.
Pinkett Smith said that four-and-a-half years ago, she started to get to know Alsina and they became "really really good friends." She said she wanted to help his health and his mental state, but did not become more explicit about what that meant. Smith recalled that when he was close with the family, it was when he was sick. "The outpouring for him from our family was initially about his health," the actor noted.
Pinkett Smith said that this time coincided with a temporary break-up with Smith that took place in 2015. It is the first time either of the celeb powerhouse couple have ever spoken this openly about the dynamics of their marriage. "We were going to separate for a period of time, and you were going to figure out how to make yourself happy, and I'll figure out how to make myself happy," Smith added.
Away from Smith, Pinkett Smith revealed that she resumed her friendship with Alsina. "As time went on, I got into a different type of entanglement with August," Pinkett Smith explained.
She said that as far as the rumors of Smith giving permission went, Pinkett Smith said that Alsina merely perceived it more as permission, since they were separated amicably. Pinkett Smith also said he wanted to clarify that he wasn't a homewrecker.
"I was in a lot of pain," Pinkett Smith revealed. "Through that process in that relationship, I realized that you can't find happiness outside yourself," she said, adding that her relationship with Smith was also going through a healing process in a different way.
In her relationship with Alsina, Pinkett Smith said she was looking to feel good about herself, and that it was "a joy" to help heal somebody. She claimed she was drawn people who needed help and, in turn wanted to break her codependency and need to fix people. "There's something about that childhood trauma that feels as though it can be fixed through fixing people, versus fixing me. That whole process with Aug really showed me that, and taught me that." Pinkett Smith added that she was grateful for that journey.
"Through that particular journey I learned so much about myself." She added that she was also able to do deep healing and confront herself about her own emotional immaturity and insecurity.
While going through that journey, Pinkett Smith added, Alsina decided to cut communication with her, which Pinkett Smith totally understood and let be. She said she hadn't spoken to him since.
"This all seemed very strange," she said, as far as rumors of their affair surfacing when they did. But she added that she was grateful for the journey she had with Smith.
"Being able to make mistakes without losing your family is so critical," Smith added. "You gotta go through some s*** to get the answers," Pinkett Smith agreed.
In a video interview uploaded to his YouTube page on June 30, Alsina made the bombshell allegation that he and Pinkett Smith had an affair, even though he previously denied rumors of it. "I totally gave myself to that relationship for years of my life, and I truly and really, really, deeply loved and have a ton of love for [Jada]," he said in the interview. "I gave my full self to it. So much so that I can die right now, and be OK knowing that I fully gave myself to somebody."
Alsina also claimed in that interview that the Fresh Prince of Bel-Air actor gave him his blessing. He said they had a "conversation due to the transformation from their marriage to life partnership that they've spoken on several times." "He gave me his blessing," Alsina added.
Smith and Pinkett Smith wed in 1997. They share Jaden, 22, and Willow, 19.
Check out the full episode Red Table Talk on Facebook Watch here.
Newsweek did not receive comment from Pinkett Smith in time for publication.
Correction: An earlier version of this story misstated where Alsina spoke about his relationship with Pinkett Smith. It was in a video interview uploaded to his YouTube page.
Updated 7/10/2020, 4:30 p.m. ET: This story has been updated with additional context.