Jada Pinkett Smith 'Wished' She and Will Were Swingers in Resurfaced Clip
Jada Pinkett Smith joked about her relationship with Will Smith in a recently resurfaced clip, in which she said she "wished" they were swingers.
The celebrity couple's unorthodox marriage has long been the subject of intense speculation and now even more so since Smith slapped Chris Rock onstage at the Oscars in reaction to a joke he had made about Pinkett Smith's shaved head.
Back in 2018, Pinkett Smith admitted to having a romantic relationship that she famously dubbed an "entanglement" with musician August Alsina, while Smith was also rumored to have had extramarital affairs.
The couple was subjected to speculation about an open marriage before Pinkett Smith confirmed her relationship with Alsina, and in 2017 the actress even laughed about those rumors during a TV interview.
On an episode of Watch What Happens: Live with Andy Cohen back in 2017, a fan asked Pinkett Smith: "What is the craziest rumor you have ever heard about your family."
Without missing a beat, Pinkett Smith added: "That Will and I are swingers. That's the craziest one. It's constant."
She added: "And I'm like, 'Yo, I wish!" Before repeating: "I wish!" louder for emphasis.
A clip of this interview resurfaced on TikTok earlier this month on the account @thefunnyvideos.net, where it has been viewed more than 9 million times.
In the TikTok, the clip then cuts to Pinkett Smith and her husband's 2018 Red Table Talk where she confirms her entanglement with Alsina.
Meanwhile, in another unearthed interview from 1997, Pinkett Smith discussed her upcoming wedding to Smith and said that he had declined to sign a prenuptial agreement, despite her insisting that she would "sign anything."
"Someone actually had the nerve to ask if I'm signing a prenuptial agreement," Pinkett Smith told the Chicago Sun-Times in 1997, per Jet Magazine.
The actress said she found the question humorous and called her then-husband to be "very generous."
"I had to laugh because Will is a very generous guy and we love each other... Actually, I've told Will, 'You can make up any prenuptial agreement you and your accountant want,'" she said.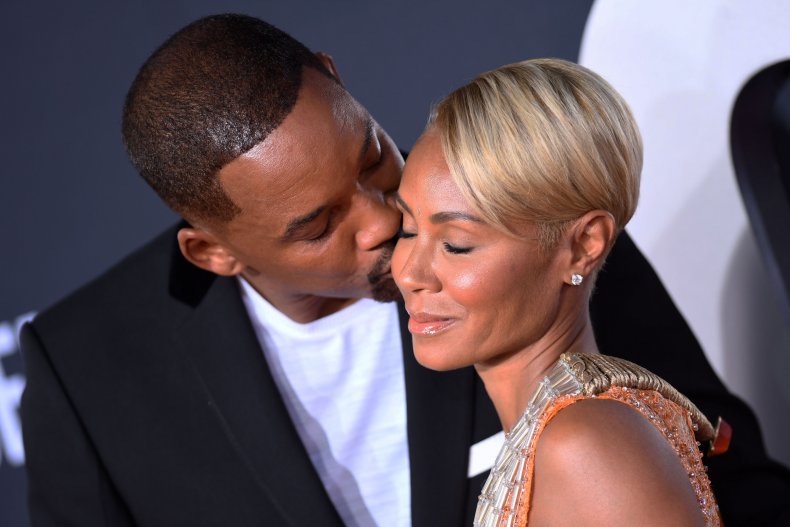 "I'll sign anything. Will is a great human being. He's like, 'Let's not do a prenup.'"
In November 2021, Smith said during a GQ interview that "Jada never believed in conventional marriage... Jada had family members that had an unconventional relationship. So she grew up in a way that was very different than how I grew up."
"Marriage for us can't be a prison. And I don't suggest our road for anybody. I don't suggest this road for anybody. But the experiences that the freedoms that we've given one another and the unconditional support, to me, is the highest definition of love," he added.
Pinkett Smith confirmed this week that the Oscars slap will be discussed on Red Table Talk and said that her family has been focused on "healing."