Jada Pinkett Smith: 'Red Table Talk' to Address Oscars Slap After 'Healing'
Jada Pinkett Smith has confirmed that the much-debated topic of her husband, Will Smith, slapping Chris Rock at the Oscars will be addressed on Red Table Talk.
In a move that overshadowed last month's Academy Awards, Smith bounded onto the stage and struck Rock in the face after the comedian made a joke at Pinkett Smith's expense. On returning to his seat, the actor shouted expletives at Rock.
With the latest season of her talk show premiering on Wednesday with guest Janelle Monáe, Pinkett Smith issued her first statement directly addressing the incident, when she said that it would be discussed "when the time calls."
A message that was shown at the top of the season premiere episode read: "Considering all that has happened in that last few weeks, the Smith family has been focusing on deep healing.
"Some of the discoveries around our healing will be shared at the table when the time calls. Until then, the table will continue offering itself to powerful, inspiring and healing testimonies like that of our incredibly impressive first guest. Thanks for joining us, Jada."
During the Oscars, Rock sparked Smith's ire when he joked: "Jada, I love you, G.I. Jane 2, can't wait to see it," in reference to her close-cropped haircut, similar to that worn by Demi Moore in her 1997 film G.I. Jane. Pinkett Smith has spoken about shaving her head after experiencing hair loss due to alopecia.
Smith reacted by taking to the stage and striking Rock in the face, before demanding that the comic "keep my wife's name out your f****** mouth."
Less than an hour later, Smith returned to the stage to accept a Best Actor Oscar for King Richard. During his acceptance speech, Smith apologized to his fellow nominees and the Academy of Motion Picture Arts and Sciences. He issued an apology to Rock the following day, via Instagram.
In July 2021, Pinkett Smith debuted her shaved head on Red Table Talk, after speaking about how "terrifying" the experience of hair loss was for her.
She said: "I was just like, 'Oh my god am I going bald?' It was one of those times in my life where I was literally shaking with fear. That's why I cut my hair and continue to cut it."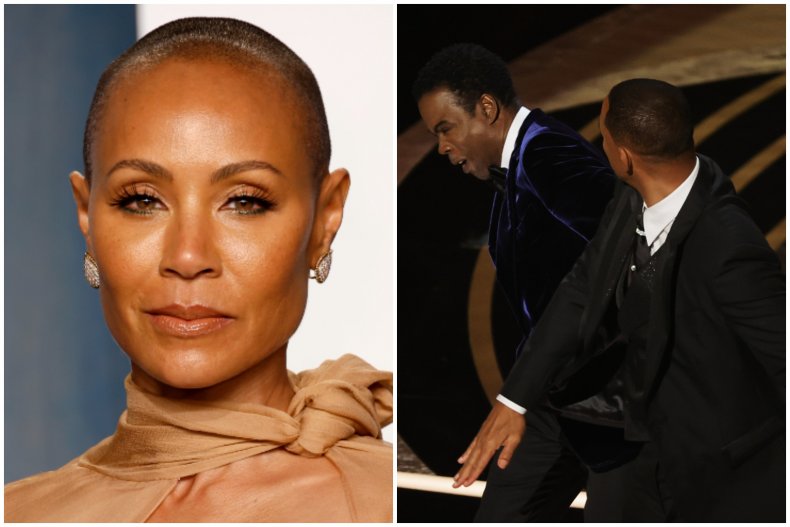 Amid the fallout from the incident at the Oscars, Smith resigned from the Academy. The organization announced days later that the actor is banned from appearing at all of its events—even virtually—until 2032.
Addressing the ban, Smith released a brief statement in which he said: "I accept and respect the academy's decision."
In the weeks that have followed this year's Academy Awards, the Smiths have been the focus of increased scrutiny, with many of their previous interviews and statements about their family life and marriage going viral online.
It has also led to the organizers of the 2022 Tony Awards warning attendees against carrying out acts of violence at the ceremony.
A letter sent by Tony Award Productions to those interested in purchasing tickets stated the Tony Awards, which will take place on June 12, has a "strict no violence policy." If an incident violating that policy occurs, "the perpetrator will be removed from the event immediately," organizers said.
The letter's contents were initially reported Wednesday morning by Deadline and later confirmed by Newsweek.