The organizers of the 2022 Tony Awards are warning attendees against carrying out acts of violence after an onstage slap at last month's Academy Awards shocked the entertainment industry.
A letter sent by Tony Award Productions to those interested in purchasing tickets stated the Tony Awards, which will host its 75th annual ceremony on June 12, has a "strict no violence policy." If an incident violating that policy occurs, "the perpetrator will be removed from the event immediately," organizers said.
The letter's contents were initially reported Wednesday morning by Deadline and later confirmed by Newsweek.
The Tony Awards' warning comes more than three weeks after actor Will Smith walked onstage and slapped actor Chris Rock during the 94th Academy Awards. Smith, who later received the Oscar for Best Actor for his performance in King Richard, stayed at the ceremony following the incident.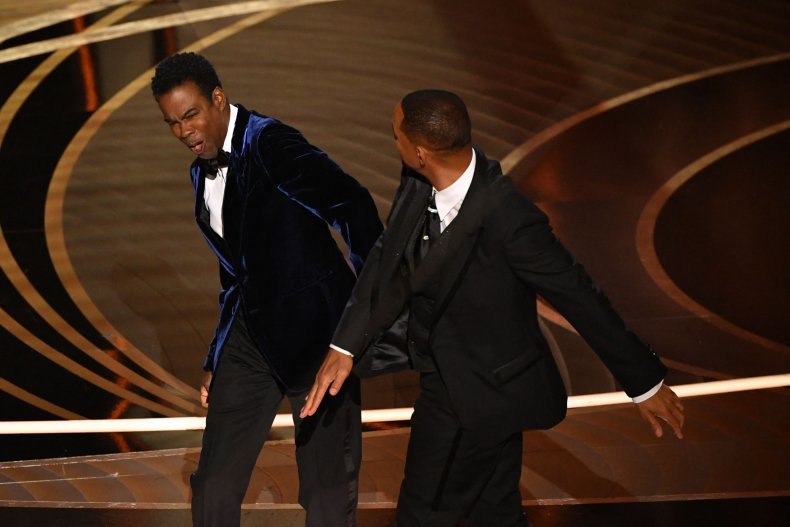 There was swift backlash and debate about what led up to and followed the slap. Smith posted a public apology to Rock, the Academy of Motion Picture Arts and Sciences, those in attendance and the viewing public on social media less than 24 hours after the incident occurred. In his apology, Smith described his behavior as "unacceptable and inexcusable." A few days later, he resigned from the Academy and said in a statement that he was prepared to "accept any and all consequences" that followed.
A week after Smith's resignation, the Academy decided to ban the actor from all Academy events for the next 10 years. In a short response to the ban, Smith said, "I accept and respect the academy's decision."
Ahead of the Tony Awards in June, organizers' mention of the event's no violence policy was included in an FAQ section of its letter to potential ticket holders alongside other requirements for in-person attendance. Those requirements included black-tie attire and proof of vaccination against COVID-19. The FAQ section reviewed by Newsweek also included details about transportation to and from the event, and acceptable payment methods for ticket purchases.
The 2022 Tony Awards are scheduled to take place on June 12 at Radio City Music Hall in New York City. The ceremony will be available for viewing on CBS and Paramount+. Organizers said "a limited number" of people will be able to purchase tickets to the event on May 3 through the Tony Awards website, with additional information expected to be shared online at that time.
The full list of this year's Tony nominations will not be finalized until May 3. The announcement of nominees is scheduled to be live-streamed on the Tony Awards' YouTube channel on that day.