Read Will Smith's Seven-Word Response to Oscars Ban
Will Smith is banned from all Oscars events for 10 years as punishment for slapping Chris Rock during the March 27 ceremony, the Academy of Motion Picture Arts and Sciences said Friday.
Shortly after the announcement, Smith released a brief statement, saying, "I accept and respect the academy's decision."
Smith struck Rock onstage for making a joke about his wife, Jada Pinkett Smith. Rock said Pinkett Smith, who suffers from alopecia, or hair loss, should star in G.I. Jane 2 because of her shaved head. The comedian later said he had been unaware of her medical condition.
Not long after hitting Rock, Smith won the best actor award for his performance in King Richard. He will reportedly not be stripped of that Oscar. However, should he be nominated for another Oscar during the 10-year ban, he will not be permitted to attend the ceremony.
Before Friday's announcement, Smith had already announced his resignation from the academy, on April 1. He also publicly apologized to the academy as well as to Rock in written statements.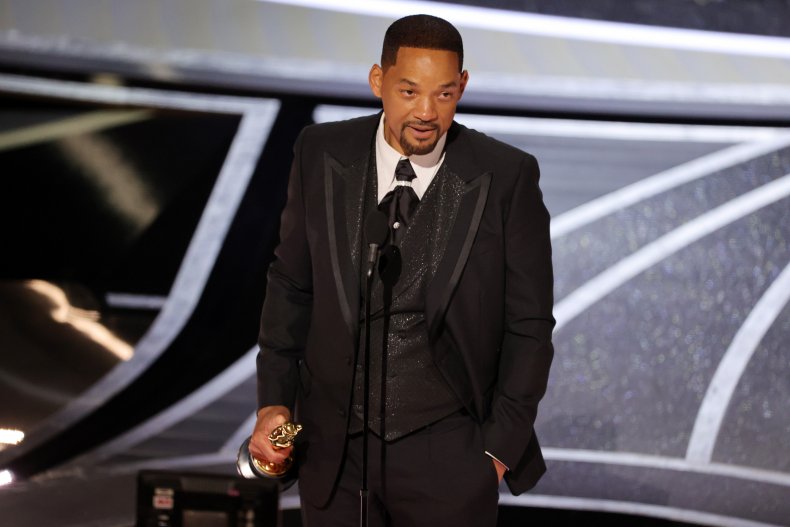 In a March 28 Instagram post, Smith wrote: "Violence in all of its forms is poisonous and destructive. My behavior at last night's Academy Awards was unacceptable and inexcusable. Jokes at my expense are a part of the job, but a joke about Jada's medical condition was too much for me to bear and I reacted emotionally."
Richard Williams, the father of tennis stars Serena and Venus Williams and the subject of King Richard, commented on March 28 about the altercation through his son Chavoita LeSane.
"We don't know all the details of what happened," LeSane told NBC News while speaking about his father's response. "But we don't condone anyone hitting anyone else unless it's in self-defense."
Rock has not publicly commented on the incident or Smith's punishment.
In a statement released Friday, the academy indicated it hopes to move past the incident, which has received much public scrutiny and media attention.
"We want to express our deep gratitude to Mr. Rock for maintaining his composure under extraordinary circumstances. We also want to thank our hosts, nominees, presenters and winners for their poise and grace during our telecast," the statement read.
It added, "This action we are taking today in response to Will Smith's behavior is a step toward a larger goal of protecting the safety of our performers and guests, and restoring trust in the Academy. We also hope this can begin a time of healing and restoration for all involved and impacted."
Update 4/8/22, 4:10 p.m. ET: This story was updated to include more background and information, as well as parts of a statement from the Academy of Motion Picture Arts and Sciences.