How Jada Pinkett Smith Battled Hair Loss Before Shaving Her Head
Jada Pinkett Smith unveiled quite a dramatic transformation on Monday, when she shared a photo of herself on Instagram sporting a shaved head.
The actress, 49, reposted an image initially shared by her daughter, Willow, who was also seen with a fresh buzz cut, as she explained her reasons for the cut.
Red Table Talk host Pinkett Smith wrote: "Willow made me do it because it was time to let go BUT ... my 50's are bout to be Divinely lit with this shed❣️😜."
For her part, Willow let the image do all of the talking, as she said in her own caption: "💕<a gift is pure when it is given from the heart to the right person at the right time and at the right place, and when we expect nothing in return>🙏🏾."
And while Pinkett Smith's new look might seem to have come out of the blue for some fans, the Girls Trip star, who is married to Hollywood actor Will Smith, has previously been open about experiencing hair loss in recent years.
During a May 2018 episode of Red Table Talk—which she co-hosts with Willow Smith and her mother, Adrienne Banfield-Norris—Pinkett Smith explained why she had taken to covering her tresses.
"I've been getting a lot of questions about why I've been wearing this turban," she said at the time, per the BBC. "Well, I've been having issues with hair loss. And it was terrifying when it first started."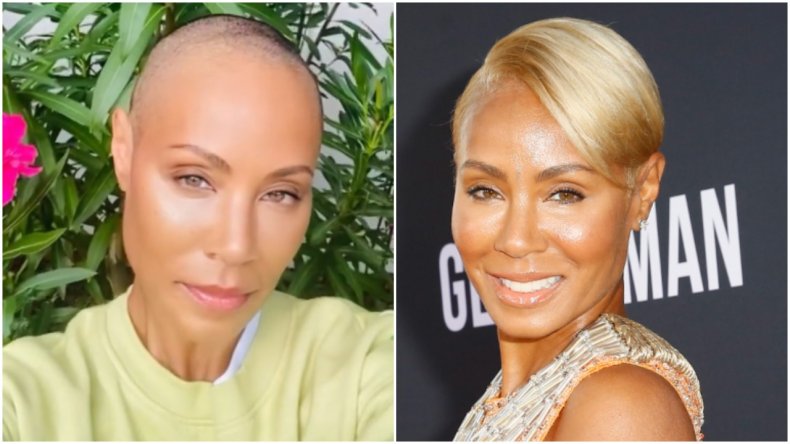 While Pinkett Smith said at the time that she believed the hair loss to be stress related, she also spoke about the moment she shed "handfuls of hair" in the shower.
"I was just like 'Oh my god am I going bald?' It was one of those times in my life where I was literally shaking with fear," she said. "That's why I cut my hair and continue to cut it."
Pinkett Smith, who is also mother to actor and musician Jaden Smith, ultimately found that perspective helped her deal with the impact of alopecia.
"People are out here with cancer, with sick children... I watch the higher power take things every day," she said. "When I looked at it from that perspective it did settle me."
In recent years, the actress was seen wearing a variety of scarves, wraps and turbans as she navigated her hair loss—a move she would find empowering.
"When my hair is wrapped, I feel like a queen," she said on Red Table Talk.
Days after the broadcast was shared, Pinkett Smith said in an Instagram video, per Allure: "I just want to say a thank you to everyone for all the outreach, from all the doctors and all the holistic practitioners, who have been reaching out to me for this head of mine, I appreciate it so much. And I'm taking into a lot of consideration all the recommendations that are coming my way."
She added: "I'm getting my little steroid injections, and they seem to be helping, but not curing, but they seem to be helping, but I'm open to other ideas."