Will Smith Almost Left Jada Pinkett When She Told Him to 'Shut the F*** Up'
Will Smith once revealed in a recently resurfaced clip that he contemplated leaving Jada Pinkett Smith several years ago, after she told him to "shut the f*** up" in front of a group of their friends.
The stars, who exchanged vows in December 1997, have been the focus of unprecedented scrutiny over the past two weeks, after Smith slapped Chris Rock onstage at the Oscars in reaction to a joke he had made about Pinkett Smith.
An October 2018 episode of Pinkett Smith's Facebook Watch show, Red Table Talk, has since resurfaced, showing Smith revealing that he and his wife almost didn't make it down the aisle because the Set It Off actress once swore at him.
Speaking with Pinkett Smith, the couple's daughter, Willow Smith, and his mother-in-law, Adrienne Banfield-Norris, the actor revealed that the incident took place in front of 20 guests they were entertaining at a party before getting married.
"I grabbed a newspaper and I said, pow!" Smith said, as he recounted hitting Pinkett Smith over the head, before saying he asked his then-wife-to-be: "'Can I talk to you in the other room, please?'"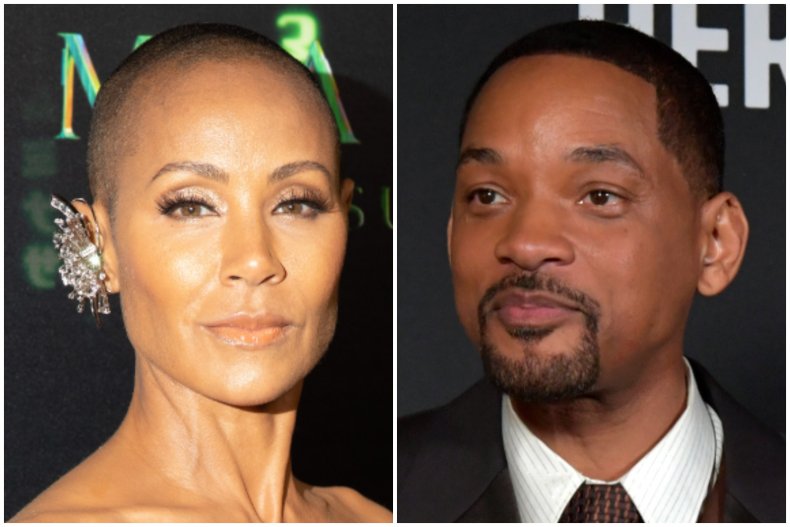 He said: "We went in the other room, and I said, 'Jada, this is the deal: I grew up in a household where I watched my father punch my mother in the face, and I will not create a house, a space, an interaction with a person where there's profanity and violence.'
"'If you have to talk to me like that, we can't be together. We're not going to use any profanity in our interactions. We're not going to raise our voice. We're not going to be violent. I can't do it.'"
Smith recalled how Pinkett Smith asked in apparent disbelief if he would truly end their relationship "over some words."
"I was like, 'Yeah, I just did! We're not cursing!'" Smith said as he recounted their conversation. "And her eyes welled up with tears, and she was like, 'Okay.'"
"It was 20 years before we used profanity in any conversation that we had," Smith added. "We didn't use profanity in any argument, we never raised our voices, we took communication courses, all of that—and never had violence."
When Banfield-Norris asked Pinkett Smith what she did with her anger in situations where she didn't raise her voice, the actress responded: "You really have to discipline yourself.
"For me, I had to discipline myself and really handle that within myself to say, 'Okay, what are you angry about? And then come to peace and then go and talk to Will when I can actually have a communication.
"Because really, you're not communicating when you're talking to each other in anger. What I realized is like you're beating up on someone you say you love."
While Smith stuck to the pact made within his marriage, the actor famously slapped Rock at last month's Academy Award after the comedian made a joke about Pinkett Smith's shaved head. Pinkett Smith has spoken about suffering hair loss due to alopecia.
On returning to his seat from the stage at Hollywood's Dolby Theatre, Smith twice bellowed at Rock that he should "keep my wife's name out your f****** mouth."
Less than an hour later, Smith was back onstage to accept a Best Actor Oscar for his role in King Richard. During his acceptance speech, the screen star apologized to his fellow nominees and the Academy of Motion Picture Arts and Sciences. Smith apologized to Rock the day after the Oscars, via an Instagram post.
On Friday, the Academy announced that Smith will be banned from all of its events, both in person and virtually, for 10 years.
"I accept and respect the Academy's decision," Smith said in a brief statement following the announcement from the Academy of his ban.