Will Smith and his wife, Jada Pinkett Smith's relationship is in the spotlight following the infamous slap at the Oscars last month—and it's not the first time. The actress spoke out about similar breakup rumors in 2018.
The couple's marriage made headlines in 2018 after Pinkett Smith admitted to having a romantic relationship with musician August Alsina. She publicly discussed her years-long relationship with Alsina and the way it grew from a friendship into a "different kind of entanglement," along with her husband's take on the situation.
In an interview at the time, Pinkett Smith responded to rampant breakup rumors by confirming that she and her husband were "family" and would not be splitting, though they had broken up in the past.
"Here's the thing about Will and I, we are family, that's never going down. It's just not," she said on Sway In The Morning in June 2018. "Take out all that whole marriage, relationship crap at the end of the day, what Will and I are family, I am going to hold him down."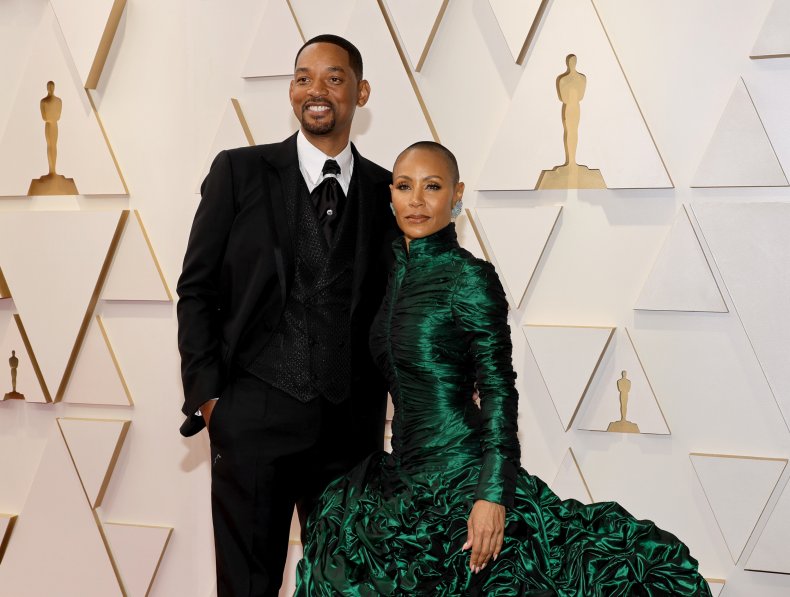 She added that it didn't matter what critics said about her marriage and their ideas of what a "husband and a partner" should be.
"At the end of the day, that's a man that can rely on me for the rest of his life. Period," she said.
The nature of the couple's marriage made headlines once again after Smith slapped actor Chris Rock last month during the 2022 Academy Awards ceremony for joking about Pinkett Smith's buzzed hair. The actress suffers from alopecia, a medical condition that causes hair loss.
Pinkett Smith confirmed that the Oscar slap will be addressed on her talk show Red Table Talk, and added that her family has been focused on "healing."
A message displayed at the top of the season premiere episode on Facebook read: "Considering all that has happened in that last few weeks, the Smith family has been focusing on deep healing.
"Some of the discoveries around our healing will be shared at the table when the time calls. Until then, the table will continue offering itself to powerful, inspiring and healing testimonies like that of our incredibly impressive first guest. Thanks for joining us, Jada."
Smith commented on the prospect of divorce in the past, as well, saying on MTV News in 2006 that "divorce can't be an option. With Jada, I stood up in front of God and said, 'Til death do us part.' So there are two possible outcomes. One, we are going to be together 'til death, or two, I am dead."
The couple opened up about their marriage on Red Table Talk, discussing the struggles they have faced and the realizations that they stumbled upon over the course of their decades-long relationship.
During a 2018 episode of the show, Smith confessed that he knew he wanted to marry Pinkett Smith while he was on a dinner date with his former wife, Sheree Zampino Fletcher.
"I had a realization I wasn't with the person I was supposed to be with. I was sitting in a stall and I was crying and laughing uncontrollably, and I knew [Jada] was the woman I was supposed to be with, but I was never getting divorced...I went back out, sat down with Sheree and started going back on with my life," Smith said.
Newsweek reached out to Will Smith's representative for comment.