Will Smith Was Once Punched for Insulting Attacker's Girlfriend at School
Will Smith says he was once punched at school after he insulted someone's girlfriend, with the story drawing comparisons to his recent actions at the 2022 Oscars when he slapped Chris Rock.
A five-minute video Smith posted to his YouTube channel in 2018 is being analyzed by some online, as they note the similarities to Smith's now infamous dust-up with Rock after the latter insulted Smith's wife, Jada Pinkett Smith. He also expressed his regret of the incident because the kid who hit him was "kicked out of school" and "threw his life away" because of Smith.
The video has over two million views on YouTube since it was posted on May 15, 2018, but it's causing a stir after resurfacing on Reddit with commenters discussing his story.
Will Smith punched in the face "...HARD!"
Smith describes that when he arrived at a new high school in ninth grade, nerves caused him to announce himself in front of 500 kids in the lunch room.
"Excuse me, can I have yall's attention? He's here," Smith recalled saying, gesturing to himself, "He's here right now. Thank you." One person in the cafeteria was less than impressed by Smith's entrance. Smith said, "There was this one dude, and he was just sittin' there and he looked up to me and said, 'Man, don't nobody give a f*** that you here'.
"And I said, 'Hey just give me ten minutes, your girl gon' care'." Smith said. The boy who Smith said this to nodded, and everyone continued with their day.
Later, on the stairs at the school, the boy got a combination lock in the palm of his hand, and put the loop around his knuckle. As Smith was walking up the stairs the boy "cracked" him in the side of the head with the lock which knocked Smith out. In the YouTube video Smith said he still has the lump on his head.
Eventually, the police came and arrested the person that hit Smith, putting him in handcuffs and taking him out of school.
Smith said, "I was laying in my bed that night and I was just feeling like s***. I had the recognition that I had caused this kid to throw his life away. He was kicked out of school."
The incident turned out to be a life-changing moment for Smith. "I felt a deep sense of regret and a deep sense that I had caused an emotion in a person that made them do that. And that that feeling of regret turned into a sort of a fear of how much power I had." He continued, "In that moment, I decided that I would never walk into a room and do anything other than inspire and uplift and enlightened people and help people to be the greater versions of themselves."
Smith admits he doesn't know what happened to that boy who hit him. But, he said, "I want to send my deepest apologies and I hope my words and my sincerity reach you and I hope your life has gone well for you."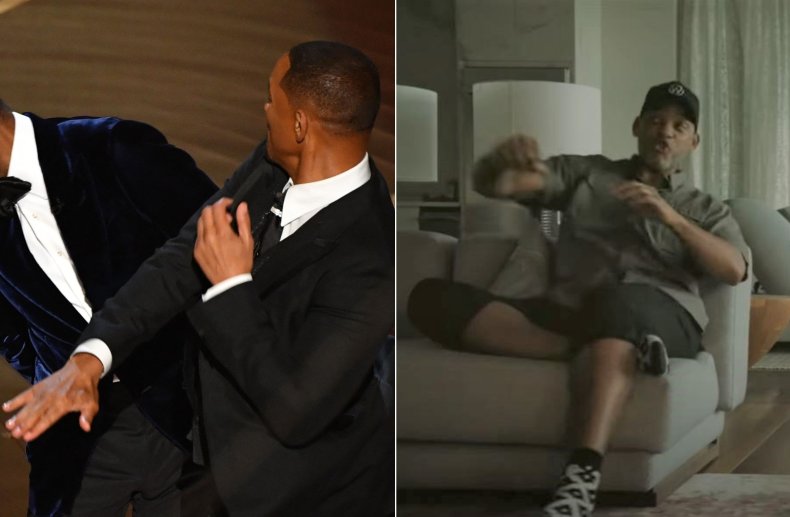 "Self-blaming victims"
Recent comments made on the YouTube channel include "Lmao oh the irony!" from Splitter 737. Many people, including Korean Pathfinder and John Cavallaro wrote, "This didn't age well."
The YouTube user Picture Perfect commented, "You should have remembered this moment," while Jon Hendry in the past week said, "Wow this kind of explains a lot."
The video was re-shared online by the Reddit user Todoke who posted it on the social media website. Within their caption of the video in which Smith felt sorry for his attacker, they claim that "victims that self-blame are known to attract abusive partners and toxic people."
This take on the video drew derision and criticism from many Reddit users in the ensuing thread, but there are studies out there that support this claim.
The San Diego Mental Health Treatment Center (Solara Mental Health) claims that one of the symptoms of post traumatic stress disorder is "self-blame." A claim by the medical center on April 5, 2021, suggests that some of the causes of self-blame include toxic self-criticism, manipulation or gaslighting from partners, and chronic feelings of anxiety, guilt, and shame.
There is little evidence to support Todoke's claim about self-blaming victims attracting "toxic people" but there are links to victims forming relationships with abusive partners, as explained by the National Domestic Violence Hotline.
Newsweek columnist Lee Habeeb expressed his concern for Smith after the Oscars incident in March, concluding, "Here's hoping Smith isn't one more casualty on fame's dark road. Let's pray he recovers from this episode a wiser, humbler man. With better people around him to face his old and new struggles."