Will Smith Refused to Leave Oscars When Asked, Disciplinary Hearing Finds
The Academy of Motion Pictures Arts and Sciences has "initiated disciplinary proceedings" against actor Will Smith for his outburst at the Oscars on Sunday.
The Academy claims that Smith was asked to leave the event after assaulting presenter Chris Rock but he "refused" to leave.
"Board of Governors today initiated disciplinary proceedings against Mr. Smith for violations of the Academy's Standards of Conduct, including inappropriate physical contact, abusive or threatening behavior, and compromising the integrity of the Academy," the organization behind the Oscars said in a statement.
The Academy said disciplinary action for Smith could include suspension, expulsion or other sanctions.
Many people on social media demanded to know why Smith was allowed to remain at the Oscars after his outburst. The Academy says it attempted to remove Smith from the audience but he would not leave. The Academy has not clarified how it tried to remove the actor.
"Things unfolded in a way we could not have anticipated," the Academy said. "While we would like to clarify that Mr. Smith was asked to leave the ceremony and refused, we also recognize we could have handled the situation differently."
A representative with the Academy said Smith has the opportunity to defend himself from repercussions in the form of a written response before the board meets again on April 18.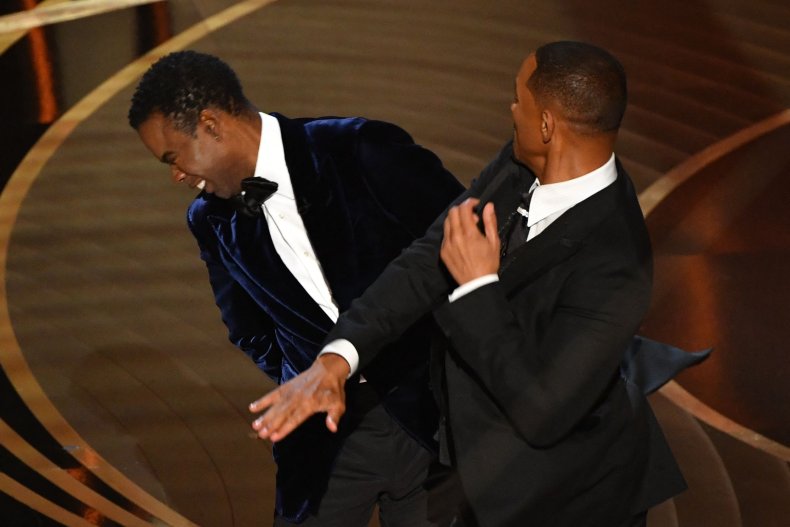 Smith has come under fire for the act of violence against Rock, who made an insensitive joke about Smith's wife, Jada Pinkett Smith.
Rock made a joke about Pinkett Smith's short haircut—which is due to alopecia.
"Jada, I love ya. G.I. Jane 2, can't wait to see ya," Rock said referencing the 1997 film G.I. Jane starring Demi Moore, who shaves her head to join the U.S. Navy SEALs training.
After the comment, Smith got up from his seat, approached Rock onstage and slapped him across the face.
Smith then returned to his seat and yelled, "Keep my wife's name out your f**king mouth."
On Monday, the actor issued a public apology saying jokes about his wife are "too much for me to bear."
"My behavior at last night's Academy Awards was unacceptable and inexcusable," Smith said. "Jokes at my expense are a part of the job, but a joke about Jada's medical condition was too much for me to bear and I reacted emotionally."
His apology continued, addressing Rock directly.
"I would like to publicly apologize to you, Chris," Smith said. "I was out of line and I was wrong. I am embarrassed and my actions were not indicative of the man I want to be."
The Academy also issued an apology to Rock on Wednesday.
"Mr. Smith's actions at the 94th Oscars were a deeply shocking, traumatic event to witness in-person and on television," the Academy said. "Mr. Rock, we apologize to you for what you experienced on our stage and thank you for your resilience in that moment. We also apologize to our nominees, guests and viewers for what transpired during what should have been a celebratory event."
Rock has not made any public statements regarding the incident; however, the Los Angeles Police Department said that Rock declined to press charges against Smith.
Newsweek reached out to Chris Rock and Will Smith for comment.