Will Smith Almost Gets Slapped by Endangered Turtle Trying to Rescue It
Will Smith almost got slapped by a turtle he was trying to rescue on a beach on a remote island off Australia. The turtle had clipped one of the rocks on the beach and had flipped on her back and was unable to get on her front again. Had she not been found, the turtle would have died in the heat of the sun.
Smith was part of the rescue team for the new Disney+ original series, from National Geographic, Welcome to Earth. In it, the 53-year-old actor visits some of Earth's greatest wonders, from mountain tops to the ocean depths.
In one episode, Smith is joined by National Geographic photographer Cristina Mittermeier to meet the people conserving green turtles on an island off Australia. Katharine Robertson, from Queensland Parks and Wildlife Service, tells Smith how the turtle had come on the beach in the night to lay eggs, but got turned on her side. "If she stays like this she's going to die during the day, with the heat of the sun," she says.
Smith then asks if he can help. He is told to be careful as he might end up getting slapped by the turtle. "Avoid being slapped, got it," he says. "Never been good at that."
As they turn the turtle, Smith's arm gets knocked and he realizes how powerful these animals are. "Her arm is as strong as mine. It's almost like there's a baseball bat in the middle of it. Seriously, that's how strong it feels," he says.
"Without our help this turtle mom would almost certainly have fried to death before the day was out. As many as 2,000 die that way every single year. But not this one. Not this mom. She's gonna be OK."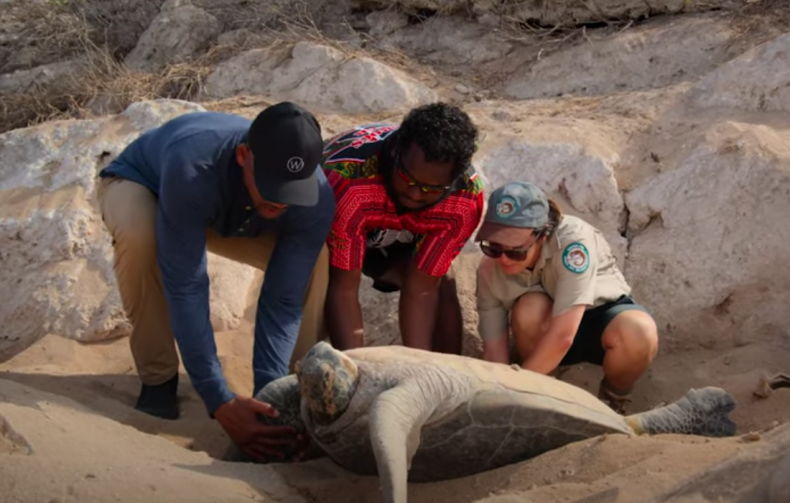 Mittermeier is seen wiping a tear away as the turtle makes her way back to the ocean. She told Newsweek she had rescued many turtles during her career. "I have spent time with a lot of celebrities, people that get paid to play a role," she said. "And, you know, I was expecting Will to be the same, but when he jumped into action without being asked, you know, it's like a really sincere and empathetic moment for a fellow creature, that's what got me."
The scene was shot on a remote island where people are not allowed, where the aboriginal community guards and protects it: "I felt very privileged to have the opportunity to walk there and to see the animals up close is awesome," she said.
Green turtles are an endangered species, and they are facing multiple threats from humans, including fishing, harvesting and degradation of their habitat.
"The thing that's really upsetting is realising that even though we don't see it today that island will go underwater," Mittermeier said. "Pretty soon those turtles will run out of places to nest and when you realize it's 60,000 turtles, every night, that's a significant amount of population at risk of losing their nesting habitat. So it's serious, like so many other serious things happening around the planet. I hope people realise that they were looking at something that's very special and it's very fragile."
Welcome to Earth premieres on December 8 on Disney+.
Correction 12/07/2021 3.47 a.m.: This article has been corrected to say the series is by Disney+ and from National Geographic. A quotation has also been corrected.