Will Trump Candidates Endanger Republicans' Washington Takeover?
Ohio Senate candidate J.D. Vance has had, to say the least, something of an odd relationship with former President Donald Trump. At one point during the 2016 presidential campaign, the Yale-educated, best-selling author was a prominent "never Trumper," publicly begging the question of whether Trump was "America's Hitler."
The "policy proposals [Trump ran on] — in particular his hostility to immigration, range from the immoral to the absurd," Vance later wrote. But once Trump was in office, as Vance contemplated the possibility of his own political career, he began to change his tune, apologizing profusely, on Fox News and in other forums, for previous criticism of the president.
On April 15, those apologies paid off when Trump endorsed the political neophyte in his race for an open Senate seat in Ohio, and announced he would soon campaign for him.
The endorsement infuriated many of Trump's own supporters in the state. "We were stunned when we learned he would endorse J.D. Vance, who has no connection to us," said Tom Zawistowski, president of the We the People Convention, a national Tea Party group headquartered in Akron. "Vance was nowhere in Ohio when we were electing Donald Trump twice."
But for Vance — and for Trump — the endorsement has apparently had its intended effect. According to the most recent Fox News poll, taken from April 20-24, Vance has vaulted to a five point lead in the race. Just a week earlier, according to a poll from the Trafalgar Group, former state treasurer Josh Mandel led the field by five points.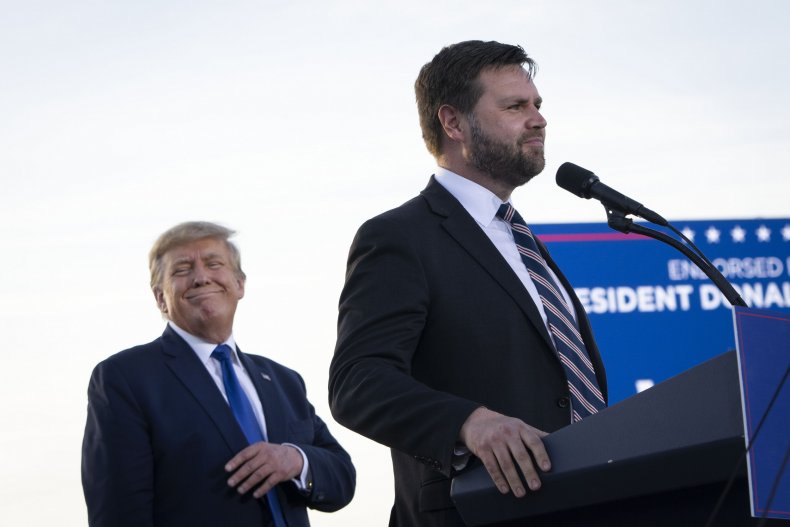 A senior Vance campaign official told Newsweek that the candidate's internal polling shows that the Trump endorsement "is decisive. We feel very good now going into this last weekend."
To Trump, the trajectory of the Ohio race conveys an undeniable truth: he controls the commanding heights of the Republican party, and his endorsement is pure gold.
But even if Trump's endorsement does help catapult Vance and others to primary victories, some Republicans are nervous that Trump-endorsed candidates won't be able to win in general elections.
For one, Trump "remains toxic in the suburbs," said Berwood Yost, director of the Center for Opinion Research and the Floyd Institute for Public Policy at Franklin and Marshall College. Yost's polling work suggests that in Pennsylvania, where another critical Senate seat is on the line this year, the number of voters who consider themselves core members of the Trump coalition has diminished since 2020.
Interviews with candidates, GOP strategists, and donors across the country, as well as Republican insiders in Washington, made clear the risk: A sufficient number of 'Trumpian' candidates could wash away some of the red wave they're hoping for in the fall.
Trump remains a deeply polarizing figure. He retains fervent, cult-like support among his political fans, but still repels many moderate voters, including those who deserted him in 2020: country club Republicans, suburban women, and a big chunk of independent voters. For candidates in competitive states or districts, particularly in reliably blue states, that remains a problem. It forces them to "thread the Trump needle," said Jeff Roe, former campaign strategist for Virginia Governor Glenn Youngkin, who successfully did just that last year.
What does "threading the Trump needle" mean? In Youngkin's case, it meant accepting Trump's endorsement but leaving it at that. Youngkin didn't mention Trump on the campaign trail, didn't invite him to Virginia to campaign with him, and didn't talk at all about how the 2020 election was rigged.
Consider also Lisa Scheller, a businesswoman from the Lehigh Valley in eastern Pennsylvania who in 2020 narrowly lost her race for a House seat representing the 7th Congressional District despite having Trump's endorsement. She is back for a rematch against Democratic incumbent Representative Susan Wild, in a year that is expected to be broadly favorable for the GOP nationwide. And while Scheller said she "welcomes the [Trump] endorsement," she repeated what she said in 2020 about her race, and the former president's involvement in it. "People want to make this a litmus test on Trump, and I'm not going to play that game."
The reason is that, in the eyes of many GOP voters, Trump comes with even more baggage this cycle than he did in 2020. His role in stirring up supporters who ultimately perpetrated the Jan. 6 Capitol attack — which prompted an ongoing Congressional investigation — is one reason. But more important, said GOP pollsters, consultants and candidates interviewed by Newsweek, is his obsessive focus on the idea that voter fraud cost him the 2020 election. It is a standard refrain of his rallies, and of statements he puts out on social media. And it puts candidates he supports in a box.
Trump on April 9 endorsed celebrity TV doctor Dr. Mehmet Oz, who is running to represent Pennsylvania in the U.S. Senate. That apparently had a positive effect. According to two recent polls, Oz, like Vance in Ohio, has moved to a narrow lead over the GOP field in the race to succeed retiring Senator Pat Toomey. (In a poll taken just prior to Trump's endorsement, former Hedge Fund manager David McCormick held a six point advantage over Oz.)
In the first Republican primary debate after the endorsement, Oz was asked about 2020, and he responded, "we cannot move on from the 2020 election. I have discussed it with President Trump... Under the cover of Covid, there were draconian changes made to our voting laws by Democratic leadership, and they have blocked appropriate reviews of some of those decisions. We have to be serious about what happened in 2020, and we won't be able to address that until we can really look under the hood." There has never been any evidence of widespread voter fraud in 2020, but Trump continues to push the narrative, and many of the candidates he supports feel they need to also.
This emphasis on 2020 drives many Republicans to distraction. They view 2022 as a golden opportunity to not only win back the House — possibly by a huge margin — but also take back the Senate. Polling shows the Biden administration is broadly unpopular right now, and the Democratic agenda is seen, according to most pollsters, to have led to the highest inflation rate in 40 years — by far most voters' main concern six months out from the midterms. "Why we would waste time debating the 2020 election is beyond me," said a senior official at the National Republican Senatorial Committee who was not authorized to speak on the record. "But that's where some [candidates] are, thanks mainly to Trump."
A McCormick campaign official told Newsweek that they will hammer Oz on two issues from now until the May 24 primary: Oz's previous support for unpopular positions in the GOP — like abortion rights — and his unwillingness to buck Trump on the election fraud issue.
Yost, the pollster at Franklin and Marshall College, said his data reveals little public interest in re-litigating the 2020 election. "That's gone, ancient history. Most GOP voters are interested in the here and now: What are you doing about inflation, about immigration, about rising crime? Few care about alleged voter fraud in 2020. It's a rabbit hole, so why bother going down it?"
In a recent survey he conducted, Yost said, only three percent of GOP voters in Pennsylvania listed election integrity as an important issue for them. There is "not a chance a focus on 2020 would help GOP candidates in the fall; more likely it will hurt them when there is so much other stuff going on," Yost said.
Indeed, internal polling shared with Newsweek by the NRSC and the Republican National Congressional Committee shows that Yost's claim is true nationwide. Just 12 percent of surveyed Republicans said that alleged voter fraud in 2020 is a major concern for them, according to a private poll done for the Republican campaign committees.
Nonetheless, some high-profile, Trump-backed candidates are going down the rabbit hole — none more eagerly than former Georgia Senator David Perdue, who is now challenging incumbent Georgia Governor Brian Kemp in the Republican primary. At an April 24 debate, Perdue spent the first twenty minutes railing about how the election had been "stolen," and how Kemp had refused to do anything about it. All of the problems besetting the nation now, from inflation to rising crime, were according to Perdue the result of Kemp allowing "radical Democrats to steal our election."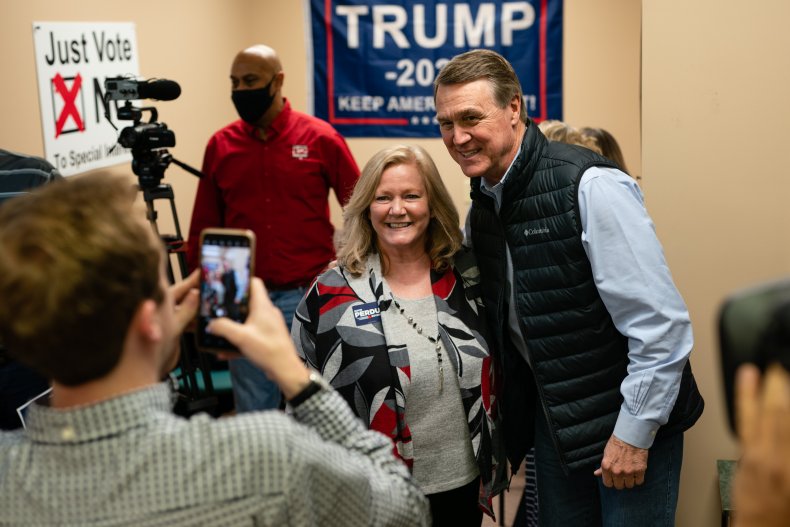 Kemp's advisers said privately that they can't believe their good luck. The latest poll shows Kemp with a 24-point lead over Perdue. Fifty-two percent of Georgia voters supported Kemp, 27 percent supported Perdue and about 10 percent were undecided. The primary in Georgia is May 24, and Kemp's advisers are confident his lead will hold up. "Perdue's thrown this away," said one campaign adviser not authorized to speak on the record. "The more he goes on about 2020 election fraud, the more most voters just roll their eyes."
Trump's political advisers say the majority of the candidates he has endorsed nationwide are leading in their races, and dismiss the idea that his support might hurt candidates in the fall. "Nothing could be further from the truth," said Trump spokeswoman Liz Harrington. The results in the fall will speak for themselves."
Roe, the former Youngkin campaign adviser, said even among candidates Trump has endorsed in swing states, most understand "that their race is about the future, not the past." His advice to those trying to thread the Trump needle, as Youngkin did last year: "Acknowledge and be politely grateful for the former president's support. But do not let him dictate your agenda. And make sure voters know that you are your own candidate." The Democrats, Roe said, want to run against Trump. Smart GOP candidates in tight races should tell voters in the fall, "he's not on the ballot."