Will Trump Staying Off Twitter Doom Him Politically?
Former President Donald Trump's Twitter account was reinstated over the weekend after its new owner, Elon Musk, conducted a poll of users to see whether they wanted him to return to the platform.
While the account is active, it's not certain whether Trump will actually log into his long-dormant account. Trump—now in his third bid for the White House—also maintains an exclusive content licensing agreement with his own Truth Social platform, requiring him to post content to his own social network six hours before he posts it anywhere else.
"I don't see any reason for it," Trump said of his return via videoconference during a Saturday appearance at the Republican Jewish Coalition's annual leadership meeting in Las Vegas.
But could his refusal to return to the platform hinder his ability to reach an audience at the time he needs it most?
Even after being banned from Twitter, Trump's uncensored remarks found a platform—either through televised rallies, interviews with cable news personalities, or the posts on Truth Social platform that are then screenshotted and reposted on Twitter almost regularly.
Meanwhile, he has no plans to leave Truth Social, saying over the weekend "Truth Social is special" in a post boosting Musk's poll. But some wonder whether the temptation might be too much to bear.
While his unfiltered message can cross over in myriad ways, he has only 4.6 million followers on Truth Social, compared to 87.5 million on Twitter. And despite its flaws and the mounting uncertainty over its future, Twitter remains the de facto social media platform for leaders in media and in politics—even as it represents a small fraction of the total of social media users worldwide.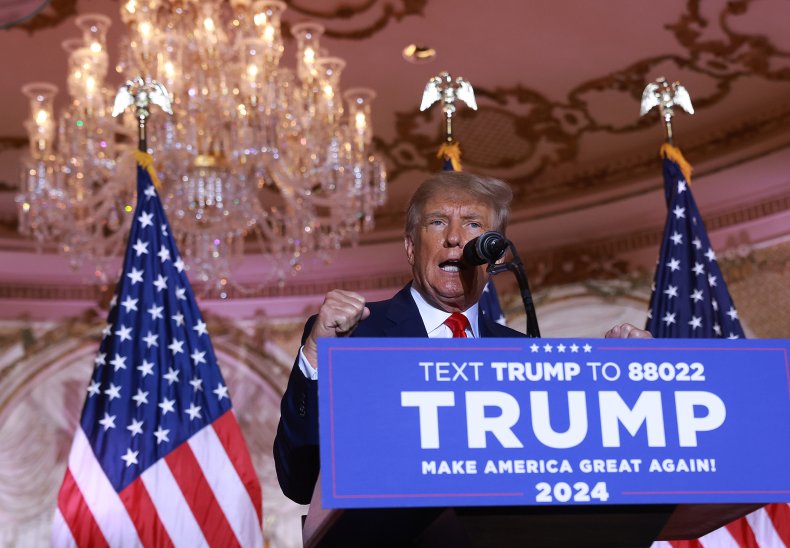 While Letitia Bode, an associate professor in the Communication, Culture, and Technology master's program at Georgetown University, told Newsweek that Trump being banned from Twitter likely had no effect on his closest supporters, she said it likely had an impact on members of the news media in how they cover Trump by limiting their exposure to his content and, therefore, limiting public access to that content.
"Seeing Trump where you are instead of seeking him out, even somewhat systematically, is going to make that content more top-of-mind, make it more likely to end up in stories," Bode said.
That's particularly due to the fact that some of Twitter's most devout users are the people who write the news.
"We mythologize the importance of social media a lot, but nobody necessarily needs any one particular app to be successful in politics," Dorian Davis, an expert in political communication at Webster University, told Newsweek.
"You'd have to think about what your goals are, and who you're trying to reach, and make decisions about your digital strategy based on that. Twitter is unique in the role it plays in journalism, though, and it can definitely be advantageous to have it."
There is data to suggest that Trump's disappearance from the platform had a tangible impact on the spread of disinformation, showing his influence on the attitude of the electorate was significantly curbed following his exile.
While some figures on Twitter continued to share disinformation on the platform around the 2022 midterm election cycle, Jesse Littlewood, vice president of campaigns at the nonpartisan watchdog group Common Cause, told Newsweek that the amount of disinformation about election integrity substantially decreased after Trump left the platform, falling below levels seen in the 2018 midterms, according to a survey by online monitoring platform Zignal Labs published in the Washington Post.
"We know for a fact that banning Trump from Twitter reduced his ability to circulate lies in the digital space. You just can't have the same reach on a site like Truth Social with a fraction of the users," said Davis.
"So, I'd call that tangible proof that it made a difference in fighting disinformation. Whether it actually prevented somebody from being duped by disinformation is a different question, and I don't think we can answer that because there are so many other unreliable sources people could turn to."
But there were also key differences between the 2020 and 2022 cycles. When Trump was president and his statements had clear implications for what everyone else could get away with saying, figures lower on the food chain—Arizona gubernatorial candidate Kari Lake, Pennsylvania candidate Doug Mastriano—received substantially less coverage for claiming "fraud" this cycle.
Trump, Littlewood said, was a thought leader for a movement, with an unparalleled reach that commanded attention: "When Trump tweeted something, it would be amplified in mainstream news networks," he said.
And the implications of that, experts said, spoke for themselves.
"His audience was quite large and active," said Michael Bossetta, a political and data scientist at Lund University who hosts a podcast exploring the impact of social media on politics.
"Of course with an account that size and disinformation coming from it, the implication is that the information around it would be picked up. The tangible proof is that disinformation has decreased since he got off the platform, which could just be a sort of artifact of stripping out that 85 million user audience."
Trump returning to Twitter could devalue Truth Social, which already appears strapped by money issues, but it could also represent the devolution of a platform.
"I think Elon Musk's decision to let him back on Twitter, allegedly based on the results of a really dubious poll, is a big mistake," Davis said. "Apart from the fact that it gives him a much bigger platform to spread disinformation, it's a betrayal of Twitter's own content moderation policies, which could potentially embolden all kinds of bad actors on there."
Ultimately, Trump needs the platform, which is capable of driving news cycles and indirectly shaping public opinion. Trump, by the sheer size of his Twitter following, drove a powerful narrative about the 2020 election that journalists covered, amplifying the message even further. And it was the platform's user base—his loyal fans and his harshest critics—that allowed him to do so.
"They want to show their support," Bossetta said. "And so they do that by amplifying his message, regardless of what it is. It's more of a fandom thing than it actually is believing lies. I think it's more of a show to show their affiliation. It's how they do it in their own way."
Update 11/22/22, 11:23 a.m. ET: This story has been updated with additional information.