Will Ukraine War Break Out? Watch China's Embassy
As Western governments, including the U.S., reduce their diplomatic presence in Kyiv, China's decision to keep its embassy staff in the city may be the clearest sign yet that it expects de-escalation.
Secretary of State Antony Blinken announced the relocation of American diplomats from Kyiv to Lviv, on the country's border with Poland, on Monday, citing "the dramatic acceleration in the buildup of Russian forces."
The U.S. and its NATO allies are monitoring the movements of more than 100,000 Russian troops around Ukraine, with Blinken and national security adviser Jake Sullivan continuing to warn that an invasion this week is possible.
China, which backed Russia's security concerns and opposed NATO expansion in an eye-catching joint statement earlier this month, has stopped short of remarking on Moscow's dramatic military deployments in recent weeks. But Beijing's most telling signal of calm could be its decision to keep its diplomatic staff in Kyiv and its citizens in Ukraine, while renewing calls for restraint and dialogue.
"China is closely monitoring the development of Ukraine's situation," China's Foreign Ministry spokesperson Wang Wenbin told reporters in the Chinese capital on Monday. "The Chinese Embassy and Consulate-General in Ukraine are working normally, and the embassy has issued a consular advisory that reminds Chinese citizens and institutions to closely follow the developments and increase their safety awareness."
"The Chinese Foreign Ministry and our embassy in Ukraine will stay in close contact with Chinese citizens and institutions there, provide timely consular protection and assistance, and earnestly protect their safety and legitimate rights and interests," he said.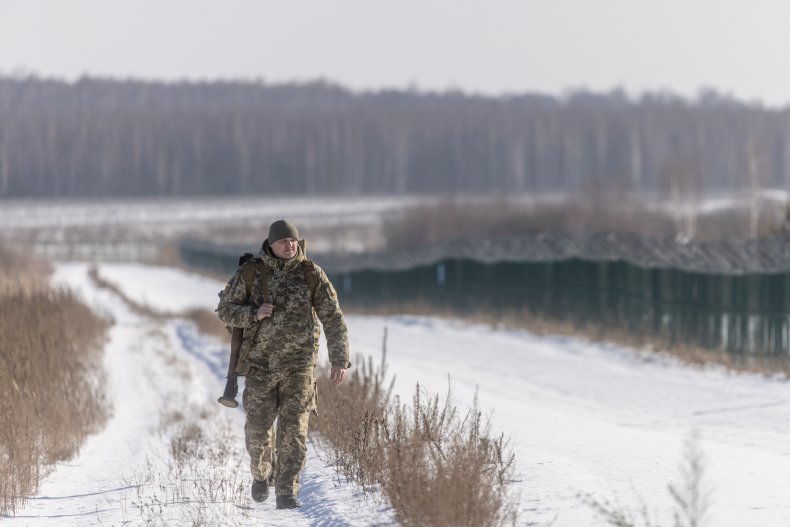 China is busy hosting the 2022 Winter Olympics in Beijing while tensions flare on the Ukraine-Russia border.
By all accounts, a Russian invasion of Ukraine would concern the Chinese leadership by destabilizing Europe and the many economies undergoing post-pandemic recovery, but Beijing has so far refused to publicly acknowledge its leverage with Russian President Vladimir Putin.
On Tuesday, Wang dismissed suggestions that Beijing had asked Moscow not to invade Ukraine. "China's position on Ukraine is consistent, clear and stays unchanged. We believe all parties should sincerely abide by the Minsk II agreement and work toward the comprehensive resolution of the Ukraine crisis and related issues through dialogue and negotiation," said Wang.
The 2015 agreement aimed for, but failed to achieve, an end to the years-long conflict between Kyiv and Russian-speaking separatists in eastern Ukraine. "We call on all parties to remain rational and refrain from making moves that may escalate the tensions and play up and sensationalize the crisis," he said.
Beijing appeared to take issue with NATO members who continued to warn that an all-out invasion was highly likely, and who also criticized China for its perceived endorsement of Moscow's behavior. Pentagon spokesman John Kirby has called China's "tacit support" for Russia "deeply alarming," while U.K. Foreign Secretary Liz Truss told British radio station LBC that her government wasn't discounting the possibility of a Russian attack.
"I do not trust what they have said," Truss said on Tuesday. "We very much fear a false flag incident in the next few days, where the Russians pretend that there has been provocation from Ukraine in order to justify an invasion."
Wang responded without naming names. "Under the current circumstances, exaggerating and hyping up the possibility of warfare is not responsible behavior. Resorting readily to sanctions and pressure won't help to de-escalate the situation. Clamoring for bloc confrontation will only lead to the old path of the Cold War," he said.
"We call on all sides to adopt an equal and open attitude, and work for the sincere implementation of the Minsk II agreement through dialogue and negotiation, so as to create conditions for a political resolution of the Ukraine crisis."
There appeared to be cause for optimism on Tuesday when Russia's Defense Ministry announced the withdrawal of some forces from Ukraine's border, following the conclusion of military exercises. The repositioning of Russian troops—amid ongoing drills involving other elements—hadn't been independently verified by NATO members at the time of publication.
In response, Ukrainian Foreign Minister Dmytro Kuleba tweeted: "We in Ukraine have a rule: we don't believe what we hear, we believe what we see. If a real withdrawal follows these statements, we will believe in the beginning of a real de-escalation."