William Barr Accused of Making it Seem Like He Doesn't Oversee Bureau of Prisons After Epstein Death
The nation's top law enforcement official on Monday accused the federal detention center where pedophile and accused child sex trafficker Jeffrey Epstein died from an apparent suicide over the weekend of having "serious irregularities" that he said would be immediately investigated.
"I was appalled. And, indeed, the whole department was—and frankly, angry—to learn of the [Metropolitan Correctional Center's] (MCC) failure to adequately secure this prisoner," Attorney General William Barr said. "We are now learning of serious irregularities at this facility that are deeply concerning and demand a thorough investigation. The FBI and office inspector general are doing just that."
Epstein was being held at MCC while he was awaiting trial, and as part of the Federal Bureau of Prisons, the New York facility is overseen by Barr and the Justice Department. Mimi Rocah, a former federal prosecutor for the Southern District of New York, where Epstein was charged with child sex trafficking last month, suggested the attorney general was blurring those lines.
Barr vowed to "get to the bottom of what happened, and there will be accountability."
His remarks came at a law enforcement conference in New Orleans, Louisiana, just days after the multimillionaire financier with deep political connections was found dead from an apparent suicide in his cell. Barr further promised to track down and hold accountable any co-conspirators that may have been involved in Epstein's alleged role in trafficking dozens of underage girls in New York and Florida from 2002 to 2005.
"But let me assure you that this case will continue on against anyone who was complicit with Epstein," Barr continued. "Any co-conspirators should not rest easy. The victims deserve justice, and they will get it."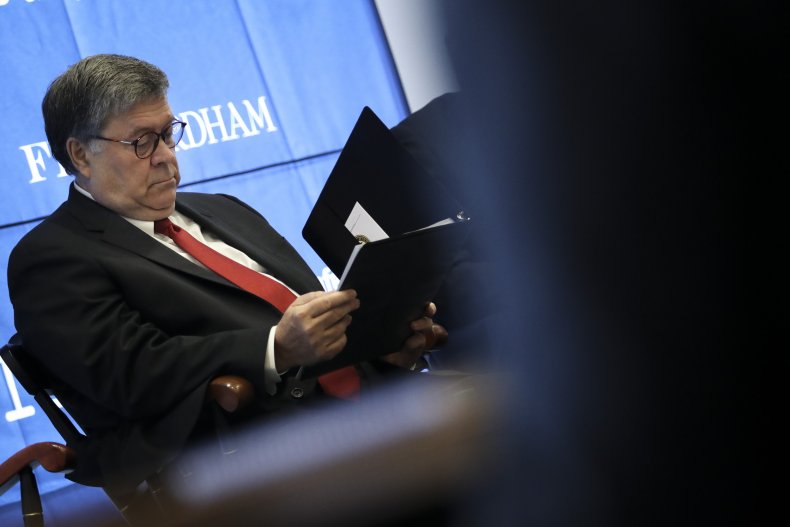 Since Epstein's death, conspiracy theories barring no evidence have plagued Twitter and the internet, accusing former associates—such as former President Bill Clinton, former Secretary of State Hillary Clinton and President Donald Trump—of being responsible in order to suppress damaging information that Epstein may have known about them.
Among the people peddling such baseless theoretical scenarios was Trump, who over the weekend used his Twitter account with 63 million followers to share a video by conservative comedian Terrance Williams. Williams claimed, without evidence, Epstein had "information on the Clintons" and that the couple was directly involved in his death. Williams falsely claimed Epstein died while on suicide watch, but several media outlets have reported that he was taken off the 24/7 surveillance prior to his death, which he was originally placed on after he was found injured in his cell last month from undetermined causes.
Epstein was known to have deep ties to some of the world's most powerful politicians and businessmen, including Trump. Once a member of Trump's exclusive south Florida Mar-a-Lago resort, Epstein and the real estate mogul were filmed together during a 1992 party at the resort commenting about women's appearances.
Prior to his most recent charges, Epstein entered into a controversial and secret plea deal for similar sexual crimes with minors in 2008 from Alex Acosta, the U.S. Attorney for the Southern District of Florida at the time. Following Epstein's new child sex trafficking charges in New York and amid intense political pressure, Acosta resigned last month as Trump's secretary of the Labor Department.
Barr made no reference to any potential conspiracy theories in his remarks, adding that news of Epstein's death was disappointing to hear, for it meant the alleged victims would no longer be able to see justice play out in the courts.
"This sex trafficking case was very important to the Department of Justice and to me personally. It was important to the dedicated prosecutors in the Southern District of New York and to our FBI agents who investigated the case and were preparing it for trial," Barr stated. "Most importantly, this case was important to the victims, who had the courage to come forward and deserved the opportunity to confront the accused in the courtroom."