William Kelly, Cop Fired for Rittenhouse Support, Receives $200k in Donations After Verdict
A fund set up for a fired police officer who supported Kyle Rittenhouse has received well over its goal of $100,000.
The Give Send Go donation page for Lieutenant William Kelly was set up on November 20 by political commentator Candace Owens and has so far raised over $230,000 at time of writing.
Kelly was terminated from his job by the Norfolk Police Department in April 2020.
This occurred after a data breach showed he anonymously donated $25 to Rittenhouse's defense fund.
Candace Owens took to Twitter to voice her frustration last week about Bill Kelly being fired last week and announced the donation page.
On November 20 she wrote: "Today I started a fundraising for Lt. Bill Kelly—17-year police veteran who was fired in April after the despicable @guardian revealed that he anonymously donated to Kyle Rittenhouse's legal defense. Please share and support!"
She also said she and her supporters crashed the Give Send Go site due to the overwhelming support.
On the donation page, Owens explained why she felt it was necessary to donate for William Kelly.
She highlighted his dedication to the police force and argued that the decision to have him fired was unfair.
She said: "Kelly is a 19-year veteran and a father of three. That did not matter.
"He made the contribution anonymously so as not to draw attention or association to the police force. That also did not matter.
"Since his dismissal, William "Bill" Kelly has been surviving on his savings and his wife's teacher salary.
"All police officers have a right to privately support issues and causes they care about in their off-duty time.
"In this particular circumstance, Lt. Kelly was supporting the truth. Kyle Rittenhouse is innocent. So is Lieutenant Kelly."
"I have reviewed the results of the internal investigation involving Lt. William Kelly. Chief Larry Boone and I have concluded Lt. Kelly's actions are in violation of City and departmental policies," said Norfolk City Manager Chip Filer in a statement in April.
The Guardian and the Norfolk Police Department have been contacted by Newsweek for comment.
Kyle Rittenhouse was found not guilty of first-degree intentional homicide after the deaths of Joseph Rosenbaum and Anthony Huber, whom he shot in August 25, 2021.
The jury also concluded that Rittenhouse was not guilty of attempted first-degree intentional homicide in the shooting of Gaige Grosskreutz, who was shot in the bicep.
Rittenhouse had initially been charged with five first-degree felony counts.
After the verdict was read out in the courtroom, Rittenhouse collapsed in tears in and hugged one of his attorneys.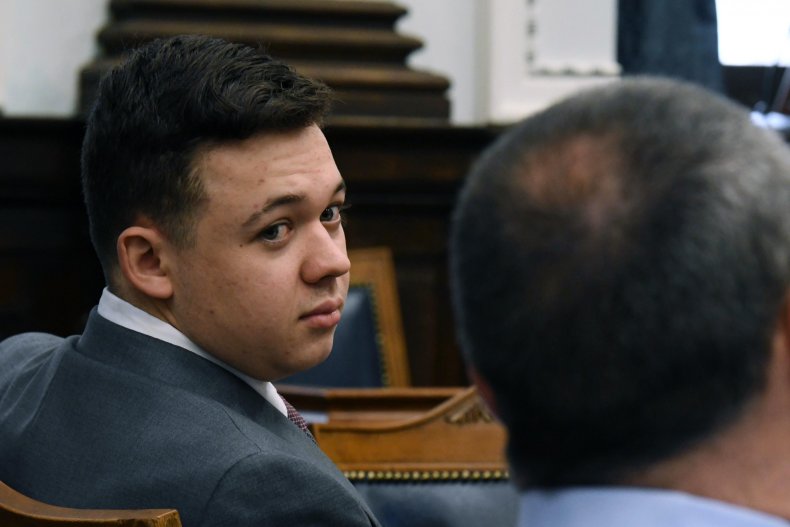 Alongside his initial donation, Kelly wrote: "God Bless. Thank you for your courage. Keep your head up. You've done nothing wrong. Every rank-and-file police officer supports you." He has since stood by his decision to support Rittenhouse.
Speaking to the Daily Mail on Friday, Kelly explained why he supported Rittenhouse from the beginning.
He said: "Everything I'm saying is just my personal opinion. I've been a homicide detective, a violent crimes investigator for years. I have a background.
"I watched the video of Rittenhouse before the shooting and the protesters before the shooting and I thought it painted a pretty clear picture that Mr. Rittenhouse had a very strong claim for self-defense.
"I was very surprised when he was charged soon after the shooting with these murders and the shooting of the third victim."