How William Shatner's Space Flight Brought 'Star Trek' Journey Full Circle
William Shatner's trip into space was more than a just an adventure for the man best known for his iconic role in Star Trek. It was also in one sense the completion of a journey that started in 1966.
Following Shatner's successful flight on Blue Origin's New Shepard rocket on October 13, Newsweek has spoken to Don DiCostanzo, CEO and founder of Pedego Electric Bikes and a personal friend of William Shatner.
DiCostanzo played the role of Shatner's wingman, traveling with him from Comic Con in New York to Van Horn, Texas and spending seven days with the man most famous for playing Captain James T. Kirk of the USS Enterprise. He witnessed the flight and spoke to the 90-year-old actor when he returned from space.
DiCostanzo explained that he first discussed the space flight with Shatner when they attended an airshow that took place during a Pedego Electric Bikes customer appreciation event.
Shatner is a keen cyclist and the spokesperson for Pedego Electric Bikes. He had one of the bikes with him in Texas.
"On the way out, he mentioned me that he was going into space," DiCostanzo said.
"I said, 'I heard that Bill. That's amazing.' He goes, 'Yeah, I just haven't quite figured how am I gonna get from Comic Con in New York to Van Horn, Texas on Saturday afternoon.' I said: 'Well, Bill, if I could be your wingman, I'd be honored to go with you and I'll provide a jet service for you to do that.'"
Shatner found the idea appealing and DiCostanzo was soon his wingman.
DiCostanzo attended Comic Con with Shatner where "all the lines for him are out the door" before flying to Texas, where Shatner underwent training.
Jeff Bezos in a Spacesuit
DiCostanzo said Shatner was frequently checking on him by text, asking how he was.
"Now, I know Bill pretty well, but I'm not his best friend, but he's checking: 'Don, you OK?' Sending me texts. He sent me a text like at 2:30 in the morning on Monday night. 'Don, you OK?'" DiCostanzo laughed.
On the morning of the launch, former Amazon CEO and Blue Origin founder Jeff Bezos arrived driving a Rivian electric vehicle and transporting some passengers.
"All of a sudden, the Rivian pulls up to me and there's Bill in there in the passenger seat," DiCostanzo said. "And the driver's seat—right in front of me is Jeff Bezos. I was shocked to see him driving the Rivian. And he's in a spacesuit as well and he's driving all these astronauts out to the launchpad that morning."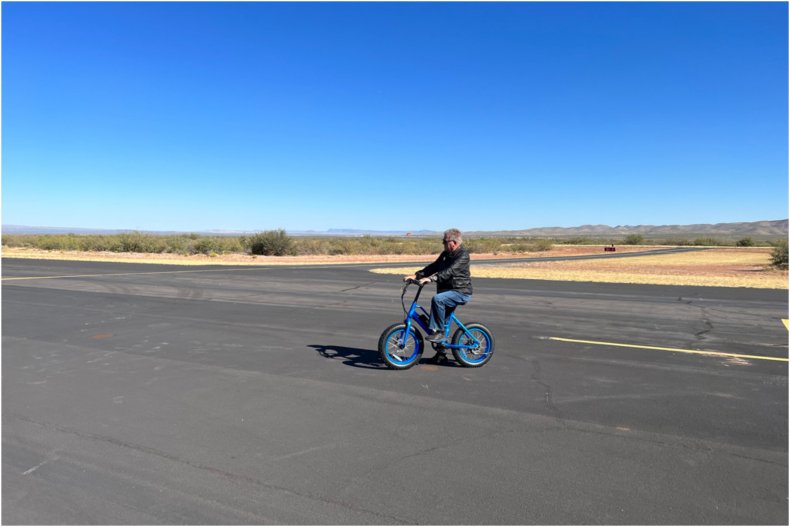 DiCostanzo watched the launch on monitors and told Newsweek he was "probably a mile from rocket launch. I don't think anybody was closer than us, other than the crew, the staff at Blue Origin. Everybody else was out 15 miles away watching it."
When the capsule returned, DiCostanzo was initially concerned that the doors were not opened immediately but eventually Bezos "puts the key in the door—latches—open the latches and out they pop out I'm like—that to me was the sigh relief."
A Childhood Drawing
For DiCostanzo, one of the most profound moments of the trip was his conversation with Shatner on the flight back to Los Angeles.
"On the way back to L.A, we chatted all about his experience," DiCostanzo said.
"And then he revealed to me the conversation that happened about him and Jeff Bezos about what happened between [when] you're 9 and 12. And Jeff was just enamored with this conversation.
"So I started the conversation with Bill on the plane. I started to say about 9 to 12, and we recounted that on the way out there. While he was with Bezos at dinner one night, he's asking Jeff about, you know, what formed his opinion."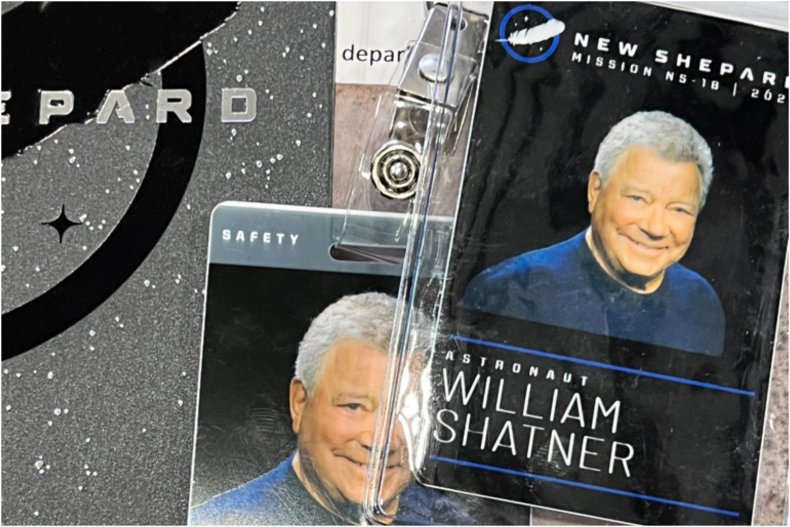 "And Jeff goes, 'wow, that's amazing.' He says, 'I have a picture from when I was 9 years old that I drew about me going into space, a sketch that I drew of myself going into space when I was 9 years old,'" DiCostanzo said.
"So I'm like, wow, how profound is that?" he said. "Bill's pretty bright and I'm sure he understood the gravity of that.
"Star Trek is what inspired him to draw that picture. He saw the movie Star Trek. Isn't that amazing? So, now Bill's going into space, or went into space, because of his influence on Jeff Bezos as a young kid," he said.
"Now Jeff is 57 and Bill's 90. So there's a pretty big age difference. And it all—it all adds up, right? So here's this 9-year-old boy, probably in the early 1970s, watching Star Trek, wants to go into space, and he does."
The original series of Star Trek ran from 1966 to 1969 and was subsequently shown in reruns. Shatner reprised his role as Kirk in Star Trek: The Animated Series from 1973 to 1974 and Star Trek: The Motion Picture was released in theaters in 1979. Bezos was born in 1964.
Not an Old Man
At 90, Shatner has taken the long way round to becoming an astronaut but DiCostanzo praised his friend for his stamina despite his age, calling him a "remarkable" man who's "setting the standard for all of us as we get older."
"The guy's 90 years old. He's got more physical and mental stamina than anybody can imagine," said DiCostanzo.
"I had four hours sleep the night before. I'm nodding off on the plane back. He's chatting with me. He's chatting with a couple other guys on the plane. He's doing emails. He did not even nod off. Not one second, but anytime he talked about the actual journey itself, he teared up.
"And I asked him what the most difficult part of the trip was. He said, getting back into his seat after the weightlessness. He really struggled to get back in there.
"And he said, 'Don, they told me I had to put all fives points'—it's a five-point seatbelt—'I only got four. I couldn't. I didn't have time to get the fifth buckle in,'" DiConstanzo laughed.
"When I was growing up, if you were in your 60s, you were old," DiCostanzo said. "Bill's not old. Bill's fricking 90 years old. I wouldn't call him old. I wouldn't call him an old man. I mean, obviously he's 90 years old, but his mind and his body ... just amazing—to me that's the craziest thing about the whole thing."