Sarah Jessica Parker 'Not Ready' to Publicly Mourn Willie Garson's Death
Sarah Jessica Parker has revealed that she's "not ready" to publicly mourn the death of her Sex and the City co-star Willie Garson.
Garson's son, Nathen Garson, confirmed the 57-year-old actor's death in a heartfelt Instagram post on Tuesday, leading to a flood of tributes from the late star's many celebrity friends, including the Sex and the City cast.
However, Parker has yet to count herself among those, admitting in the hours after news of Garson's death broke that her emotions remained too raw.
Chris Noth, who portrays Parker's husband Big in the popular franchise, paid tribute to Garson on Instagram by sharing a photo of the late actor laughing as he walked arm-in-arm with Parker, adding the caption: "Willie❤️💔."
Parker, whose Sex and the City character Carrie Bradshaw was best friends with Garson's stylish Stanford Blatch, reacted to Noth's post several hours later: "Thank you dearest Chris. I'm not ready yet. Xxx."
Noth responded by pinning Parker's comment to the top of his tribute post.
Garson appeared in the Sex and the City series, which ran between 1998 and 2004, before reprising his role in two sequel movies.
As recently as August, Garson was seen shooting scenes for Sex and the City spin-off series And Just Like That... on the streets of New York City.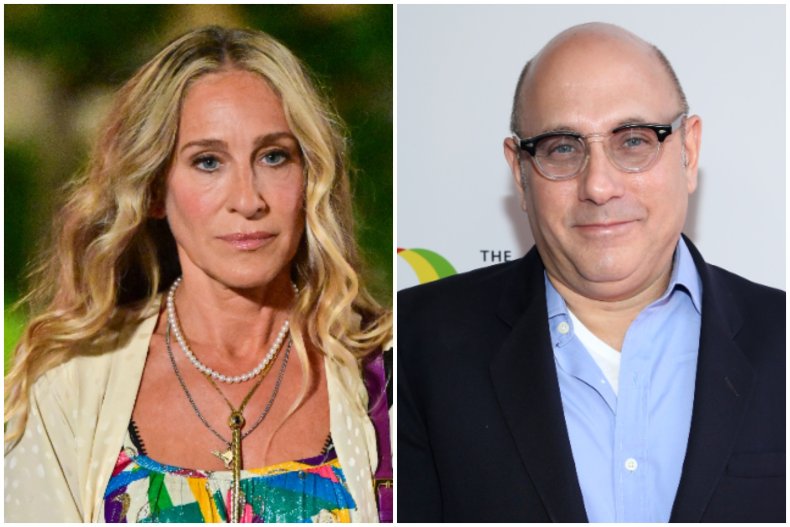 Meanwhile, franchise co-star Kristin Davis posted a tribute to Garson on Wednesday, as she took to Instagram to share photos from happier times.
"I first met Willie in 1995 on the spooky nighttime set of the X-Files," she wrote. "He immediately made me laugh. Little did I know that we would have the joy of sharing Sex and the City + And Just Like That together.
"Willie is beloved by our entire community. He was smarter and funnier than you ever would have imagined. We are bereft without him."
Davis then commended his role as a single father to his beloved son, who Garson first met at an adoption fair in Los Angeles back in 2008. The adoption became official in January 2010.
"I really want to pay tribute to his fearless commitment to single fatherhood," Davis continued of Garson. "We spoke about being single parents through adoption often. And nothing gave him more joy and pride than his son Nathen.
"Nathen's strength and wisdom beyond his years are evident in his beautiful tribute to his dad. The outpouring of love is earned dear Willie.
"I am thankful for all of the time we had and grateful that so much of your bright light is on film forever. Maybe we can do our pod cast the next time around ? We love you forever xoxo."
Other Sex and the City stars—including Cynthia Nixon, Kim Cattrall, Mario Cantone, and Evan Handler—also posted tributes to Garson on social media.
While a cause of death has yet to be confirmed, Variety reported that Garson had been battling pancreatic cancer.
Michael Patrick King, executive producer of Sex and the City and its spinoff And Just Like That... revealed in a statement that Garson had been "sick" while reprising his Stanford Blatch character in recent months.
"The Sex and the City family has lost one of its own. Our amazing Willie Garson," said King, per Variety. "His spirit and his dedication to his craft was present every day filming And Just Like That.
"He was there—giving us his all—even while he was sick. His multitude of gifts as an actor and person will be missed by everyone. In this sad, dark moment we are comforted by our memory of his joy and light."