Willie Nelson Debuts Song Aimed at Ted Cruz Called 'Vote 'Em Out' at Beto O'Rourke Rally
Willie Nelson performed a new song at a rally for Democratic candidate Beto O'Rourke, which took a swipe at the current Republican administration in Texas and the incumbent Senator Ted Cruz.
Clad in a "Beto for Senate 2018" T-shirt, the country music legend urged those attending the rally in Austin, Texas to "Vote 'Em Out" as he lent his considerable influence in the state to the Democrat's midterm election candidate.
O'Rourke is looking to oust Cruz in the normally safe Republican state. Recent poll data shows that the race is tight between them, with Cruz ahead 47 percent to 42.5 percent, according to Real Clear Politics.
Following a speech by O'Rourke, Nelson played his standard hits before performing a new song with a direct message and the lyrics:
"Vote 'em out, vote 'em out, and when they're gone we'll sing and dance and shout.
"The biggest gun we've got is called the ballot box. If you don't like who's in there, vote 'em out.
"And we'll bring some new ones in, and they will start to show again, that if you don't like who's in there, vote 'em out."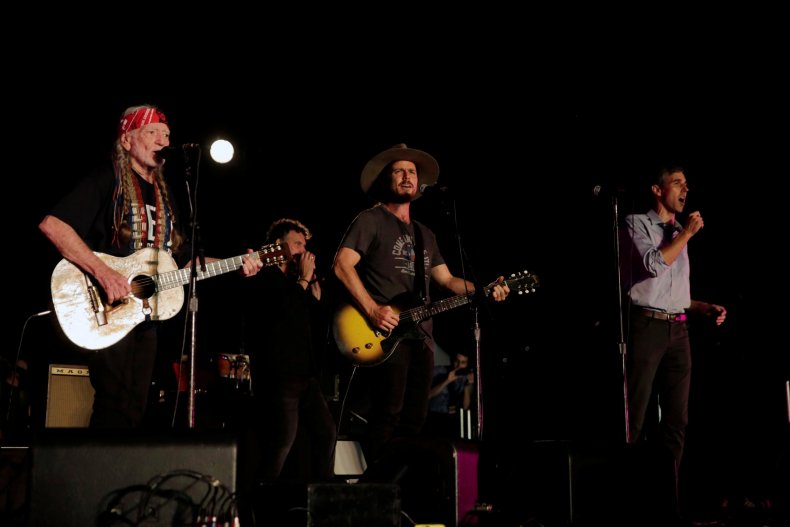 Read More: 'I don't care': Willie Nelson gives blunt response to angry fans over support for Democrat Beto O'Rourke
The 85-year-old country music legend has held liberal views throughout his career, such as his support for the LGBT movement, legalizing marijuana and more recently, his opposition to the building of a wall on the border.
Around 55,000 people attended the rally during which O'Rourke said: "We are not running against anything or anyone or any political party. We are running for each other and for this country that we love so much.
"Let tonight be a message to the future. Let them know who we are, what we believe in and what we are willing to do to accomplish our goals. Let them know that we believe in this country," he said, according to the Austin-American Statesman.
Austin resident Maura Goetzel, 18, who was at the rally, told the paper: "Even growing up in Austin, I've never seen this place be this excited about a candidate."
Life-long Republican Ralph Curton told the Statesman during the event: "[O'Rourke is] different. He's authentic. He doesn't have a hidden agenda. He's not politics as usual, and I've seen a lot of politics as usual."