Seeing Gold in Spinning Turbines: Why Texas Is Winning U.S. Renewable Race
Texas and other majority Republican states are leading the U.S. in both wind and solar power, despite polls showing Republican voters rank tackling climate change as a far lower priority than Democrats do.
A recent report by Climate Central, a nonprofit news organization that analyzes and reports on climate science, found that across the U.S., wind and solar capacity has increased by 16 percent from 2021. Texas—the dominant U.S. oil-producing state— generates the most energy from wind power by far, followed by Iowa, Oklahoma and Kansas, it said.
All four states backed former President Donald Trump in 2020 and their elected representatives are mostly Republicans, although Kansas has a Democratic governor.
Texas' strides in wind power are a result not only of the state's geographic suitability to generate wind power, but also the land regulation and tax systems in place in the state.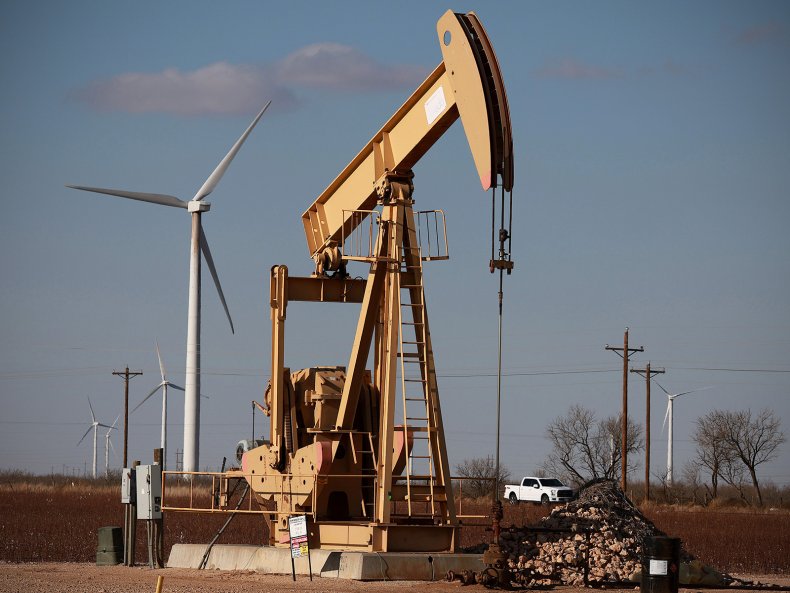 "Texas is known for its oil and gas booms and skepticism about human-caused climate change rather than its flourishing renewable energy sector," Irfan Khan, assistant professor at Texas A&M University at Galveston, told Newsweek. "But the government policies have helped propel Texas into the forefront of wind energy generation in the U.S."
Texas incentivizes both commercial wind and small wind power through taxes, exempting businesses from franchise tax when their sole purpose is manufacturing, selling, or installing solar or wind energy devices.
"The Texas Tax Code allows a tax exemption based on an appraised property value increase upon installation of a "wind-powered energy device" or devices used to store energy for on-site use," Khan said.
"Therefore, the ranchers and landowners see gold in the spinning turbines on the Texas plains and prefer to lease lands for wind turbines. Specifically, a Texas landowner could expect to collect between $16.2 million and $33 million in payments over the lifetime of a 100 megawatt wind farm, depending on the length of the contract and location in the state."
One megawatt of electricity can power about 200 Texas homes during periods of peak demand, according to the Electric Reliability Council of Texas.
Additionally, the federal government owns less than two percent of Texas' land, allowing larger portions of the state to be leased to wind power companies.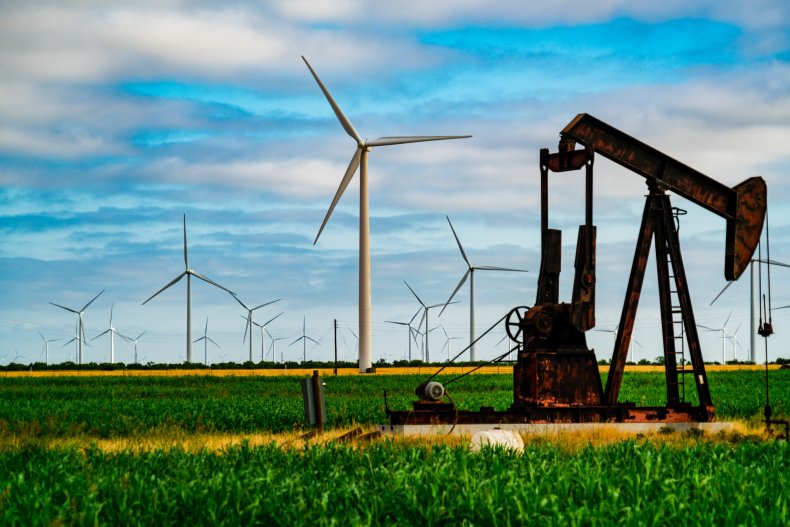 "[This is] in comparison with Montana, which has the highest wind potential in the United States but the federal government owns almost twenty-nine percent of Montana's land. Similarly, Texas' lack of regulated land also explains why it generates more wind energy than California because its government controls almost half of its land," Khan said.
One other major advantage that Texas has is that it put many thousands of miles of electricity transmission lines down in anticipation of increased wind power, allowing the state to make the most of its wind power capabilities once it had built enough turbines.
"As a result of Senate Bill 7, in 1999, the Public Utility Commission of Texas (PUCT) created a rule to install 5,000 megawatts of new renewables by 2015 and set a target of 10,000 megawatts of renewable energy capacity by 2025. To achieve the target, PUCT established a series of Competitive Renewable Energy Zones (CREZs) with the potential of the most wind energy projects," Khan said.
"Also, PUCT then developed a highly efficient series of more than 3,000 miles of transmission lines to reliably transfer renewable energy generated in western Texas (where CREZs are located) to help power eastern markets (where the energy demand is). With such sizeable investments in infrastructure, the state surpassed the 2025 target in 2009, showing Texans were ahead of the game with renewable energy."
The success of Republican-governed states in promoting renewable energy production comes despite a Pew Research Center poll, published in February, that found that only 13 percent of Republicans voters thought tackling climate change should be a top priority for the new Congress, compared to 59 percent of Democrats.
Even without all the incentives, Texas is well suited for wind generation due to its large size.
"It's a geographically large state (size matters in this case) and it's endowed with natural wind resources that are some of the best across the U.S," Eric D. Larson, a research professor at the Princeton University Energy Systems Analysis Group, told Newsweek.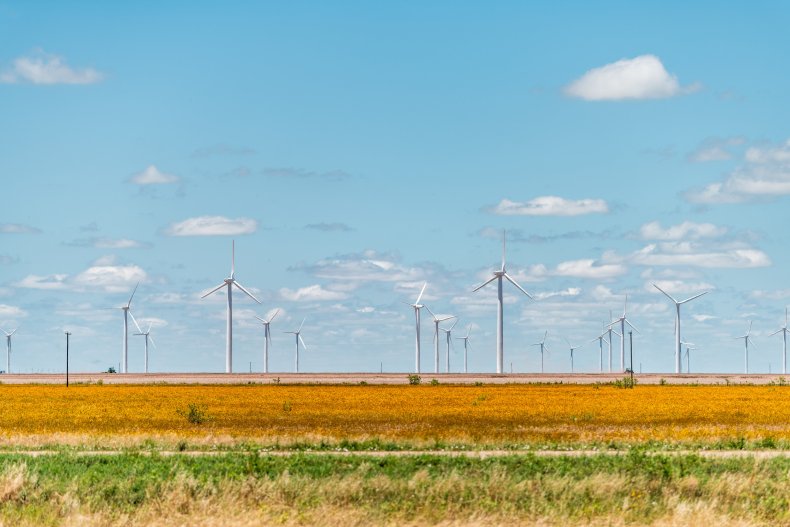 Jen Brady, senior data analyst at Climate Central, told Newsweek that Texas is also a good contender for solar power.
"Texas is also a great spot for solar power when you factor in large amounts of sunlight in much of the state, together with large areas of land," she said.
However, Larson also pointed out that wind power does not prevent that land from being used for other purposes like ranching, while solar power does.
The share of electricity generated from wind in Texas has shot up from zero to 24 percent between 2001 and 2023, and the Climate Central report shows that Texas generated 129,578,478 MWh in 2022. Iowa, the second-highest wind power generator, produces less than half of that. These advances in renewable energy in Texas are a sign that the U.S. as a whole could succeed in reducing its reliance on fossil fuels.
"[Wind power in Texas] is expected to grow faster, primarily because of the recent Federal Sustainability Plan that directs $369 billion toward investing in renewable energy and reducing America's planet-heating emissions, marking the country's most significant effort yet to combat the climate crisis and outlines an ambitious path to achieve net-zero emissions across Federal operations by 2050," Khan said.
These programs are designed to support investment in large renewable energy projects and technology that will advance the transition to carbon-free energy.
"Considering these incentives, many investments are directed toward clean energy initiatives. For example, a 300 megawatt offshore wind farm is planned for Galveston and 2,100 megawatt for the Gulf Coast of Texas," Khan said.
Khan says that while some claim that it is technologically feasible for the United States to achieve net-zero greenhouse gas emissions by 2050, achieving this would require rapid and widespread changes in policy and investment across many sectors of society, and the participation of government, industry, and individuals.
"It would require major changes in U.S. energy production and use and increased removal of greenhouse gases from the atmosphere. Such strategies are generating electricity without emissions, using energy more efficiently, using electrical transportation, and removing carbon dioxide from the atmosphere," Khan said.
Khan continued: "To implement these strategies, we will require new policies and investments as well as careful attention to the social and economic trade-offs involved. It will also require participation and commitment by the government, industry, and individuals. Additional innovation can further improve technology solutions and reduce costs."
While the U.S. hitting net-zero is a long way off in reality, progress towards that goal can only be a good thing for the future of the planet.
"The growth in renewables shows that we are seeing greater utilization of the abundant and free natural resources available to us—wind and sunshine," Brady said.
Do you have a tip on a science story that Newsweek should be covering? Do you have a question about wind power? Let us know via science@newsweek.com.
Update 03/01/23 10:40 a.m. EST: This article was updated to clarify Khan's university affiliation.