The Black man shot dead by law enforcement in Minneapolis on Thursday previously joked about being involved with the Derek Chauvin trial.
The man has been identified as 32-year-old Winston Boogie Smith Jr., a family member has confirmed to Newsweek.
Smith's social media history indicates that he regularly engaged with issues of racial injustice in the legal system and police reform.
There is a photo of Smith on his Instagram account posing with Ben Crump, the high-profile civil rights attorney who represents the families of George Floyd and Daunte Wright, both Black men who were killed by white police officers in Minnesota.
In another video on his Instagram account, Smith points at a man present in the Chauvin trial who he looks similar to.
Standing in front of the trial playing on television, Smith says: "Who is this man? This is a clone. I want you to know that the government has made a clone of me. These people are making a conspiracy about me. They're going to make this guy commit crimes and they're going to blame me for it."
He jokes that the guy has "my shoulders, my hair, my ears".
"He's got my ears, my hair lining and my amount of hair, my length, and he's trying to be me," Smith adds.
"I didn't make it, they made him. So help me figure it out, find out who's the clone."
Smith was shot dead by a U.S. Marshals task force. The agencies who were involved were not disclosed, but it did not include Minneapolis police, the department whose officers were involved in Floyd's death, theStar Tribune reported.
A statement from the force, issued by a Hennepin County Sheriff's Department spokesperson, said the suspect was wanted on a gun charge and the marshals were looking to arrest him on a state arrest warrant. The statement did not mention Smith by name or allude to his race.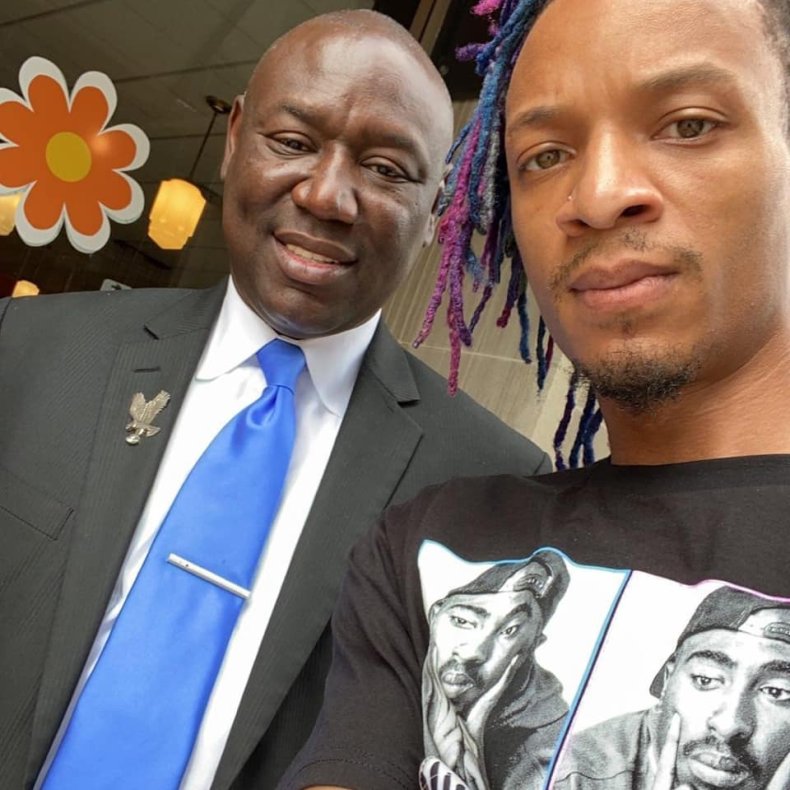 The force said the suspect was in a parked car at a parking garage at around 2.10 p.m. on Thursday, but "failed to comply and produced a handgun, resulting in task force members firing upon the subject." Smith was declared dead at the scene, and a woman in the same car was injured by shattered glass.
The suspect's arrest warrant was issued in Minnesota, Marshals Service spokeswoman Nikki Credic-Barrett told the Minneapolis Star Tribune.
The personnel involved in the shooting have been placed on administrative leave, the spokeswoman added.
The Minnesota Bureau of Criminal Apprehension is investigating the incident. Newsweek has contacted them for comment. Newsweek has also contacted civil rights attorney Ben Crump for additional comment.
Law enforcement sources told FOX 9 the person who was shot was a murder suspect.
Protests erupted in Minneapolis after Smith's shooting, which occurred just over a year after the killing of Floyd.
Demonstrators ignited a dumpster on Thursday night in the Minneapolis Uptown area, shortly after the deadly shooting at the parking garage. The dumpster, at the intersection of Lake Street and Girard Avenue S., continued to burn and people added other items including garbage cans to keep the fire burning. Police returned to the area at around midnight to form a line and move the protesters.