Cars Seen Sliding Along Icy Dallas Highway Amid Dangerous Ice Storm
Cars slid dangerously out of control as a highway was effectively turned into an ice rink during a fierce storm that buffeted Texas this week.
Footage filmed in Dallas showed a number of cars skidding across lanes, with several sliding sideways as the drivers attempted to brake and retain control. Some veered into the concrete road divider, while others spun 180 degrees and ended up facing the wrong way into what was now oncoming traffic.
The 78-second video went viral with more than 140,000 views on Twitter on Tuesday, just hours after it was first shared by WXChasing photojournalist and aerial cinematographer Brandon Clement on his Twitter account, with the clip also uploaded to the WXChasing channel on Youtube.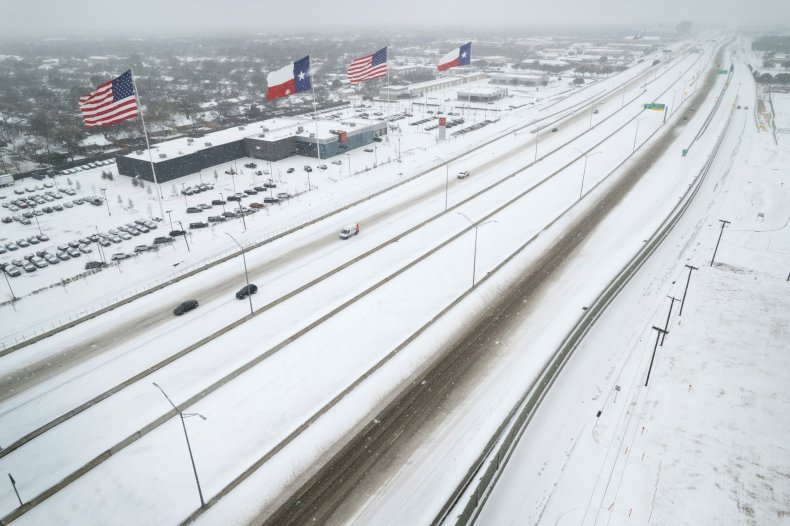 The drone footage captured several highways and overpasses around the Dallas Fort Worth area. The caption read: "Cars sliding on an icy bridge in Texas after freezing rain fell during a winter storm. Slick roads created difficult driving and travel conditions. An icestorm is forecast to continue for the next couple of days. drone video was shot in the dallas DFW metro."
While other clips uploaded to Twitter revealed just how treacherous the conditions had become for drivers.
AccuWeather multimedia journalist Bill Wadell shared footage of a car that ended up beneath the trailer of a truck after one collision in Irving, Texas. He wrote: "The hood of this car ended up wedged under a big rig after this crash on Loop 12... Many bridges and overpasses around the #DFW metroplex are slick and icy. Crews are responding to wrecks across the state."
The footage comes as forecasters warned of a "dangerous ice storm" as an arctic blast hits huge swathes of the country.
The National Weather Service's forecast. for Tuesday through Thursday, suggested millions of Americans will be affected by a "prolonged and significant ice storm [due] to continue impacting a large area from the southern Plains to the Tennessee Valley."
The report went on to add: "In the wake of an arctic cold frontal passage, warm and moist air overrunning cold air at the surface draped over the region will produce freezing rain and sleet that could lead to significant impacts. Furthermore, multiple rounds of wintry precipitation are forecast, with brief lulls followed by bursts of sleet and freezing rain that could drastically deteriorate road conditions."
Ice is set to form from West Texas to western Tennessee, with sleet from West Texas to Arkansas, "which can also lead to treacherous travel or add to the already slippery conditions."
"As a result, Ice Storm Warnings, Winter Storm Warnings, and Winter Weather Advisories have been issued. Travelers are advised to check road conditions before venturing out and drive with extreme caution," the forecast concluded.
It is not only the roads that have been affected, with air travel also thrown into chaos on Tuesday. Southwest passengers were particularly badly hit as the Arctic blast grounded more than 1,000 flights across the U.S.
It comes amid a spike in weather-related deaths in the country, with December's Storm Elliott killing at least 34 people. Some froze to death while others were killed in car wrecks, as nine states suffered major blackouts.