Southwest Passengers Rage as Arctic Blast Grounds 1,000 Flights Across U.S.
Over 1,000 flights within, into and out of the U.S. were canceled on Tuesday as an Arctic blast brought extreme cold, heavy snow and intense winds across much of the country.
The number of grounded flights is expected to rise still further and so is the number of delayed flights, currently more than 800.
About half of all canceled flights are managed by Southwest Airlines, the same company at the center of the travel chaos unleashed during Christmas time last year. The company's Christmas woes started with a winter storm that affected several other airlines, but continued long after all others had recovered.
Between December 20 and 29, the company is estimated to have canceled some 11,000 flights, according to flight tracker website FlightAware.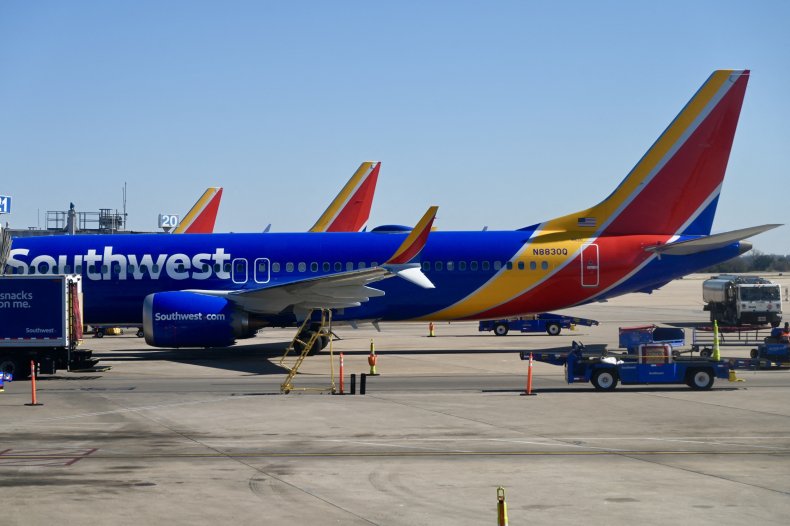 While the holidays—and peak travel season—are now over, the cancellations on Tuesday have still caused inconvenience for travelers, with many taking out their frustration at Southwest on Twitter.
"SouthwestAir was supposed to depart at 1:15pm flight gets canceled and delayed until 9:55pm.. stuck at the airport with two kids for 11 hours. Waiting until 9:55pm for next flight. I need some LUV vouchers/ compensation," wrote one user on Twitter.
A winter storm warning was issued for a large part of Texas and parts of southeastern Oklahoma, while a winter weather advisory is currently in place in parts of Arkansas, Tennessee, Kentucky, West Virginia, Indiana and Ohio.
Tuesday's cancellations followed over 1,000 flights that were grounded on Monday because of the winter storm hitting the U.S. On Monday, Southwest canceled about 12 percent of its scheduled flights.
Customers complained about Southwest canceling flights last week too, with some lamenting missing special occasions like weddings.
"I don't know why Southwest is allowed to continue doing this to people. Last week they canceled our flight last minute. Reason the "weather" and that Chicago didn't allow them to land. ALL the airlines were landing no problem. We missed a long planned wedding," a passenger tweeted on Tuesday in response to a message from the airline announcing that "service in some cities may be disrupted" for a second consecutive day "due to forecasted weather conditions as a result of Winter Storm Mara."
Many customers who had their Southwest flight canceled on Monday rebooked with other airlines that are still flying those routes despite the winter storm.
"Canceled my flight to Austin today from Vegas.. Thanks," wrote one Southwest passenger on Twitter. "Had to book with another airline who is flying there tonight. Weather is fine in Austin and other airlines are flying tonight."
"Southwest canceled our flight last minute, 'because of the weather' it was the only airline which could not fly due to the 'weather' it appears they are covering up their internal issues with the 'weather'," wrote another passenger on Twitter.
"THEY CANCELED ON ME TWICE TODAY," complained a passenger, saying they booked another flight with American Airlines "since I couldn't trust Southwest to get me home!!"
Another passenger who wrote about flying with Southwest for over 10 years said that they gave the airline a "second chance" but they were going to be flying with United Airlines in the future after Southwest broke their heart "again."
Contacted by Newsweek for comment, Southwest Airlines said: "Based on current and forecasted weather conditions, our Teams have made schedule adjustments to support our operation at airports affected by Winter Storm Mara. Above all, our main focus is on the Safety of our Employees and Customers."
Update 1/31/2023 10:50 a.m. ET: This article has been updated to add the latest information and provide more context to the story.