Texas Power Lines Threatened by 500 Pounds of Ice
A meteorologist sounded the alarm on Monday about a shocking problem that incoming ice might pose to Texas' power lines.
A three-day storm with subfreezing temperatures and freezing rain began on Monday morning, subjecting all of central Texas to a winter storm warning. The forecast had meteorologists concerned about the state's power grid, which suffered a devastating failure after a massive winter storm in 2021 that killed hundreds of people and caused blackouts for millions. The biggest threat with the incoming storm is the ice accumulation from the freezing rain, with KHOU 11 meteorologist Pat Cavlin pointing out the weighty problem on Twitter.
"I feel like now is the time to start sounding the alarm on a potentially significant ice storm across much of Central & North #Texas," Cavlin tweeted. "These are ice accumulations by Wednesday evening. For reference, .25 [inches] of ice adds 500lbs of weight to a powerline span..."
Freezing drizzle began falling in Dallas on Monday morning, and will progress to freezing rain overnight. The rain will continue through Wednesday morning, leading to an accumulation of ice on power lines, roads, and bridges.
As of Monday afternoon, Texas wasn't experiencing any widespread power outages from the storm, according to a power outage map.
AccuWeather senior meteorologist Joe Lundberg told Newsweek on Monday that some areas of the state may see half an inch of ice or more. Meanwhile, one article from local news station KWTX predicted that Hillsboro, Texas, may be subjected to as much as three-quarters of an inch of ice.
Lundberg said the area could resemble a skating rink by Wednesday morning. Southern Oklahoma, and northern and central Arkansas may also be subjected to the freezing rain. He added that the incoming storm won't be as intense as the one in 2021, but freezing precipitation will present a danger.
"It can stick to tree limbs and power lines, and cause power outages," Lundberg said.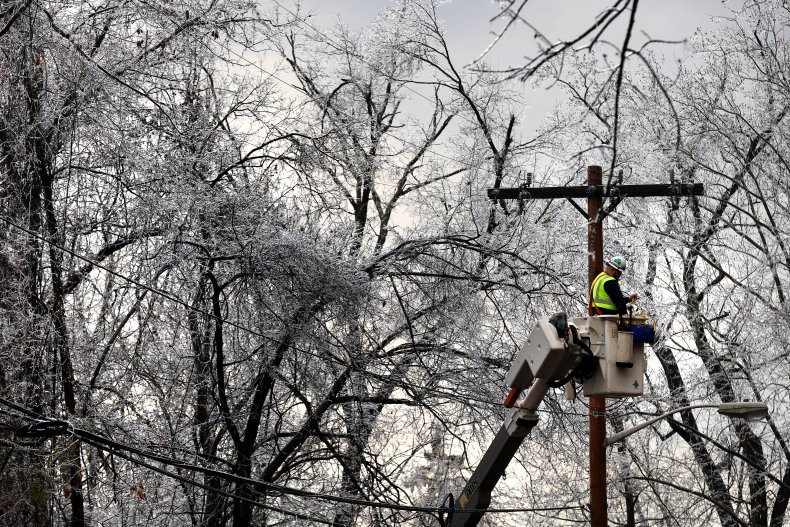 In addition, the accumulation of ice could cause tree branches to weigh up to 30 pounds heavier, according to the Weather Channel. If tree limbs break, they can land on power lines and cause damage. Ice alone can damage power lines, and Omaha Public Power District (OPPD) reported that over the span of a 920-foot transmission line, half-an-inch of snow could cause up to 500 pounds of excess weight on the lines.
OPPD said modern power lines can withstand up to one-and-a-quarter inches of ice, but older power lines can only withstand half-an-inch before damage begins to accrue. The added weight stresses the line and could cause it to snap.
The Electric Reliability Council of Texas (ERCOT) told Newsweek in an emailed statement on Monday that it expected the grid to meet demand throughout the storm.
Newsweek reached out to Cavlin for comment.