Blackouts Could Hit Texas as Dangerous Ice Threatens Power Grid
Freezing rain from a three-day storm began falling in Texas on Monday and could lead to a dangerous accumulation of ice on roads, bridges and power lines.
The accumulating ice could weigh down power lines, snapping them or causing tree limbs to fall and damage the lines. The forecast has some meteorologists concerned about the impact to the Texas power grid, which failed in 2021 as a frigid storm left more than 4 million without power or access to food and water. The storm killed hundreds.
The grid has faced numerous threats since the deadly storm and has been scrutinized for its ability to handle winter weather.
AccuWeather Senior Meteorologist Joe Lundberg told Newsweek that the freezing rain isn't expected to cause such widespread issues as the 2021 storm, but he is concerned about the impact the ice will have on power lines in the Dallas area.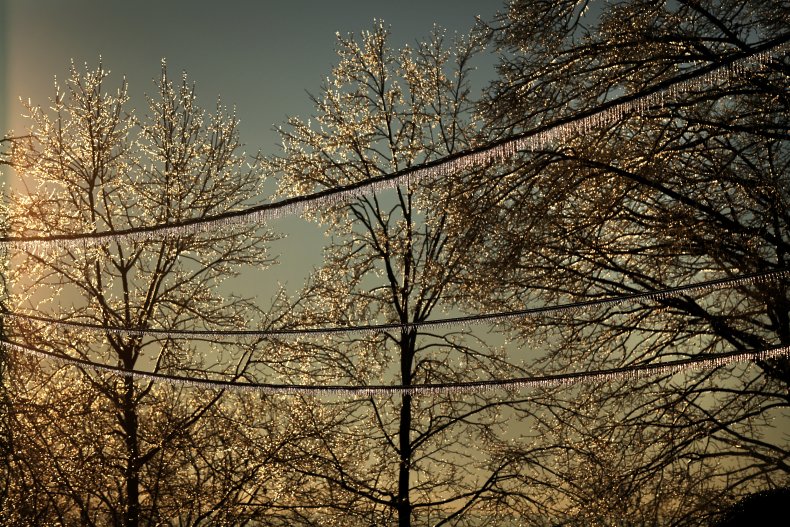 Up to a half-inch or more of ice could accumulate by Wednesday morning, possibly causing power lines to snap or be damaged by falling tree limbs.
The grid also faced a stressful situation when temperatures plummeted to single digits in December when an arctic blast spread across the nation. Since temperatures will be just below freezing, Lundberg saidthat the ice is the biggest threat.
"The concern is that the ice is going to accumulate to road surfaces, sidewalks, driveways, bridges, you name it, but it also has the opportunity to stick to things like power lines and utility lines," Lundberg said. "If the weight gets to be enough, it can down power lines, something that compromises the power grid."
Lundberg said power outages could be expected as a quarter-inch to half-inch or more of ice gathers on power lines.
"Over a half-inch of ice is when things really start to have some problems because it starts to snap power lines," he said.
In an emailed statement, the Electric Reliability Council of Texas told Newsweek that it expects sufficient power generation to meet demand.
CBS meteorologist Collin Myers issued a warning to people in the path of the ice on Twitter on Monday morning.
"I am worried about the power grid's infrastructure with significant freezing rain," Myers tweeted. "This isn't just cold air, this is icing. Be careful in the coming days."
Lundberg said the ice could threaten central Texas along the Interstate 35 corridor. The freezing rain might even affect southern Oklahoma and central and northern Arkansas. KWTX reported that a winter storm warning was in effect from Fort Worth and Dallas south to Austin. The highest ice accumulation is expected in Hillsboro, Texas, at three-quarters of an inch.
Freezing drizzle started to fall near the Dallas area Monday morning, and freezing rain will "get going in earnest" late Monday night and Tuesday, according to Lundberg. He said the freezing rain will continue on and off through early Wednesday morning before temperatures reach above freezing.