Winter Storm Avery Heading North, National Weather Service Issues Advisories
The days are getting colder and winter is quickly approaching, so now many parts of the country are on track to see the first snowfalls of the 2018-2019 season this week. Winter Storm Avery, the first of the season, is expected to bring a mix of wintery conditions across huge portions of the country Wednesday through Friday.
Some areas in the Ohio and Mississippi Valleys were already under weather advisories and warnings Wednesday. Snow and icy conditions are in the forecast for areas of the south, midwest and northeast this week.
Western Tennessee, Eastern Arkansas, Eastern Missouri, Southern Illinois, Central Indiana, Southwest Ohio, West Virginia and Central Pennsylvania were all under winter weather advisories. Those winter weather advisories indicate that "periods of snow, sleet or freezing rain will cause travel difficulties," according to the National Weather Service. Travelers should "Expect slippery roads and limited visibilities, and use caution while driving."
A ccording to the NWS forecast some areas could see up to 12 inches of snow over the coming days while others will simply see freezing rain and wintery conditions. The snow was already falling in Louisiana and Arkansas Wednesday and was heading North. Inner Pennsylvania was going to see some of the highest snow accumulations from the storm.
Wednesday's mid-day update from the NWS said, "More heavy snow is likely for interior portions of the northern Mid-Atlantic and Northeast by Thursday as the Eastern Seaboard surface low strengthens. 4 to 8 inches of snow is forecast there as well, with locally higher amounts. Cities along the I-95 corridor are not expected to receive too much snow. In terms of freezing rain, over a quarter of an inch of accumulated ice is likely, mainly in the Southern to Central Appalachians."
The NWS will have all the latest updates on the storm as well as the winter weather advisories and warnings that are issues due to the wintery conditions. Those in the areas where the storm was expected to hit should keep an eye on forecasts and pay attention to any warnings issued by authorities.
The Weather Channel released its list of winter storm names in early October and Avery was the first on the list for the season. There's one name for each letter of the alphabet on the list. The next storm will be named Bruce and then Carter after that. Only the Weather Channel names its storms, the NWS does not.
Storms are named when the NWS issues a storm, blizzard or ice storm warning that impacts a minimum of two million people or when the warnings impact more than 154,000 square miles.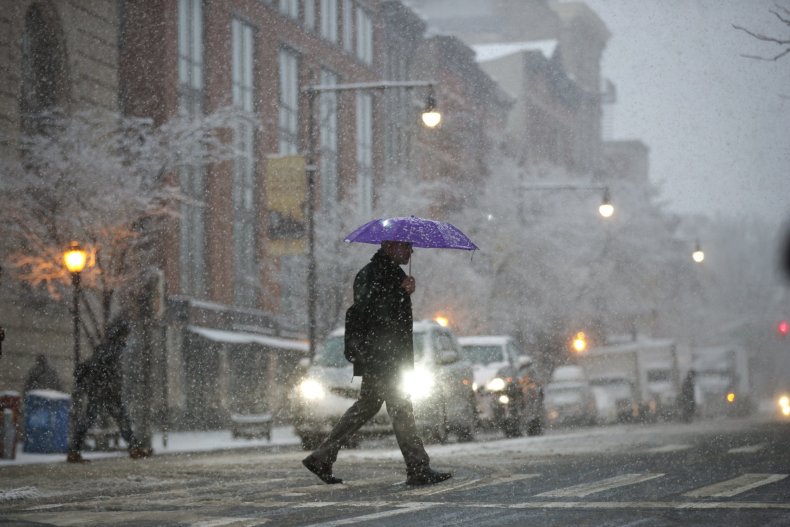 Winter Storm Avery Heading North, National Weather Service Issues Advisories | U.S.