Winter Storm Warning as Heavy Snow Forecast for New York, New Jersey
Sections of the East Coast are braced to be battered by more brutal winter weather, with heavy snow, ice and high winds forecast from tonight through to tomorrow morning.
An advisory note issued by the National Weather Service will remain in effect for much of the evening of Friday, January 7.
The agency wrote: "Heavy mixed precipitation. Additional snow accumulations of five to 10 inches and ice accumulations of a light glaze. Winds gusting as high as 45mph."
This is forecast to make travel "very difficult to impossible" as snowdrifts can cut visibility, while powerful gusts can bring down tree branches.
Tyler Roys, Senior Meteorologist and Lead European Forecaster at AccuWeather, confirmed to Newsweek the winter storm has barreled through several states before reaching the East Coast.
He said: "As AccuWeather correctly predicted days in advance, a winter storm brought a swath of three to six inches of snow from Tennessee and Kentucky through much of Maryland and southern Pennsylvania through 7am EST.
"At this time, the heavy snow bands have exited the NYC region and central Connecticut while they continue to move across eastern Connecticut, Rhode Island and eastern Massachusetts.
"There will be an area from central Long Island through south-central and northeastern Connecticut to Boston that will likely see around a foot of snow by later this afternoon.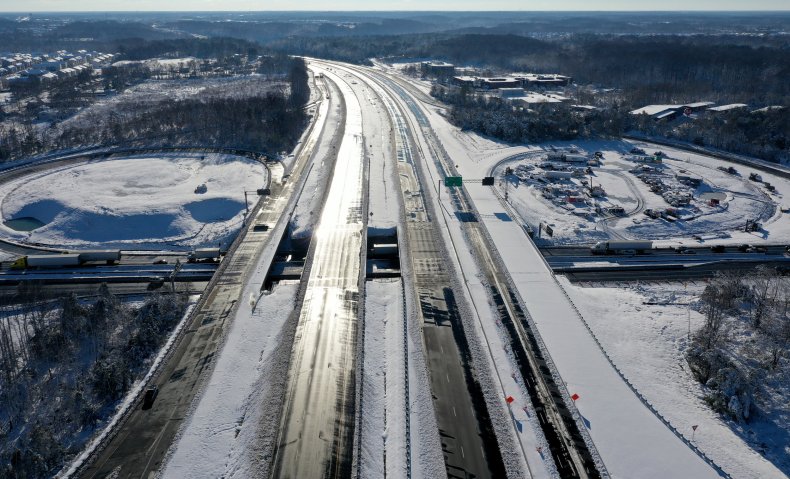 "Surrounding areas in southern New England have generally seen three to six inches."
This storm is then expected to blast into Nova Scotia later this afternoon and bring blizzard conditions along with snowfall more than one foot deep.
Roys added the snowy conditions may hamper the morning commute "from Washington DC to Portland, Maine, especially from Trenton to Boston."
He said: "It will become breezy by this afternoon which could lead to some blowing and drifting, especially with people clearing their vehicles, driveways and or sidewalks.
"Any melting that does occur and is not treated by this evening will freeze, leading to icy spots tonight into tomorrow morning."
Virginia Governor Ralph Northam declared a state of emergency on Wednesday in anticipation of the wintry weather leaving more than 100,000 people without power into yesterday afternoon, just days after a potent storm dumped more than a foot of snow in areas, leading to huge problems for those travelling.
This resulted in hundreds of motorists being left stranded on Interstate 95 as the mercury plummeted, causing Stafford County Board of Supervisors Chair Crystal Vanuch to describe the gridlock as "probably the biggest disaster we've ever seen."
Similar extreme winter weather led New Jersey Governor Phil Murphy to also declare a state of emergency for the Garden State on Thursday—for the second time this week.