Wisconsin GOP Official Suggests Absentee Ballots From State's Official Website Are Invalid
Bickering between Democrat and Republican election officials in Wisconsin has marred discussions on how to conduct a recount that the campaign of President Donald Trump paid $3 million for.
Trump sought the recount in Dane and Milwaukee counties, citing—without evidence—that there had been irregularities after he lost the state by about 20,600 votes to President-elect Joe Biden.
The six-strong Wisconsin Elections Commission (WEC), which is split evenly along party lines, clashed during a meeting in Madison over changes to its manual, which gives guidance to officials over how the recount is conducted and how it should be aligned with state law.
They also disagreed over issues such as what to do with absentee ballots that were illegally issued and even where observers should stand. In the end, the group decided not to reference the manual but updated some parts of it to take the coronavirus pandemic into account, The Associated Press reported.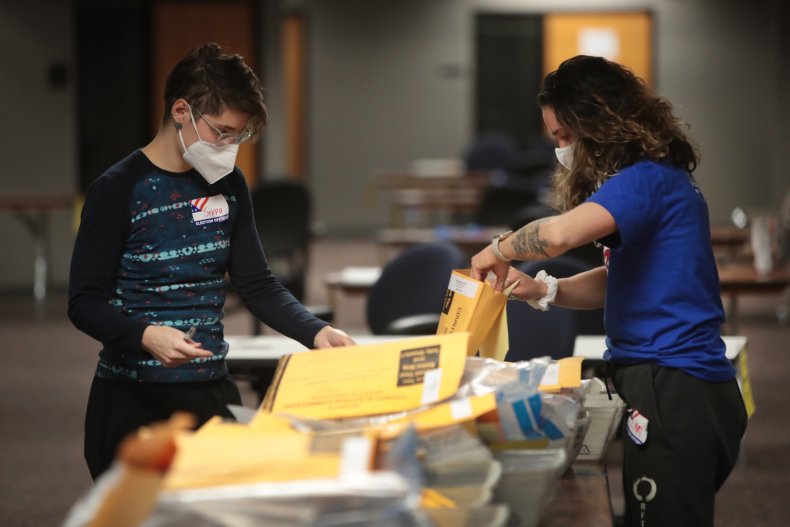 The impasse also leaves in place guidance that absentee ballot applications must be approved during the recount, even though commission staff said that's not required under the law.
The Milwaukee Journal Sentinel reported that, at one point, GOP commissioner Dean Knudson said absentee ballots requested through the state's online portal were invalid because of how the requests were logged.
"I hope we haven't created a system at WEC that entices people to request a ballot that actually isn't in keeping with the law," he said. Democrats rejected this, saying the system has been in place unchallenged for years.
Because the recount is taking place in the state's two most blue-leaning counties, it will be overseen by Democrats, moving Knudson to question whether all observers would be treated fairly.
"If they can figure out a way using the pandemic to... make it harder to see what's going on, to make it harder to observe, then that wouldn't be out of character because Democrats have been trying to do that for six months," Knudsen said, according to The Sentinel.
However, Democratic commissioner Mark Thomsen dismissed this, saying there was no GOP complaint with the state's election policies in 2016, when Trump narrowly won.
"Instead of manning up and saying [he] lost, now he's saying all the clerks are illegal," Thomsen said.
The recount is to be finished by December 1, in time for the state to certify the results. However, The Sentinel reported that the rancor of Wednesday's discussions suggests the result will end up in court.
"It's just remarkable the six of us in a civilized fashion can't agree to this stuff," Thomsen said. Newsweek has contacted the WEC Commission and the Trump campaign for comment.
Although a number of his legal challenges are failing, half of Republican voters believe Trump's claim that the election was rigged against him, according to a Reuters/Ipsos poll out Wednesday.
The graphic below from Statista shows the amount of money spent in this century's elections.