Wisconsin GOP Party Chair Says Trump's Opposition to Mail-In Voting Puts Party at Disadvantage
The GOP chairman in a Wisconsin county questioned President Donald Trump's opinions about vote-by-mail procedures on Twitter Wednesday morning, saying that Republicans have benefited from absentee ballots in the past.
"It's such a bad idea to scare our own voters away from a legit way to cast their ballot," wrote Rohn Bishop, chairman of the Republican Party of Fond du Lac County in southeast Wisconsin. "Why surrender this to Democrats when it's been to the GOP's advantage? I know Trump doesn't like it, but I just think he's wrong on this one!"
Newsweek reached out to the White House and the Fond du Lac County Republican Party for comments but did not receive replies in time for publication.
Bishop's tweet referenced a Politico report, published Wednesday, that cited the value of absentee votes for Florida Republicans and noted the state GOP's recent push to promote mail-in ballots, despite the president's opposition. A Tampa Bay Times report, published shortly after Trump first launched a Twitter tirade against vote-by-mail practices in May, similarly recounted instances where absentee votes contributed to Republican wins during Florida elections.
More than 1 million Florida Democrats were enrolled in the state's absentee ballot program as of Monday, according to the Florida Democratic Party. The party's announcement additionally noted its enrollment numbers nearly doubled those of the Florida Republican Party.
Trump's public resistance to mail-in voting began at the end of May, following California Governor Gavin Newsom's decision to provide registered voters statewide with absentee ballots ahead of November's election. The decision aims to ensure all California residents are able to vote, particularly if restrictions to manage the coronavirus outbreak prevents them from doing so in-person. The majority of U.S. states already permit mail-in voting.
The president fiercely criticized Newsom's announcement, claiming vote-by-mail practices would lead to fraudulent election results. His claims were unsubstantiated and contradicted the results of studies that examined the effects of the practice. Twitter flagged his initial tweets about mail-in voting and fraud with an alert message urging users to fact-check the claims.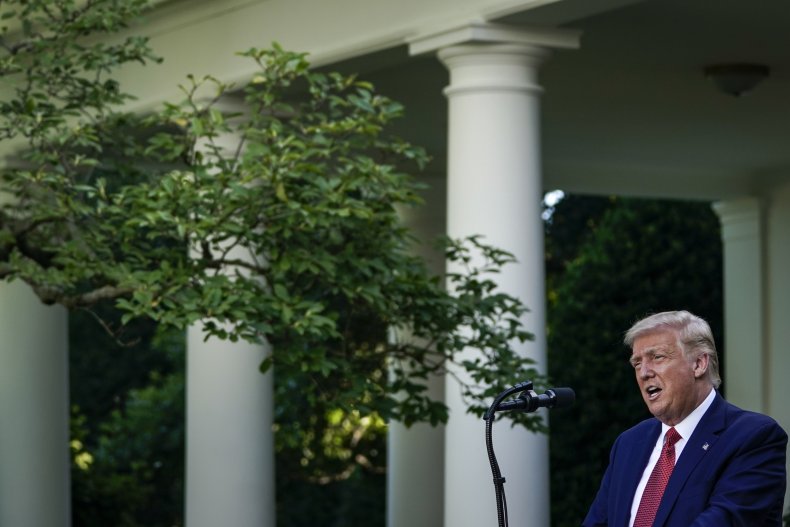 Trump shared his concerns about mail-in voting during a Tuesday press conference, again claiming the practice would skew election results. However, the president said he did not oppose "absentee ballots," echoing statements shared on Twitter in June. The terms absentee and mail-in refer to the same voting process and can be used interchangeably. Trump's references to mail-in voting indicate his opposition to an election where all votes are cast by mail.
"I'm very worried about mail-in voting because I think it's subject to tremendous fraud and being rigged," Trump said Tuesday. "Now, absentee ballots are OK, because absentee ballots—you have to get applications. You have to go through a process. If I'm here and I vote in Florida, you get an absentee ballot, but you have to go through a process. Absentee ballots are great."